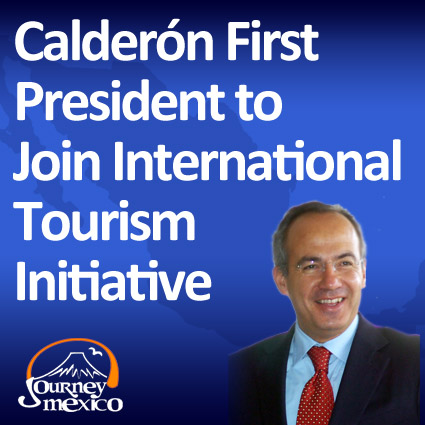 Last month we published a blog post titled President Calderón Walking the Walk and since then, he's started running.
The president of Mexico, Felipe Calderón, became the first head of state to join a new worldwide campaign launched by the United Nation's World Tourism Organization (UNWTO) and the World Travel and Tourism Council (WTTC), designed to highlight the importance of travel and tourism to global growth and development. WTTC President and CEO, David Scowsill, said:
President Calderón is leading the way in recognizing the enormous contribution Travel & Tourism makes to the economy and its power to boost GDP, employment and exports, and drive economic growth… His willingness to join the industry in exploring new and smarter ways to help tourism achieve its full potential sends a clear signal to other governments around the world."
President Calderón commented, "For Mexico, tourism is a national priority and a political priority. It is an essential activity for promoting growth and raising living standards," and added, "The sector is also key for promoting the regional development we seek and for doing so sustainably."
Becoming the first head of state to join this initiative is an honor Calderón is happy to receive after recently declaring 2011 the Year of Mexican Tourism. The president has promised to increase international awareness of Mexico's natural, cultural, adventurous, and luxurious treasures and to raise the country even further up the list of top destinations for international tourism. With the addition of Gloria Guevara as Minister of Tourism, his willingness to personally guide travel reporters throughout his country, and his eagerness to champion the importance of travel and tourism to global growth and sustainability, it's obvious that President Calderón is making good on his word.