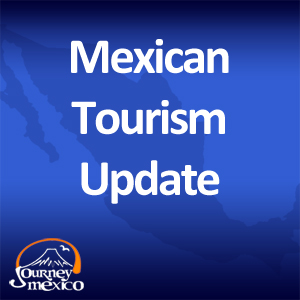 Journey Mexico team members brought a few issues of The Tianguis News back from the recent Tianguis trade show in Acapulco, and the Saturday, March 26th issue has an interesting article about the current state of Mexico's tourism sector.
Travel enthusiasts will be happy to hear that according to the Word Travel and Tourism Council (WTTC) and in spite of a slumping global economy, the travel industry (world-wide) grew by 3.3% in 2010 and is projected to grow by another 4.5% in 2011, injecting $1.8 billion into the global GDP and providing 3 million more jobs in the industry around the world.
Lovers of Mexico will be happy to hear that the number of foreign tourist arrivals to Mexico in 2010 was 22.4 million – a 7% increase from 2009 and 2% more than in 2008, which was one of Mexico's best years in history. 2010 grossed $11.87 million, which was a 6% increase over 2009 but still remained 7.6% below 2008's $13 million.
Competitively, Mexico advanced from number 51 to number 43 in the World Economic Forum's ranking of 139 countries in 2010. Regionally, Mexico surpassed both Costa Rica and Brazil, ranking as the number 2 country in all of Latin America and the Caribbean.
In the nature category, Mexico ranked number 10 out of all the countries in the world, scoring a 4.9 out of the maximum 7 points. Culturally, Mexico scored a 5.3 out of 7, boasting 31 UNESCO World Heritage Sites, a World Heritage Cuisine, and one of the 7 New Wonders of the World (the Kukulkan pyramid at Chichen Itza in Mexico's Yucatan Peninsula).
With President Felipe Calderón's declaration of 2011 as the Year of Mexican Tourism, the President's commitment to international tourism, and ATTA choosing Mexico as the destination for the 2011 Adventure Travel World Summit, Mexico is poised to have a record year in 2011!