The following information information comes directly from The Mexico Tourism Board.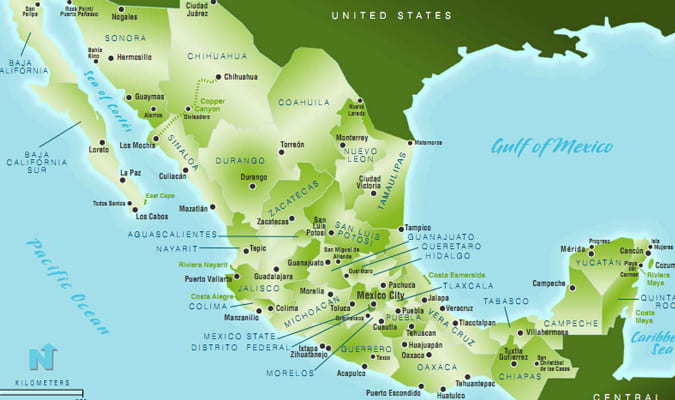 The following data is from the end of the first semester of 2014
The number of international tourists exceeded 14.2 million, a new record!
The number of international visitors increased 2.8 percent compared to the first half of 2013, reaching 39.4 million.
8.8 million passengers on international flights were recorded, equivalent to an increase of 10.7 percent over the first half of 2013; this result was accompanied by an increased number of international flights observed in the same period (by 7.3 percent).
According to the Migration Policy Unit of the Mexican Secretariat of the Interior (SEGOB) in passenger arrivals by air to Mexico by their nationality, the following was observed:
Americans (56.5%)          Candians (15.3%)          Brazilians (2.1%)
The arrival of international visitors increased by 19.6% over the same period last year.
In terms of tourist arrivals by air (main segment of tourism) increased 10.8 percent, from 6.5 to 7.2 million tourists.
The flow of border tourism grew by 35.5%, registering 6 million tourists, compared to 4.5 million in 2013.
In the first six months cruise visitors increased 26.3 percent; rose from 2.4 million in 2013 to 3 million in 2014.
In the first quarter of 2014, international visitors increased from:
Russia (3.9%)     Colombia (15.3%)      Peru (7.2%)      China (32%)      Venezuela (16.6%)
Visitors from the United States grew 12.3 percent, from 1.8 million in the first quarter last year to 2 million in the same period this year. Meanwhile, the arrival of travelers from Canada increased 6.9 percent, to register a total of 765,700, while in 2013 the number was 716,300.
In turn, visitors from UK increased 3 percent, growing from 82,000 in January-March 2013, to 84,400 in the first quarter of 2014.
The following data is from January to August of 2014
International tourists amounted to 19.3 million, 19% higher than recorded in the same period of 2013.
Banxico highlighted that the tourists by air increased 10.8 percent, from 8.4 to 9.3 million, in the period from January to August this year, and as to border tourism, an increase of 32.6 percent was observed, reaching 8.5 million passengers, compared with 6.4 million tourists from 2013.
The Bank of Mexico (Banxico) reported that foreign exchange earnings from international tourists in the first eight months of the year grew 18.1 percent over the same period of 2013.