The following information information comes directly from The Mexico Tourism Board in 2011.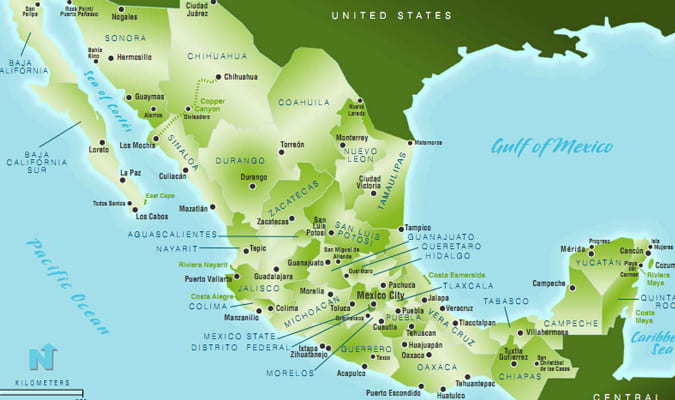 Mexico continues to be a destination of choice for many people around the world and is currently Ranked 10th globally in international visitor arrivals
Mexico remains the most visited country by Americans
In August 2011 Mexico saw an increased number of visitors from 145 countries around the world (year on year).
Brazil (59.5%)         Russia (55%)         Ecuador (29.6%)        Australia (22.6%)
Argentina (21%)     UK(19.6%)             Korea (18.9%)            Chile (15.9%)
Peru (15.1%)           China (14.2%)       Italy (13.1%)               Japan (10.6%)
Canada (9.2%)        Colombia (8.7%)
From January through July 2011 year on year, 11,440,000 international tourists traveled to Mexico, a 3.3 percent increase year on year. At this rate, Mexico expects to receive a record number of international foreign visitors in 2011, trumping our previous high of 22.4 million achieved in 2010.
May 2010 vs May 2011 (year on year statistics) – International air arrivals increased from the following countries: Brazil – 42.4 percent, Russia – 30.5 percent, China – 24 percent, Korea – 18.5 percent,Australia – 16.7 percent, Canada – 15.8 percent, United Kingdom – 15.8 percent
Year on year from January to May 2011, hotel occupancy rates increased by 2.3%.
April 2010 vs. April 2011 (year on year statistics)
International Visitors Tourism Spend increased by 3.0%
International Visitor Arrivals increased by 8.1%
According to SECTUR, tourism investment in Mexico for Q1 of 2011 is up 127%.
Approximately USD$1.5 billion will be spent on new hotel developments in Mexico.
(Four new hotels in Queretaro, Los Cabos, Huatulco, and Mayakoba built by US chains.)
Over the first quarter of 2011 various European, American, Canada and Latin American carriers all noted makeable increases in the number of passengers carried into key Mexican hubs including:
European Carriers:  British Airways (122.2%), France XL (150%), Lufthansa (22.7%), KLM (12.8%
American Carriers: Delta (79.4%), United Airlines (51.5%)
Latin American Carriers: Avianca (131%), Taca (77.7%), LAN (45.3%), Cup (37.2%), Cubana (27.9%)
Canadian Carriers: Sunwing (98.7%), West Jet (43%), Air Canada (17.5%), Air Tranast (15.3%)
While there are current security and safety concerns, it is important that travelers get to know the "untold" story of Mexico.
There are many exciting developments happening in Mexico each and every day. Across various categories from tour operators, airlines, resorts, cruise lines and attractions, the first three months of 2011 has been proven to be a time of growth and continued prosperity.
There could not be a better time to visit Mexico.   Mexican tourism destinations have lower crime rates than many other prominent tourist destinations.
Travelocity ranked Cancun #3 and Puerto Vallarta #8 in its top ten summer family destinations for 2011.
Cancun was ranked the number one international destination on the Orbitz Insider Index Summer Travel report.
According to a June 2011, Conde Nast Traveler poll, Mexico has 19 of the top 250 spas, globally.
Mexico has a total of 18 AAA Five Diamond Awards, including two new lodgings and one new restaurant in January 2011. This is a further testament to Mexico's longstanding reputation as a travel destination offering top-quality, unique and best-in-class resorts and hotels. The La Blanc Spa Resort in Cancún and Grand Velas All Suites & Spa Resort Riviera Maya join 12 other Mexican hotels to have already earned this distinction, giving Mexico a total of fourteen AAA Five Diamond Awards.
Riviera Maya, Mexico and two Mexican hotel properties have been recognized with a top travel destination award from Travel Weekly.   Also, several Mexico hotels were selected by Condé Nast Traveler Gold List 2011, Travel + Leisure World's Best Hotels 2011 and Loreto, Mexico made The New York Times list of 41 Places to Go in 2011.
Mexico by the Numbers – in 2010 – there were 22 million tourists; 50 million-border crossings and 6 million cruise passengers that visited Mexico.
Mexico is the top destination for overseas American tourists, registering a market share of 14.7 percent in 2010, according to US Commerce Department figures. This share is historic and represents the highest recorded since 2005.
Mexico is a leader in sustainable tourism. The Mayakoba Resort on Mexico's Riviera Maya was awarded with the prestigious Ulysses Award from the United Nations World Tourism Organization in 2011. In the 'Innovation in Enterprises' division, Mayakoba garnered the award for 'Responsible Tourism Development'. Also in 2011, the Mayakoba Resort received recognition from the Rainforest Alliance for achievements in sustainable tourism.