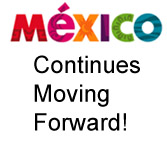 The Mexican Tourism Board continues to push forward with their efforts to increase tourism to Mexico by adding both a new Executive to their staff and a new international tourism fair in Mexico City.
After resigning from his position as General Director of the Riviera Maya Destination Marketing Office, Javier Aranda has accepted the position of Executive Director of Destinations and Partners at the Mexican Tourism Board. Journey Mexico is excited to see what Aranda will add to the great campaign that Gloria Guevara, the new Minister of Tourism, has started.
At the recommendation of the World Travel Organization, the Mexico Tourism Board has organized an international travel fair, called the International Tourism Fair of the Americas (FITA), which is scheduled for Sept. 23-26 at Mexico City's Expo Bancomer convention center.
With FITA, Mexico City hopes to exceed the scope of Acapulco's Tianguis fair, which has been Mexico's premier travel fair for 37 years. FITA is planned to be an annual event and is expecting 40,000 attendees this year, but the fair seems to be getting a hesitant reaction from the US market as companies are finding it difficult to budget for another Mexican fair in this troubled economy.
How does your company feel about the new travel fair? Will you be attending? Let us know in the comments!