#MexicoToday – Last week we posted about how Jessica Seba and I were chosen to be a part of the Mexico Today program and today it is my pleasure to post a re-cap of the kick-off event that was held in Oaxaca over the weekend.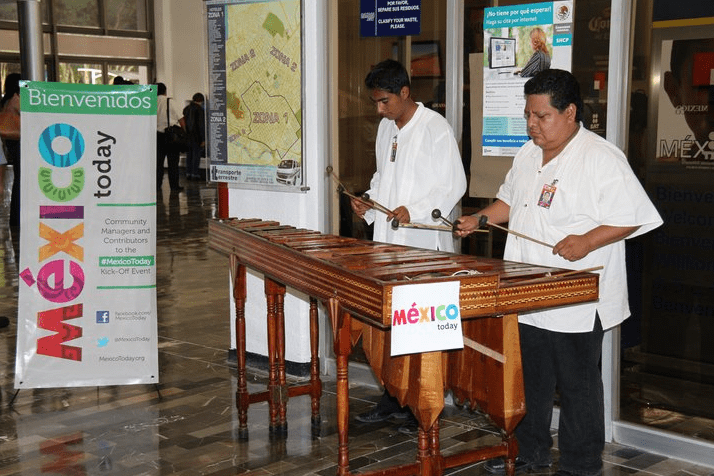 Welcome to Oaxaca
It was clear that the weekend was going to be a cultural treat immediately after stepping off the plane Friday as we were greeted by the traditional sounds of the marimba, a type of xylophone that originated in southern Mexico. After being transferred to our hotel, the gorgeous Camino Real Oaxaca, we met for an introduction cocktail followed by a mezcal tasting, which really put us in the spirit – pun intended.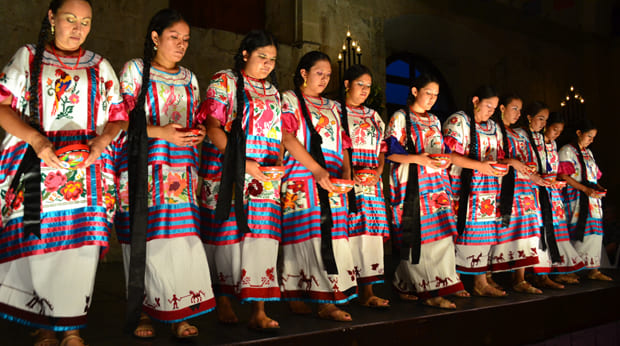 Guelaguetza Dancers
After we'd become well acquainted with tequila's smokey sister, we moved to the old chapel of the Camino Real (the 5-Star Camino Real is housed in what was originally the convent of Santa Catalina) for a massive buffet of Oaxacan flavors. As we ate, a group of traditional dancers performed many of the dances of the Guelaguetza festival, which is an extravagant event that takes place on a hillside in Oaxaca each year.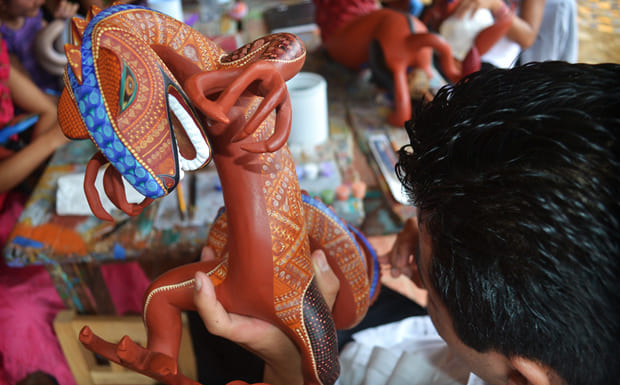 Alebrije in the making
Saturday began with an insightful meeting which included a panel discussion including guest speakers Antonio del Rosal Stanford (Mexican Brand Coordinator), Alejandro Ruiz (the famed chef of Casa Oaxaca), and Jacobo Angeles (a local artisan famous for his Alebrijes – brightly colored wooden figures). Following the discussion, we were driven out into the countryside to visit Jacobo's workshop and learn about how the alebrijes are made. Before the demonstration, we were treated to more dancing, mezcal, and a fabulous lunch prepared by Jacobo's family. During lunch, I was able to try chapulines for the first time, which are toasted grasshoppers – a traditional delicacy of Oaxaca. I must say, I quite enjoyed them and found them to taste like salted cranberries.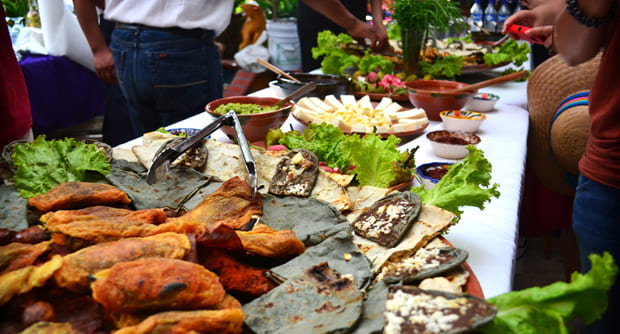 Lunch at Jacobo's Workshop
Returning from Jacobo's workshop, we had just enough time to freshen up before joining a marching parade in the street (although a few of us snuck off to watch the USA vs. Mexico football match in a local cantina). Jessica tells me the parade was a highlight of the trip as our group carried colorful candles while they followed a group of traditional dancers through the streets – all the while being fed shots of mezcal. Some of our group were carried on the shoulders of some locals (atop a leather bull) and at the end of the parade, the group was greeted by a giant "Welcome Mexico Today" in fireworks. Back in the cantina, we saw fireworks of our own as the US went up 2-0 on Mexico, only to be destroyed 4-2.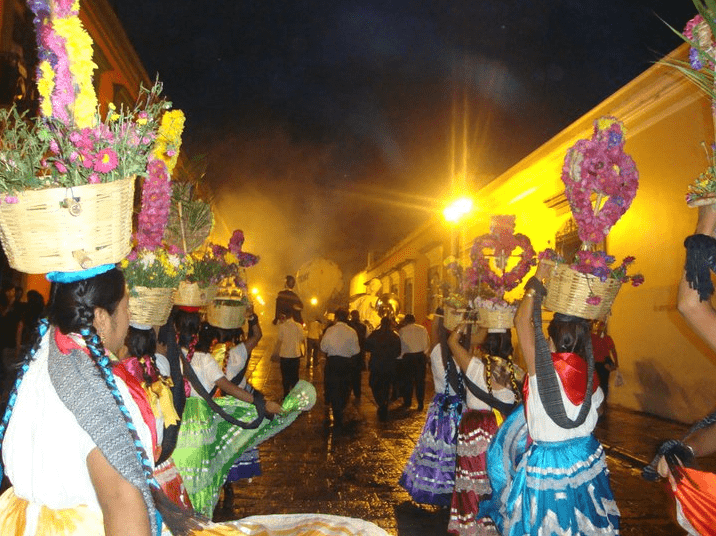 Parading the streets of Oaxaca City
The group reconvened at Casa Oaxaca where chef Ruiz prepared a delicious three-course meal consisting almost exclusively of local meat and produce. Chef Ruiz has been a huge proponent of the "Local Foods" movement as growing and using your own food and produce has always been a way of life in the fertile lands of Oaxaca.
Dinner was followed by drinks on the town square, where we were serenaded by local mariachi bands and a few passing troubadours. Drinks were followed by more drinks in a cozy cantina around the corner from the Camino Real, which, for some of us, made for an interesting Sunday morning meeting. Grogginess aside, the farewell meeting was touching. I think I speak for the group when I say it was a true pleasure to meet so many talented people who all share a real love for Mexico. Journey Mexico, Jessica, and I are all honored to be a part of such a committed group, and we'd like to thank the Mexican Tourism Board, Marca País – Imagen de México, and Ogilvy for putting together such an inspired initiative and such a wonderful event.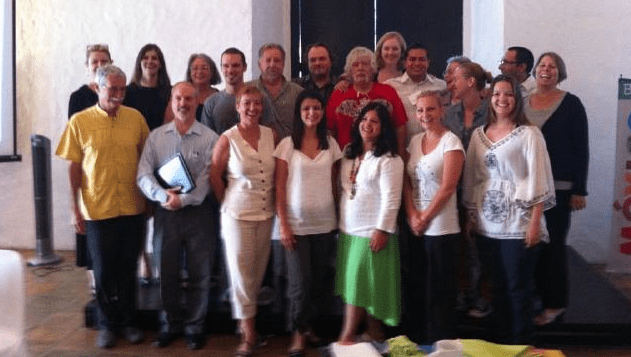 The Mexico Today Team (Most of us)
Stay tuned to www.facebook.com/MexicoToday for posts from the group of contributors and be sure to follow #MexicoToday tweets for all the real-time happenings in Mexico!