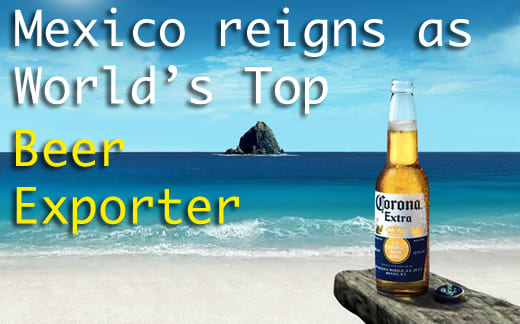 In the spirit of the weekend, we're happy to report that Mexico has emerged victorious from what's been a dogfight with Holland for the title of the World's Top Exporter of Beer.
According to figures from the World Trade Organization, Mexico reported $ 1.876 billion in foreign sales for 2010, while the Netherlands amounted to 1.778 billion. The last time Mexico reigned in beer sales was 2006 as Holland has held the top spot since 2007.
It turns out the key to victory has been filling the frothy demands of consumers outside of North America. A recent article from Economista quotes Valentin Diez Morodo, senior vice president of the Board of Directors of Grupo Modelo, as saying: "Exports are good and have been successful in countries like Australia, which is already the second destination, exceeding in 2011 to Canada after the United States."
Although Grupo Modelo owns many brands of beer, its Corona Extra is by far the most recognizable. In 2010, Corona Extra ranked 85th in the Best Global Brands 2010 ranking of Interbrand.
I mean, who doesn't enjoy the thought of unwinding on a Mexican beach with an ice-cold Corona? Mmmmm… Happy Friday!