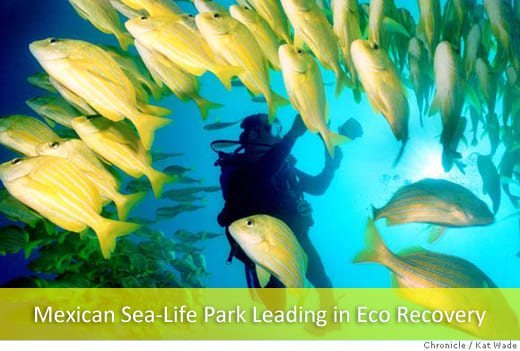 #MexicoToday: Over the past ten years, something remarkable has happened just off the southern tip of the Baja Peninsula in Mexico. In 1999, the marine area off the coast of Cabo Pulmo (located on the south-eastern tip of the Baja Peninsula) had been severely depleted of wildlife due to overfishing. But thanks to the efforts of the local communities of Cabo Pulmo, the amount of fish in the region has boomed by more than 460 percent in the past ten years.
Scientists are astonished by how the marine life of Cabo Pulmo has not only recovered from disastrous levels, but has actually reached levels comparable to remote, pristine sites that have never been fished by humans. In fact, no other marine reserve in the world has shown such a turn around in fish population, and this thriving underwater wildlife park is now the most robust marine reserve in the world.
The Cabo Pulmo National Park accredits much of the success to a few local families who have banned together to enforce the parks regulations and policies in regards to fishing and pollution, making Cabo Pulmo a model for other areas depleted by fishing in the Gulf of California and elsewhere. Their efforts have not only brought back the fish but have also increased eco-tourism to the area.
SCUBA diving enthusiasts from around the world have been flocking to the region to witness the coral reefs that are now home to lobsters, octopuses, rays, and small fish. Also swarming the reefs are large parrotfish, groupers, snappers, and even sharks like tiger sharks, bull sharks and black tip reef sharks, who have been found to actually keep coral reefs healthy.
For more information about how you can support the Cabo Pulmo National Park through eco-tourism, contact Journey Mexico.