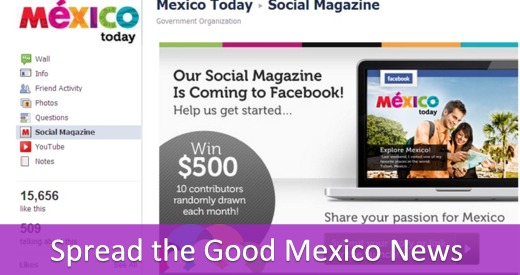 #MexicoToday
: As you all know, Journey Mexico prides itself in it's vast knowledge of Mexico. We know the authentic experiences and unique encounters you can find in all 31 states of Mexico & the capital, Distrito Federal. We've blogged accounts of some of our trips and always keep you updated on all the positive happening in Mexico. Thanks to your support, we are able to spread our passion about Mexico and now it's your turn to share yours!
Mexico Today, an initiative of Marca País – Imagen de México recently launched its Social Magazine on Facebook, which archives tons of stories, posts, and videos of Mexico. Now is your opportunity to share your Mexico passion and submit Mexico stories- either personal or links found on the internet- for the chance to win $500. Here's the info:
"The newly launched Mexico Today Social Magazine on Facebook profiles stories and submissions from leading Mexico bloggers and influencers, including the 24 Mexico Today Ambassadors.
This innovative tactic pushes the envelope of what is possible on Facebook, leveraging community participation from fans to produce a dynamic and evolving, socially-curated online publication. The intent is to create a grassroots movement by allowing submissions from those who are interested in Mexico's culture, the Mexican economy, Mexico's environment and more.
Help shape the conversation about today's Mexico. The Magazine accepts not only short links, but also longer blog posts. Submit your content today to enter a chance to win a $500 gift card."
We at Journey Mexico encourage you to check out the Soical Magazine on Facebook and start supporting the positive Mexico movement!