Dear friends and fellow travelers,
Balance: With each passing day it seems the world is reactivating. More openings instead of closings; more plans instead of cancelations, and life is getting busy. We've all been waiting for this moment, but let's not forget what we've learned! Family, friends, nature, and health, it's what has gotten us through this turbulent time and will keep us grounded as we look to the future too. While we can't wait to get back out there, to travel and explore, or just to the office perhaps, let's stay grounded and prioritize the balance that we have learned through the Pandemic.
Elections: Speaking of balance, Mexico has just held mid-term elections that were watched closely around the world. I'm glad to report that beyond any party in particular, the Mexican Electoral System won. There was worldwide praise for the integrity of the process and strength of Mexican institutions that in the end allowed the voice of the people to be heard – and that voice voted for more balance, fortifying the system of checks and balances that undergirds Mexico's democracy.
COVID: As most of you are aware, in Mexico we never closed our borders to international visitors and have ranked as one of the top five most visited countries in the world, according to the World Tourism Organization over the last 15 months. While Mexico has suffered the pandemic like many other countries around the world, Mexicans, especially those working in the hospitality sector have been exemplary in their adoption of COVID protocols. This, along with the increasingly warm weather and slow, but steady vaccine rollout has Mexico's COVID outlook improving. Last week, there were some updates to the "traffic light" system that the Mexican government has been utilizing to communicate the current health situation in the country, which is encouraging; we're confident and hopeful for a full recovery of our beloved travel industry here in Mexico and worldwide.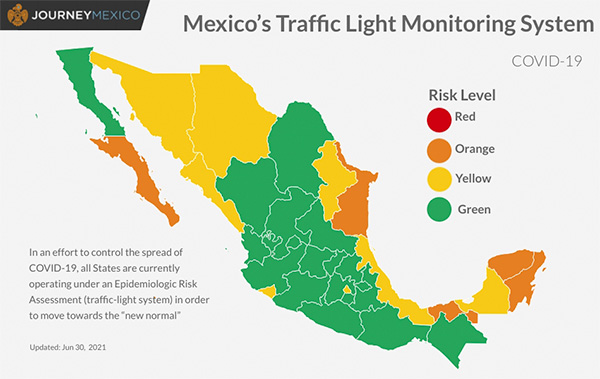 Other updates on Mexico Travel:
The normal questions about

Sargassum

have returned along with the unwelcome seaweed along limited areas of Mexico's Caribbean Coast.
We've also been flooded with panicked clients requesting help to renew their (unbeknownst to them) expired passports. Please make sure your passports are renewed to avoid any surprises when you're ready to travel!
Gracias: Thanks as always for reading our newsletter, we hope it has been informative, timely, and relevant for all things Journey Mexico! And of course, let us know how we can assist you with anything at all.
Warm regards,
Zachary Rabinor
Founder | President | CEO