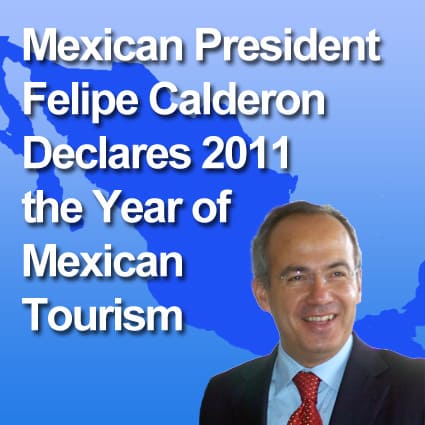 This article is a Press Release from the Confederation of Mexico Chamber of Commerce
Mexican President Felipe Calderon Declares 2011 the Year of Mexican Tourism; While Mexico's Secretary of Tourism Praised International Stakeholders at National Tourism Convention
Mexico's third annual National Tourism Convention kicked-off yesterday in Mexico City. The convention is organized by the Confederation of Mexican Chambers of Commerce (CONCANACO SERVYTUR), presided by Jorge Dávila Flores. This year's event is the first to bring together national and international stakeholders in Mexico's tourism industry, as well as government, and academia. Special guests include Mexican President Felipe Calderon and Mexico's Secretary of Tourism Gloria Guevara Manzo. Industry speakers include Royal Caribbean Cruises Vice President of Government Relations for Latin America Michael Ronan; and Softec Mexico's Associate Director Gene Towle.
President Calderon declared 2011 the year of Tourism at the convention's inauguration. The President also announced he would sign a National Tourism Accord in February. These are among several actions that will promote international tourism and investment.
The Secretary of Tourism noted that Mexico is one of the top ten tourist destinations in the world thanks to national and international stakeholders. "But we have potential for further growth… and it is essential that government, legislators, the private sector and academia align efforts towards common actions," she said.
The magnitude of the 2011 convention is the brainchild of Mr. Davila Flores, who, as president of CONCANACO SERVYTUR, encourages positive engagement of tourism-related issues. Mr. Davila Flores promotes the "Let's speak and act positively for Mexico" slogan. He aims to motivate the nation's private sector to build on the country's positive attributes. "It is important to support a framework that encourages diversification, improves training and service quality," he said.
The President mentioned that Mexican tourism grew by 10% in 2010. Mr. Davila Flores noted that tourism directly generates 2.5 million Mexican jobs and 5 million indirectly. Canada and the United States represent the largest source of international tourists for Mexico.