This article has been re-posted from Travel Weekly. You can find the original article at: Mexico tourism exec: "Texas travel warning too broad."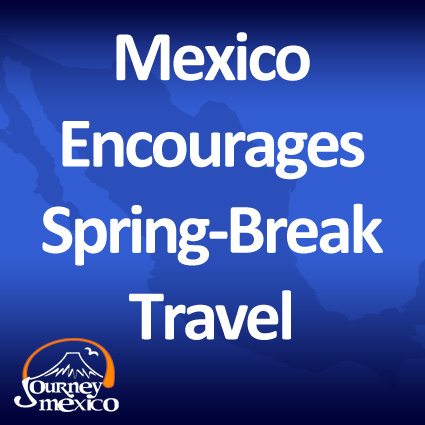 The Mexico Tourist Board said that a warning from the Texas Department of Public Safety for spring-breakers to avoid Mexico because of the dangers of drug-related violence paints an inaccurate picture of the country.
In the written warning issued on March 1 by the Texas agency, Director Steven McCraw stated: "Our safety message is simple: Avoid traveling to Mexico during spring break, and stay alive."
The statement did not draw distinctions between tourist zones and the border regions recently hit by violence. "While drug cartel violence is most severe in northern Mexico, it is prominent in other parts of the country as well," McCraw said.
The agency also urged students to stay on the U.S. side of Falcon Lake, a boating spot on the Rio Grande River where an American was shot and killed last September.
Mexico Editor Gay Nagle Myers spoke with Alfonso Sumano, director of the Americas for the Mexico Tourism Board, regarding the impact of the warning on spring break travel and beyond.
Travel Weekly: What is Mexico's reaction to this warning?
Sumano: While we are respectful of government and state advisories and recommendations regarding travel to Mexico, it is inaccurate to paint the whole of Mexico with the same brush. Certainly visitors should avoid the border towns, which are 2,500 miles in some cases from the resort areas.
Still in effect is a travel warning issued by the U.S. State Department last September, which does point out that resort areas and tourist destinations in Mexico do not see the levels of drug-related violence and crime reported in the border region and along major drug traficking routes.
We're a big country, we have safety initiatives in place for our visitors, and we have a large number of repeat guests, especially from Texas.
Travel Weekly: How important is the Texas market? How large is your spring break market?
Sumano: Texas is huge in size and market strength. More than 2.5 million visitors from Texas came to Mexico by air last year, topping our record year of 2008.  In January, we had a 12% increase in arrivals from Texas.
Spring breakers are not as large a component as our winter season visitors, but for a few weeks each spring, the beach resorts are packed with students.
Travel Weekly: What are you telling your tour operators and travel agents with regard to the Texas warning?
Sumano: Communication with our partners always has been a key tool for us. It's the same in this case. The Mexican resort areas and cruise ports already have bilingual tourist police, security officials and initiatives in place to protect our visitors and ensure their safety. The government goes to considerable effort to protect U.S. citizens and all visitors.
Travel Weekly: Any new marketing campaigns planned?
Sumano: We just launched a new TV and outdoor campaign that promotes Mexico travel this year. We've added new training programs for our Mexico agent specialists. We're off to a good start this year, and we aim to continue. It takes work to dissolve misperceptions and add perspective.
Travel Weekly: Mexico's biggest tourism advocate appears to President Felipe Calderon.
Sumano: Absolutely. He is committed to, and focused on, tourism. It's a top priority. This is the year of tourism for Mexico. Calderon held a meeting of all tourism stakeholders in Mexico last week to align efforts on a countrywide basis in promoting tourism. It's the frst time such a meeting has been held at this level. His goal is to make Mexico the world's fifth largest tourist destination by 2018, and it will happen.
*Journey Mexico Update*
According the Mexico Tourism Board, travel to Mexican tourist destinations from Texas is up 12 percent from the year before. The board reports that over 253,000 travelers visited Mexico from Texas in December and 210,000 in January compared to 224,000 and 196,000 in the previous year, respectively.