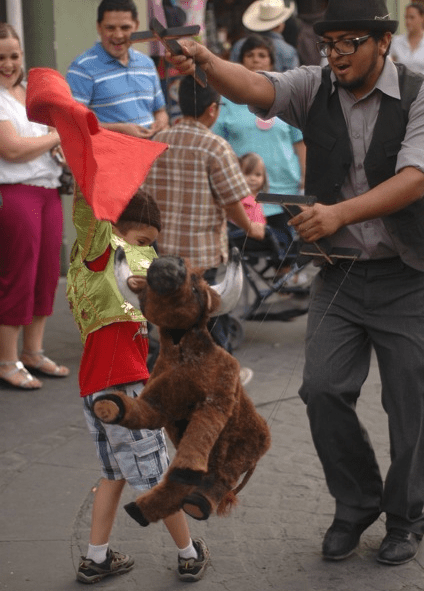 There's no better way to immerse yourself in Mexican culture than attending one of the longest-running festivals in this friendly country! The San Marcos National Fair 2012 is scheduled to run from April 20th to May 13th in charming Aguascalientes. During this time, you can get to know the locals, sample the best Mexican food you've ever tasted, buy some local arts and crafts to take back home, listen to great music by a wide variety of artists and so much more!
The San Marcos National Fair is the best time to visit Aguascalientes. Held in honor of St. Mark, the patron saint of this charming city, this festival has delighted locals and tourists since 1828. Around the globe, La Feria de San Marcos, better known as the "Fair of Mexico," has a well-earned reputation as the highlight of any spring visit to this sunny nation. While you're at the fair, don't miss the following feature attractions:
Traditional Charreadas and Skirmishes
Livestock Expo and Thrill rides
Typical Fair Food and Traditional Mexican Cuisine
Local Arts and Crafts
The Colonial-Designed Buildings at The Casino
A Variety of Shows Including Plays, Musicals and Concerts
During your stay, don't miss some of the other attractions that Aguascalientes is famous for. The Garden of San Marcos is a peaceful retreat that offers a welcome break from the more bustling areas of the city while La Isla de San Marcos is the best place to view the impromptu art exhibits that line the sidewalks of this cultural complex.
To meet the needs of the thousands of tourists that descend on the San Marcos National Fair, Aguascalientes has an international airport with daily flights and several luxury hotels. If you need help booking your flights, picking the perfect place to stay or scheduling an exciting adventure, give us a call! At Journey Mexico, we have the inside scoop on all the best things to do and see in Aguascalientes and in the rest of Mexico! Take advantage of one of our Mexico Culture Travel Tours or allow one of our travel agents to create a customized experience just for you.