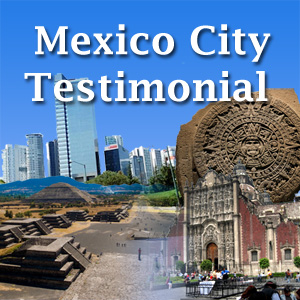 The following is a testimonial from Joseph Gandolfo of The Travel Center/AMEX
Descending into the Mexico City airport, you immediately get the feeling this is going to be a nightmare to navigate. The urban sprawl can be seen in all directions, with even the surrounding mountains seemingly unable to contain it. Fortunately as we arrived and exited passport control and customs, Matteo [Luthi] from Journey Mexico was there to greet us, and to put us at ease.
From that moment we were in great hands, all those connected with Journeys Mexico; the drivers, guides, those who planned our itinerary behind the scenes, all were professional, informative and friendly.
This being my very first visit to Mexico City, I was astounded at all it has to offer. This is a city with European sensibilities, yet with a definite pounding Latino heart under its skin. We were guided through a maze of streets, some bustling with vendors and shoppers as colorful as any outdoor casbah, then drove down elegant boulevards lined with brownstones, villas, restaurants, bars and sophisticated boutiques whose familiar names adorn storefronts in all modern metropolitan cities. This is the ZOCALO, or the cultural heart of the city, also a U.N. designated World Heritage site (1987).
We visited the main square, the Frida Kahlo Museum, the Cathedral and had only scratched the surface.
The Anthropology Museum was a highlight of the city tour as it continued the following day. We were all in awe of the incredible beauty of the displayed artifacts and all agreed we could have spent an entire day learning about the Mayas and Aztecs as well as the other lesser known civilizations that occupied this geographical location throughout the centuries.
Perhaps the most impressive site of all is located about 30 miles to the northeast: the staggering pyramids and ancient abandoned metropolis of Teotihuacan. The long, wide Avenue of the Dead, and the monolithic Pyramid of the Sun as well as the Pyramid of the Moon rise to the sky leaving you to imagine what a glorious civilization this must have been.
Without our guides and the help of Journey Mexico we would never had be able to see so much and cover so much ground as efficiently as we did in such a short time. The MAPTA group is thankful and appreciative for all their help.
JOSEPH E. GANDOLFO
THE TRAVEL CENTER/AMEX