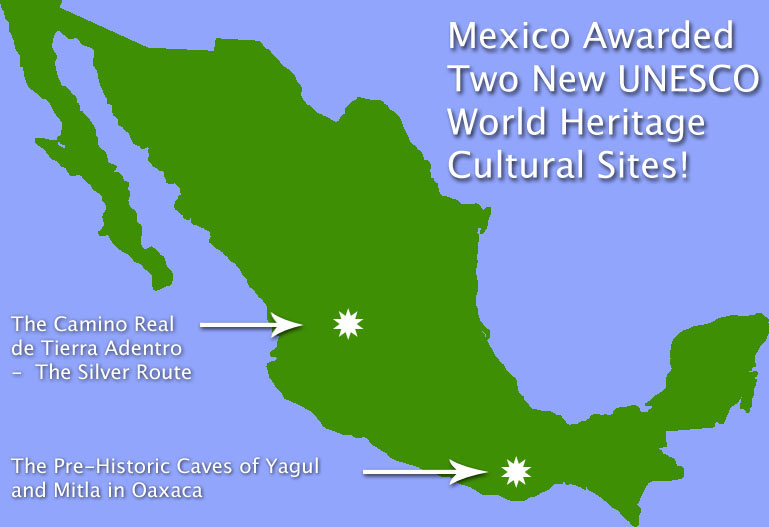 Mexico was recently awarded two new UNESCO World Heritage Sites: the Camino Real de Tierra Adentro and Prehistoric caves of Yagul and Mitla in the Central Valley of Oaxaca.
The addition of these two cultural sites gives Mexico 31 UNESCO World Heritage Sites in total, putting Mexico even further ahead of all other Latin American countries.
The Camino Real de Tierra Adentro, also known as The Silver Route, was an important trade route running north out of Mexico City, through the Colonial Heartland, and across the Copper Canyon region and into the US. From the 16th to the 19th century, this route was used to transport valuable loads of silver from the mines of Zacatecas, Guanajuato, and San Luis Potosí to the US. The route is also significant because it opened communication between Mexican cultures and the native American cultures of what is now Texas and New Mexico.
The prehistoric caves of Yagul and Mitla in Oaxaca are incredibly important as they contain rock art depicting the evolution of the pre-historic man from nomadic hunter-gathers to skilled, communal farmers. Seeds found one of these caves dates back to 8000 B.C. and is considered to be the earliest known evidence of domesticated plants on the continent of North America.
For more information about visiting these UNESCO World Heritage Sites, contact Journey Mexico today!