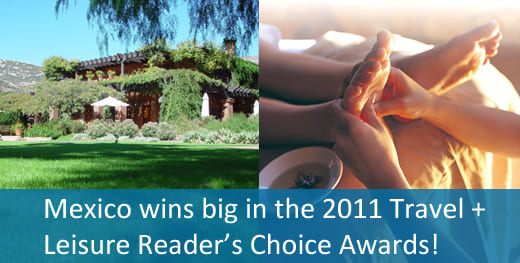 The 2011 Word's Best Awards mark the 16th consecutive year where Travel + Leisure has polled it's massive database of readers, allowing them to determine the best hotels, cities, spas, and more. For the second year in a row, Rancho La Puerta in Baja Californa was named the Best Destination Day Spa in the World in this year's Travel + Leisure: World's Best Awards readers' survey.
Originally opened in 1940 in a sheltered valley only an hour's drive from San Diego, California, Rancho La Puerta quickly became the paradigm of all multi-day "destination spa" vacations that encompass health and wellness for mind, body and spirit. The property encompasses over 3,000 acres of land and includes world-class landscaped gardens, an organic farm, an internationally known cooking school, and mountainsides and meadows of great hiking and walking experiences. For more information about Rancho La Puerta, visit www.rancholapuerta.com.
Also making one of this year's Travel + Leisure: World's Best lists was the One & Only Palmilla, Los Cabos, also in Baja California. The One & Only Palmilla was voted number 48 in the World's 50 Best Hotels list, and for good reason. The One & Only Palmilla was designed with one thing in mind: Luxury. To quote Travel + Leisure, "At the tip of Mexico's Baja peninsula, One & Only Palmilla takes moonlight serenades seriously. The 172-room resort can arrange a Latin guitar trio to strum ballads on sandy coves facing the Sea of Cortés, atop a historic bell tower, or in a Casa Gardenia suite. For families, there's a meandering river that connects the kids' pool to an infinity pool overlooking the sea. Ride horses on the beach—on of the safest in Los Cabos for swimming—then kick back in red-tiled suites with shaded daybeds, ideal for siesta."
Several other Mexican resorts and hotels were chosen for regional awards, featured in the cover story of the August issue of Travel + Leisure magazine, which hit newsstands July 22nd.