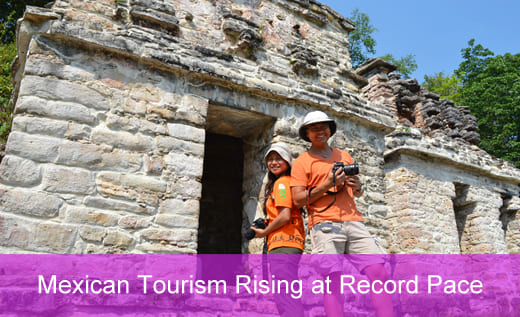 The numbers continue to climb as Mexico has seen an increase of about 200,000 international visitors from Jan to May of this year when compared to the same time period of 2010. A recent press release from the Mexican Tourism Board confirms the trend we've been seeing lately, where international travelers from outside the US have been filling the void left by American travelers discouraged from traveling to Mexico by negative media.
According to the press release, Mexico has seen substantial growth in travel from Russia (58.1 percent), Brazil (40.9 percent), and China (32.8 percent) since the start of the year. At this rate, Mexico is expected to receive a record number of international foreign visitors, trumping its previous high of 22.4 million achieved in 2010.
When asked to comment on this rapid increase in travelers to Mexico from outside the US, Journey Mexico founder and President, Zachary Rabinor, replied with the following:
"It doesn't surprise me at all; Mexico is a world class destination with incredible geographic, cultural, natural diversity and great selection of hotels and experiences for every interest and budget.  Following on a few years of discounting and incredible value added offers due to the worldwide economic downturn and then multiple shocks to demand in N. America (by far Mexico's largest market), there has never been a better time to travel to Mexico – we can offer outstanding value right now!  Fortunately, European, Russian and S. American visitors can differentiate between one sided, sensationalist reporting and the great travel experiences that Mexico offers. Hopefully N. Americans will take the cue and return to Mexico in force before too long!"
As Mexico continues to offer new and authentic travel experiences (did you know two major new Mayan archeological discoveries were made in just the past few months?) at such great value and proximity, it's surely just a matter of time before discerning travelers from the US grow tired of the sensationalized reports about Mexico and begin to return to Mexico in droves. The return of the US market in combination with these exploding foreign markets should give Mexico a real chance of hitting its goal of being in the top five international tourist destinations by 2018.