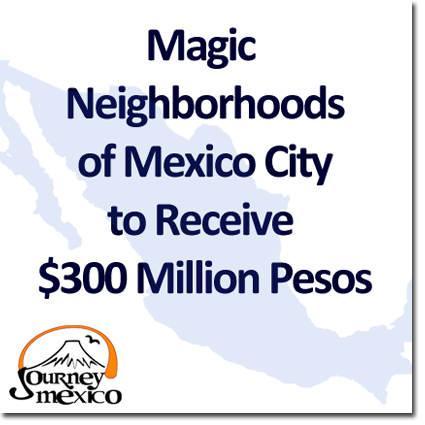 On the heels of President Calderon's declaration of 2011 as the Year of Mexican Tourism, the Government of the Federal District and Federal Tourism Ministry have committed to injecting 330 million pesos into the Barriós Magicos (Magical Neighborhoods) program in Mexico City. The Magical Neighborhoods of Mexico City project will showcase a proposed 19 of the most culturally rich regions of the Federal District.
This new Magical Neighborhoods program is being modeled after the Magic Towns (Pueblos Mágico de México) program that currently showcases more than 35 of Mexico's most charming towns. The Magic Towns of Mexico must meet and maintain eight sections of criteria before they are deemed a Magic Town and are able to receive federal funding.
Certain Magical Neighborhoods such as San Angel, Coyoacan,  and Tlalpan are ready to meet similar standards, as is; however, other neighborhoods including the Villa de Guadalupe, Garibaldi, and Roma-Condesa need portions of the 330 million peso fund to prepare for evaluation.
The Zona Rosa has been working towards renovation for some time. It seems that portions of this Magical Neighborhoods fund will be used to improve pedestrian areas of Zona Rosa; however, other improvements such as renovating the visitor center will come from a separate fund.
As interest in travel to Mexico continues to rise (Mexico was recently voted number five of the 2011 Top Ten International Travel Destinations in Virtuoso's Lux Report), the Barriós Magicos project is aimed to give those traveling to Mexico even more reasons to leave the beach for a few days and venture into the heart of the country for a more culturally rich experience.