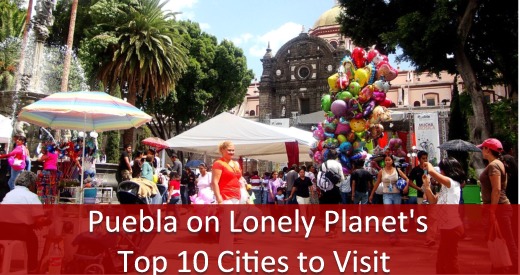 #MexicoToday: Every year, Lonley Planet publishes a 'Best in Travel' guide and ranks the top 10 countries, regions and cities to visit for the coming year. For 2012 Readers' Choice,  Puebla, Mexico was named among one top 10 cities to visit.
Drawing on the knowledge, passion and miles travelled by Lonely Planet's staff, authors and online community, they present a year's worth of travel inspiration to take travelers of the ordinary and into some unforgettable experiences. Hot off the press, Lonely Planet's Best in Travel 2012 had one difference in their decision process this year– they wanted to hear what the travelers of the world think will be 2012's hottest destinations.  After hundreds of nominations for cities and countries and regions,  we are proud to see that Puebla, Mexico made the Top 10, alongside destinations such as Barcelona, Iceland, Rio de Janeiro, Istanbul and Bangkok.
Puebla, a charming colonial city with a UNESCO acknowledged Historic City center,  was recently reported one of the the Top 5 Safest Place to Travel in Mexico in the San Francisco Chronicle. It is a city known for it's twin volcanoes, site of the Cinco de Mayo battle, great poblano gastronomy,  historic buildings and a wealth of archaeological sites. Combine this with it's on-going  festivals and traditions, it is no wonder that Puebla draws in plenty of tourists each year to merit it's Top 10 status among some of the grandest cities in the world.
Not convinced yet? Check out the website All About Puebla as it further examines all the attention Puebla has been getting lately, including recognition from National Geographic and The New York Times  who picked Puebla as one of its 45 places to go in 2012.
Start browsing our Puebla itineraries here and start planning your trip to one of 2012's must visit cities.