Since opening in 1997, Las Ventanas al Paraíso, A Rosewood Resort has set the bar for luxury around the world and created a new standard of excellence in Latin America.  Now, the legendary Five-Diamond property is re-setting the bar with 12 stunning new villas and one magnificent, 22,500 square foot Master Villa that will be the ultimate in luxury, design, craftsmanship, attention to detail and privacy.
Designed to be an extension of the resort and reflect the serene Los Cabos desert environment, Las Ventanas' stunning new villas are the ultimate indulgence for guests who desire a private, residential style escape, but still want the legendary service and luxurious amenities for which Las Ventanas is renowned.
Opening in December 2013, the 12 richly appointment villas range from one- to three-bedrooms and feature 4,500-5,700 square feet of seamless indoor-outdoor living space set on the sparkling Sea of Cortez.  The elegant one-bedroom villas, which are perfect for intimate couples' getaways and special occasions, feature either a media room with state-of-the-art entertainment systems or a wellness room, complete with high-tech fitness equipment and a personal wellness coach. The two-bedroom and three-bedroom villas are ideal for couples retreats, families and groups of friends, with plenty of space for entertaining and hosting special starlit celebrations on the sweeping outdoor terraces.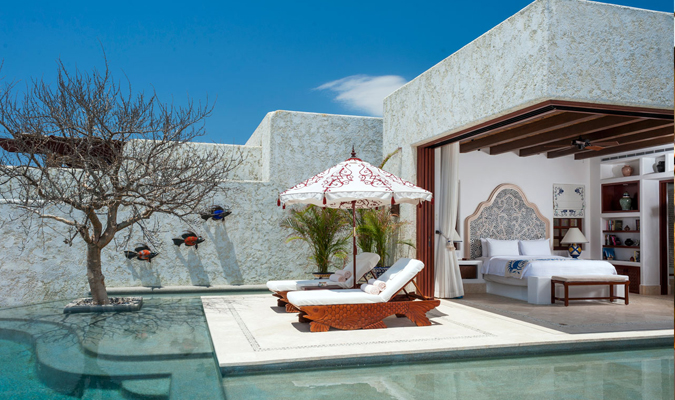 While staying in the new villas, guests are treated to a personalized and decadent experience that is a trademark of the Five Diamond resort.  The experience begins the moment guests arrive with a luxurious in-villa massage to help guests relax and transport them into a vacation state of mind.  Customized to meet guests' every need, each villa features a dedicated, 24-hour butler who offers an unprecedented level of pampering and attends to their every whim.  From delivering fresh breakfast daily to making homemade guacamole and margaritas each afternoon and customizing the digital music library on the villa's iPad, the personal villa butlers ensure that every desire is instantly fulfilled. Days are spent lounging poolside, getting spoiled by dedicated pool butlers and partaking in unique, complimentary experiences each afternoon such as a private, in-villa ceviche cooking class with the resort's executive chef and a romantic picnic on the beach.  At night, guests can enjoy magical private chef dinners by the adobe fire-pit or sample the finest tequilas from their outdoor Jacuzzi under a blanket of Baja stars.
Designed by architect Jorge Torres from Cabo Development, each villa features a private infinity-edge pool and swim up bar, which is surrounded by gardens of desert plants native to the Baja region.  Authentic Mexico meets modern luxury with lavish bedrooms, impressive walk-in closets, and expansive open-air bathrooms featuring invigorating steam and rain showers, infinity bathtubs, and private outdoor garden patios.  The villas' fluid indoor-outdoor design allows for the dazzling Los Cabos sunlight to flood the living rooms and bedrooms, creating a feeling that one is always outdoors.  The walls of the brilliant white villas come alive with authentic, vibrant Mexican artwork and décor throughout, which has been carefully hand selected from cities all over Mexico, paying homage to the country's true spirit.
To complete this exceptional villa project, Las Ventanas will debut an extraordinary 22,500 square foot Master Villa in spring 2014, offering guests an once-in-a-lifetime retreat into the lap of luxury.  With 22,500 square feet of luxurious indoor-outdoor accommodations, the Master Villa is the crown jewel amongst the villa offerings at Las Ventanas. Also overseen by Jorge Torres, the Master Villa has been designed to be a scaled down version of the resort, offering exquisite details such as an 80-foot infinity edge pool set on the sparkling Sea of Cortez and an extravagant list of personalized amenities to ensure the ultimate experience in luxury and service. The VIP treatment at the Master Villa includes everything from a customized firework display to a live-music menu wherein guests can select their favorite music and a live band will play personally for them at the villa each night. Starting at $30,000 per night, the Master Villa maintains the highest level of luxury, exclusivity and discretion.
Las Ventanas Villas Montage from Exclaim Productions on Vimeo.