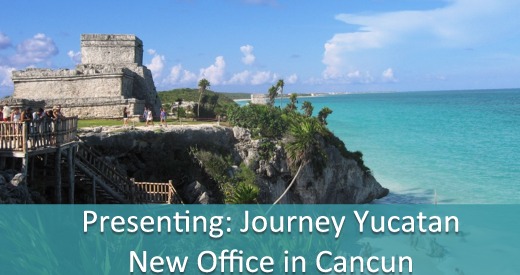 After months of anticipation, we are proud to announce the launch of Journey Yucatan, a branch of Journey Mexico specializing in the Yucatan Peninsula.
In response to an increasing number of travelers looking for unique travel experiences in Mexico's Southeast including the Cancun, the Riviera Maya, Costa Maya, the Yucatan Peninsula, Campeche, and Chiapas, Journey Yucatan focuses on custom private tours, destination management services, and luxury transportation designed to get beyond the hustle and bustle of the typical tourist destinations. Picture the magical silence of an exclusive visit to ancient ruins outside of regular tourist hours. Imagine the thrill of a private expedition into the underground rivers and caves of the region. Envision the luxury of a helicopter, private aircraft, catamaran or luxury yacht tour of the natural and cultural wonders of the Yucatan complete with catered lunches and champagne toasts. Let our expert Cancun-based team create an authentic experience for you and your clients in this magical region.
At Journey Yucatan, we pride ourselves in our unbending commitment to seamless service and spirit of authentic adventure as you've come to expect with Journey Mexico. The Journey Yucatan brand combines the finest properties, private villas, expert guides and unique transportation services including luxury vehicles, charter planes, yachts and helicopters; with over 20 years of on the ground experience exploring the peninsula, we take great pride in sharing the unique and unexpected travel experiences that this magical region offers. We are a guide-owned and operated company with over 20 years of experience on the ground. Our logistics and site knowledge are unmatched and our safety and operational standards are uncompromising. We take special pride in our expertise in the lesser visited areas of the Republic. We are a company built on a deep mission of service that spans from the sales process to the seamless service on the ground that builds repeat customers.
Matteo Luthi, Journey Mexico's Director of Operations and newly appointed General Manager of the Journey Yucatan Office, together with the Cancun-based, Journey Yucatan team are available to create the most spectacular, creative, and memorable ways to spend your holidays. Their local knowledge is extensive and they take great pleasure in sharing exclusive insights with our important guests.
Feel free to get in touch with any of our staff for an insider's view into the exceptional experiences that await you in the Yucatan Peninsula.
Email Matteo or come visit us at our new office location:
SM 57, m 3, Lote 1, local 102
Cancun, Q. Roo
Mexico C.P. 67500