Brenda, part of Journey Mexico's Coordination Team, recently participated in the 9th Voyage of La Travesía Sagrada Maya (the Sacred Mayan Journey). The event is an ancient ceremony in which women and men guided by strong helmsmen, honor their Mayan ancestors by crossing in  a canoe from Pole (Xcaret) to Kuzamil Island (Cozumel), for the sacred message of the goddess Ixchel.
The Sacred Mayan Journey event includes 35 teams of 10 people and requires a minimum of 6 months training commitment to participate. During these 6 months, the canoeists train both mentally and physically to be able to row the long distance of 35km (22mi).
The voyage of The Sacred Mayan Journey is a ritual that dates back to 1250-1519 AD that combined knowledge about sea navigation and commercial shipping routes of the the ancient Maya. These routes were centered around Ixchel, the Mayan goddess of the Moon, tides, fertility, childbirth, and medicine. When the Mayas crossed, they would bring offerings to Ixchel and receive divine messages to share with their communities. Today, the tradition is a practice that strengthens the cultural identity of the Yucatan Peninsula and with the expert advice of INAH, adheres faithfully to the original rituals, dances, music, and even types of canoes.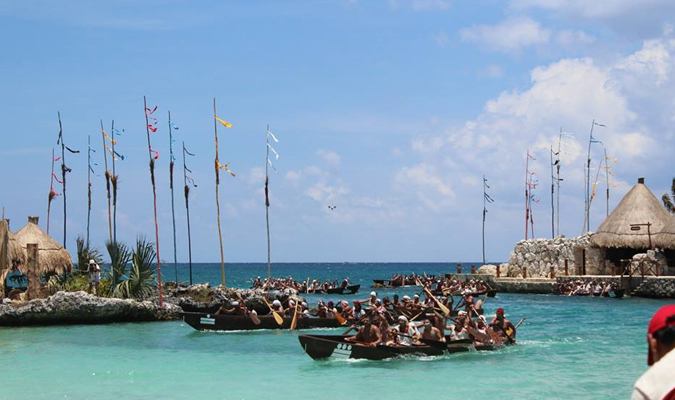 Brenda, participated for the first time this year in the event. She shares her experience:
The Sacred Mayan Journey provides a set of essential life characteristics that make one human: physical force, a higher power, and the sea. It is with this mindset I had to learn to incorporate those values in my personal life. First, in a physical aspect; the voyage demanded intense preparation to achieve a certain condition, force, and resistance. One must push their body to extreme limits beyond what they believe they are capable of.  Battling this challenge, I realized that the ability to be able to push yourself physically actually comes from the mind and that you must  question your actual being and faith. Faith, is a powerful force which one does not see or touch, and although does not provide certainty it helps you to push forward. Faith in myself is what allowed me to reach a physical condition I never knew I had. Finally, the sea which represents life: completely unpredictably; the sea, as with life, is beautiful but wild. To be able to make a long, unpredictable journey in hopes to arrive to somewhere new, it is essential to cross with a passion and blazing fire in your heart. It was an honor to be apart of something so significant not only in regards to honoring my culture, but also becoming a stronger person in doing so.