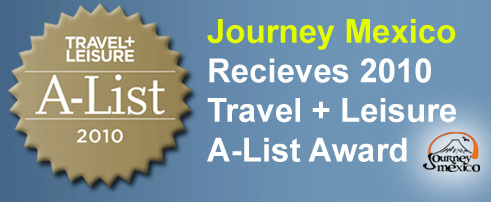 Each year, Travel + Leisure evaluates thousands of the world's best travel agents and tour operators and narrows them down to a list of what they consider to be the best of the best, the Travel + Leisure A-List. We are excited to announce that 2010 marks Journey Mexico's debut appearance on the A-List as the only tour operator selected for Mexico.
You can view the 2010 Travel + Leisure A-List online, and the A-List will be
printed in the October addition of Travel + Leisure Magazine, which hits newsstands on September 24th. You can also view JM President Zachary Rabinor's profile on Travel + Leisure's website. If you know and/or have worked with Zach and would like to leave a comment on his profile, it'd be much appreciated 🙂
In being selected for the A-List, making the Inc. 5000 list, and being selected by Conde Nast as a Word's Top Travel Specialist, 2010 has been an important year of continued growth and recognition for Journey Mexico. We would like to acknowledge Mexico's people, culture, and natural beauty which have made our success possible, and we would like to thank the entire team of Journey Mexico and all of our partners on the ground and abroad working together to promote, sell, and deliver world-class, cultural, natural, and experiential travel in our beautiful country.