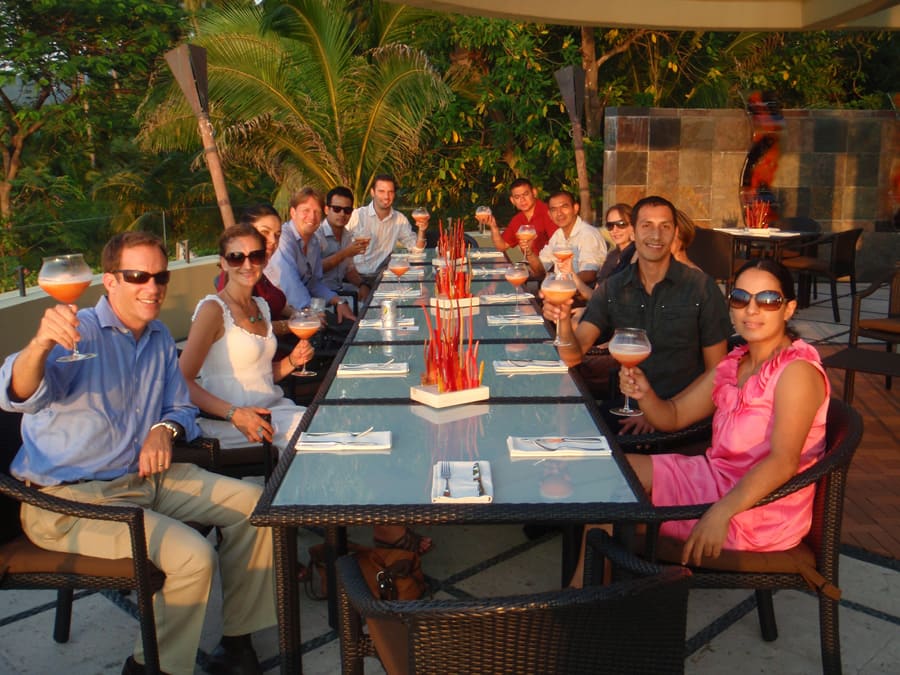 As part of the annual Journey Mexico retreat week, the entire JM staff dines together at one of the many delicious restaurants here in Puerto Vallarta. This year's dinner was held at Blanca Blue, which is the beautiful restaurant inside Garza Blanca Preserve Resort and Spa.
The evening began with cocktails on the veranda outside of Blanca Blue, which overlooks the ocean. Blanca Blue's signature cocktail, "The Perfect Sunset," was indeed the perfect compliment to the breathtaking sunset that enfolded before us.
Inside, we were treated to a special menu designed specifically for Journey Mexico, offering appetizers of either Tomato Tartar with French beans or Shrimp Ceviche Acapulco style, main courses of Steak topped with Nopales and a side of Camote in a maple marinade or grilled Bay Snapper with Prosciutto in an orange reduction sauce, and desserts of either fresh plums poached in port with custard brioche and vanilla ice cream or warm chocolate cake with a peanut butter and vanilla milkshake.
Needless to say, the courses were INCREDIBLE! Blanca Blue also matched a variety of wines from their award winning wine selection to each of the dishes and treated us to tasty dessert wine as well. The ambiance in Blanca Blue captures the essence of tranquility, and I speak for everyone when I say that the evening was picture perfect.
Many thanks to Miguel Andres and Blanca Blue for such a memorable night!
[RoyalSlider Error] No post attachments found.