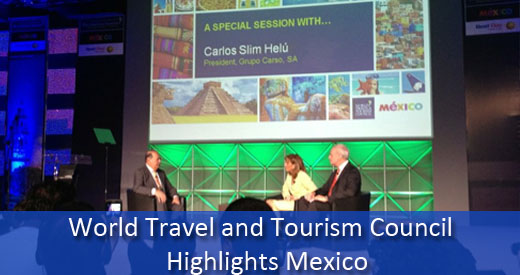 The World's Travel & Tourism Council Americas Summit convened for the first of their 'Regional Summits' in Riviera Maya, Mexico this past May. During the Summit, key travel and tourism industry figures from the public and private sectors, NGOs and the media gathered to explore the challenges and strengths throughout the tourism industry while identifying opportunities for growth and collaboration. With the spotlight already on Mexico, among the Americas Summit attendees and speakers were prestigious Mexican figures such as President Felipe Calderón Hinojosa, Carlos Slim Helú (richest man in the world), Gloria Guevara, and Roberto Hernández Ramírez.
President Felipe Calderón impressed all when he directly addressed Mexico's security concerns and the efforts being made to alleviate them through law enforcement, education, infrastructure and economic development. He also made it very clear about Mexico's commitment to tourism and sustainability and his personal support to make Mexico a leading worldwide destination. During the welcome dinner held at the Grand Velas Riviera Maya resort, Calderón described Mexico's citizens as "genetically prepared to receive visitors,"  which was indeed true; the warm Mexican hospitality made light of itself throughout the entire summit.
President and CEO of Journey Mexico, Zachary Rabinor, participated at this event. When asked about the summit, Zach said, "I felt honored to be amongst the industry's leaders and am excited to forge ahead in helping Mexico earn recognition as a world class destination and the travel and tourism industry be prioritized for its vital contribution to job creation, conservation, global collaboration, and the global economy."
The main outcome of WTTC Americas Summit focused on "generating jobs and prosperity" which aligned itself with the priorites of the  T20 meeting (held a week earlier in Merida, Yucatan with tourism ministers from 20 of the most developed economies in the world). Harnessing the travel and tourism industry to fuel job creation, T20 devised proposals including those around current travel visa issues, which has been formally received by President Calderón.  As the Chairman, he will take this to the G20 leaders meeting this month in Los Cabos, to demonstrate the power of the industry to create jobs and drive growth. To follow G20 news, you can connect directly to their website G20Mexico.