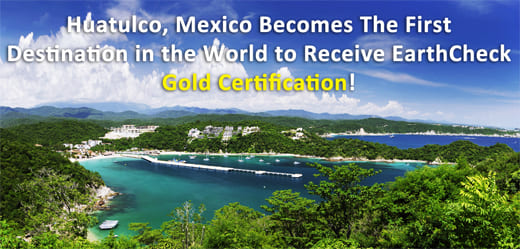 Huatulco Becomes The First Destination in the World to Receive EarthCheck Gold Certification
HUATULCO, Mexico, June 9, 2011 /PRNewswire-USNewswire/ — The coastal paradise, Huatulco in southern Mexico [Oaxaca], became the first destination in the world to receive EarthCheck's Gold certification, in yet another display of Mexico's sustainable tourism credentials. Previously, EarthCheck awarded Gold certification only to facilities such as resorts, and not communities such as Huatulco. Huatulco received the prestigious certification for meeting the rigorous sustainable tourism requirements of EarthCheck across a range of aspects such as environmental legislation, energy usage, water conservation, wastewater management, biodiversity, and waste reduction.
Speaking at the EarthCheck Sustainable Tourism Forum, also held this year in Huatulco, Adriana Perez Quesnel, director of the Fondo Nacional del Fomento al Turismo (FONATUR), said, "We are immensely proud to receive this certification and even more so to be the first destination in the world to do so. This achievement is a clear demonstration of how government, the private sector and local communities can work together to deliver significant benefits to the world in which we live."
"FONATUR has driven sustainable practice in the Mexican tourism industry and has forged a vision of respect for nature conservation in Integrally Planned Resorts, to promote tourism, help strengthen the local economy and promote local traditions and culture."
Huatulco has gained EarthCheck certification for the previous five consecutive years. As a result of the certification, Huatulco will be one of 13 global destinations featured on a new program on the Discovery Channel in 2012. The documentary will be broadcast to over 200 million people over the next two years.
"In Mexico alone, EarthCheck member organizations have saved a combined total of 26,349,880 kg of greenhouse gas emissions (GHG) since data started being collected in 2003," explained EarthCheck Ambassador, Gustavo Ramos Fumagalli. "They have also reduced water consumption by 2,196,674,635L of water, dramatically reducing pressure on natural resources in a country that is familiar with the unforgiving effects of drought."
To meet Earth Check's strict requirements, Huatulco constructed new water management infrastructure including:
* 17 km of storm protection channels,
* 23 re-lift stations for sewage treatment and management and
* Harvesting structures which collect storm water runoff.
In May 2011, Mexico was also recognized by the Rainforest Alliance in New York for its achievements in sustainable tourism in the Mayakoba region and the forestry practices of the Mexican government.
SOURCE Mexico Tourism Board