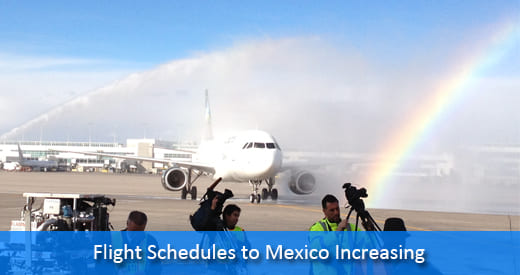 Heathrow to Mexico City:
AeroMexico has launched non-stop service between London's Heathrow (LHR) and Mexico City (MEX). The schedule will operate three weekly flights.
British Airways will be adding a Tuesday departure between London Heathrow and Mexico City for Summer 2013, increasing their frequency from 4 to 5 flights per week. The extra LHR-MEX rotation on Tuesdays will begin on April 2, 2013.
Panamá to Cancun:
Copa Airlines announced the addition of another daily flight from the city of Panamá to Cancún. The flight schedule started last week and is the fifth flight to be added to the daily schedule. Copa Airlines is currently the largest Latin airline that serves Quintana Roo with flights through Latin America, using the Hub of the Americas in Panama as a center of connectivity with the rest of the continent.
Las Vegas to Toluca:
Interjet inaugurated twice-weekly services on the route from Toluca (TLC), the capital of Mexico State, to Las Vegas, NV (LAS) on 15 November. Toluca Airport is another option for travelers coming into Mexico City. The airline already offers twice-weekly flights from Toluca to San Antonio, TX.
Orange County to Mexico City & Guadalajara:
Interjet recently launched service from John Wayne Airport (Orange County, CA) to Mexico City and Guadalajara in October . The Mexican Airline will be adding a second flight to Guadalajara over the holidays and in January.
To Mazatlan:
Cal Jet Air service, operated by XTRA Airways has launched five new flights serving Mazatlan (MZT). The non-stop flights will be connecting through Denver (DEN), Houston (IAH), San Antonio (SAT), Los Angeles (LAX), and Oakland (OAK). Denve and LA flights will operate Thursday/Sunday while Houston and Oakland flights will operate Friday/Monday.
Dallas/Forth Worth to Puebla:
American Eagle, the regional affiliate of American Airlines, began daily round-trip jet service on November 15, 2012 between Dallas/Fort Worth International Airport (DFW) and Hermanos Serdan International Airport (PBC) in Puebla, Mexico. This route is the 18th destination American Airlines offers in Mexico