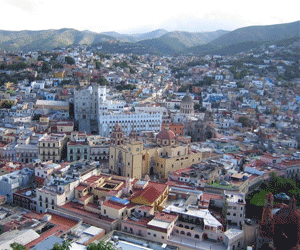 Travelers who love soaking in high culture in warm climates will be rewarded by traveling to Guanajuato, Mexico, for the annual Festival Internacional Cervantino, the top international cultural event in Mexico. This year's Festival, which runs from October 3 to 21, promises to deliver art, theater, music and dance delights to travelers with discriminating tastes. More than 155 performances will be held during the three-week festival.
The Festival Internacional Cervantino was first produced in 1972. Organizer Enrique Rueles had been hosting an annual event called Entremeses de Miguel de Cervantes Saaevedra, which celebrated short plays by the author of "Don Quixote." Recognizing the promise of expanding the festival to include other types of performances, Rueles founded the Coloquio Cervantino in 1972.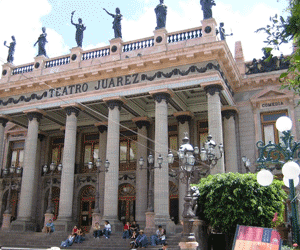 In that same year, Mexican President Luis Echeverría Alvarez declared his support for an international festival of culture. Though he had originally intended the festival to be held in Cancun, President Alvarez quickly recognized the benefits of building on the annual Entremeses tradition in Guanajuato. This charming, colonial-era city is home to the more than 49 theaters and venues that hold Festival Internacional Cervantino events every year.
Throughout the '70s, '80s and '90s, performers from around the world were invited to show off their dance, theater, music and arts talents. Visitors flocked to the colonial city to watch a wide variety of shows and to see internationally acclaimed performers in action. In the 2000s, the Festival's directors decided to establish the tradition of inviting performers from one area of Mexico or world region to attend as special guests. The 2012 Festival honors the countries of Austria, Poland and Switzerland as well as the Mexican state of Sinaloa.
The special guest program has allowed the Festival to create a thematic focus while still hosting acts from around the world. In 2011, artists from 29 different countries descended on Guanajuato for the Festival. Festival organizers have worked hard to ensure that there are serious performance of current plays and artistic works as well as family friendly events.
Travelers who enjoy taking in cultural and artistic events won't be disappointed by a visit to the Festival Internacional Cervantino. The diverse group of artists invited to the event are a boon for a wide variety of art lovers. The colonial setting of Guanajuato adds an extra touch of mystique to this internationally praised annual festival.
(Note: Flying to Guanajuato might require a stop for most people traveling by air, but there are some departure cities that have direct flights to Guanajuato. In fact, Volaris just announced a direct flight to Guanajuato from Chicago, which we blogged about a few days ago.)
Read more about our tours to Guanajuato and other colonial cities.