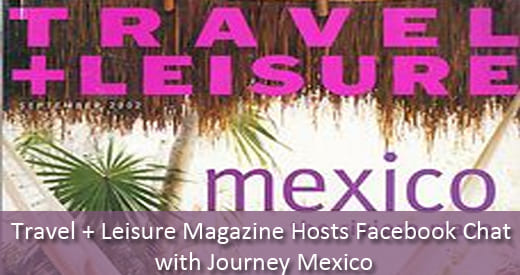 Planning a trip to Mexico? Not sure where to start, where to go, or how to prepare? Then join Travel+Leisure  for a live chat with Journey Mexico's very own expert, Zach Rabinor. He'll be joining us to answer all of your questions. On Wednesday at 2pm EST, Zachary Rabinor of Journey Mexico—featured on Travel+Leisure's A-List—will be live on the Travel + Leisure Facebook page to answer questions.
Here are a few more details about this online session:
When & Where
The Travel+Leisure Facebook chat is scheduled for tomorrow, Wednesday, September 12, at 2 p.m. Eastern Time. Getting there is easy. Simply link to the Travel + Leisure's Facebook page. In the meantime, spend a few minutes thinking about what you'd like to get out of your trip to Mexico so that you can make the most of this opportunity. You can post your questions as soon as the chat starts.
A Little About Zachary Rabinor from T+L:
Journey Mexico's President and CEO, Zach Rabinor, has led Journey Mexico over the past 10 years to become an award winning industry leader in Active, Nature, Cultural and Luxury Travel in Mexico earning him top recognition on Travel and Leisure's A-List. Zach was seduced early on by Mexico's  vibrant cultures, towering peaks, thundering surf and intoxicating cuisine. Zach worked as a tour leader and operations manager throughout the Americas for 10 years prior to founding Journey Mexico and holds a BA from Cornell University and a Masters in International Affairs from the University of California, San Diego.
Zach currently oversees all aspects of operation of Journey Mexico, where he has been instrumental in guiding the company's dynamic growth making it part of the Inc Magazine's Inc 500/5000 for 4 years running. Journey Mexico has earned top awards including National Geographic "Best Tour Operators on Earth" and "50 Tours of a Lifetime", Travel & Leisure's "Best Adventure Trips" and "Best Adventure Outfitter" as well as Travesías Magazine's "Best Tour Operator"; Journey Mexico has been featured in The New York Times, Forbes.com and NPR .
———————————————————————————————————————————————
Update Post-Chat: You can find the thread here