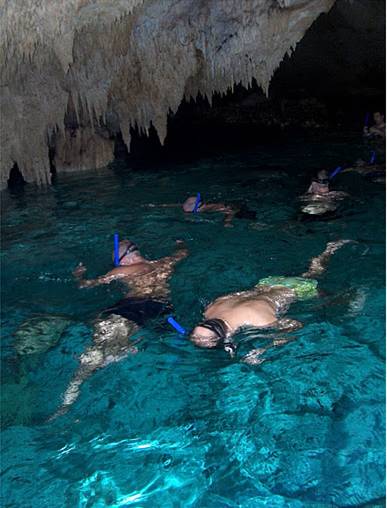 Mexico expects a busier holiday season than last year. According to the Secretary of Tourism, Mexico expects more than 10.4 million visitors just in the last 2 weeks of 2011. Last year, Mexico was the 10th most visited country in the world! Why? There is such a diversity of incredible places to visit in Mexico. One in particular we are very fond of is the underwater cave system in the Yucatan peninsula: the Sistema Sac Actun.
Divers flock to the Caribbean to explore the coral reefs and warm ocean waters, but this area in Mexico offers an entirely different type of diving experience. Positioned on the coast of the Yucatan peninsula near Tulum, an extensive network of underwater caves lies in wait for the more adventurous visitor. Sistema Sac Actun, or the White Cave System, meanders for 113.8 miles making this structure Mexico's longest cave. If you're looking for an exotic Mexico vacation and are interested in cave diving, this is the place to be!
Cenote Diving
The less-experienced diver can get a taste of Sistema Sac Actun by exploring one of the many local cenotes, or sinkholes, that have been made available to the public. Just a short drive from nearby Cancun or Cozumel, tourists can bring their own equipment or rent anything they need at a local dive shop. The Grand Cenote, located on Coba Road to the west of Tulum, is the most popular due to its easy access. Other well-known entryways include:
Pet Cemetery – This shallow dive is filled with stalactites, stalagmites, and blind fish.
The Pit – Take the 24-foot plunge straight down to enter this deep cenote. The maximum depth in The Pit reaches 370 feet, the deepest part of the entire system.
Dreamgate – The roots that reach into this cave from the surface give it a dreamlike appearance. A shallow dive, Dreamgate is one of the most decorated sections of Sistema Sac Actun.
Cave Diving
Expert divers use the cenotes to access the entire cave system and travel through 500,000 feet of surveyed areas and pathways. Note that new areas are being discovered by the official exploration team all the time, but no one else should venture outside of charted territory. Maps are available for most of the established paths that wind through this network of caves and cenotes, and navigational markers are positioned along the way.
Once inside this system of underwater caves, the sights vary from ghostly limestone to dramatic formations that look even more beautiful than similar structures found in dry caves. Depths are fairly constant and rarely extend below 40 feet. The water is crystal clear, and temperatures hover around 77 degrees Fahrenheit at all times. Some cenotes include seaweed and other vegetation that gives the environment an otherworldly appearance. In these areas, tropical fish are often seen.
Safety Considerations
Sistema Sac Actun isn't for everyone. No one should attempt to explore the shallowest cenote without proper instruction. A beginner SCUBA class only takes a few hours and could be enough to allow you to venture into one of the easier cenotes with the help of a guide. To explore the cave system, expect to spend at least two days in class to go with a guide or a week to obtain cave-diver certification assuming you already have your open-water certification. To minimize the time needed for training during your vacation in Mexico, contact a local dive shop at home for advance preparation.
With a little planning, this beautiful and mysterious network of underwater caves can be an exciting part of your active vacation in Mexico. Although the water is not as deep or wide as the open ocean, it's just as dangerous. Caution should always be taken to ensure your safety.
Let us help you plan an exotic Mexico vacation today!
Tel: +52 (322) 225 9821
Toll Free (from the U.S.): 1-800-513-1587
Fill out our online form>>