Set at the foot of two volcanoes in Mexico's picturesque highlands is the historic Hacienda San Antonio.  Because of its off the beaten path location near the Magical Town of Comala (about 3 hours outside of Guadalajara), Hacienda San Antonio is one of the most exclusive getaways in Mexico. On our recent #MexicoJourney, we stopped to enjoy two whole days at this property where we learned the Hacienda, which is indeed a luxurious hotel, is also an all-encompassing experience  with plenty of activities to do right on property.
The Hacienda, completed in 1890, was established by Don Arnoldo Vogel, an immigrant from Germany who found that the cool highland position of his land was ideal for growing Arabica coffee. The Hacienda was successful as a coffee producer and the reputation was so esteemed that it was exported to the German Imperial family. Upon converting the Hacienda to a hotel many decades later by Sir James Goldsmith, the goal was to provide a "living Hacienda" experience by exposing guests to many aspects of regional art, cuisine, traditional music,  natural surrounding beauty and various recreation activities.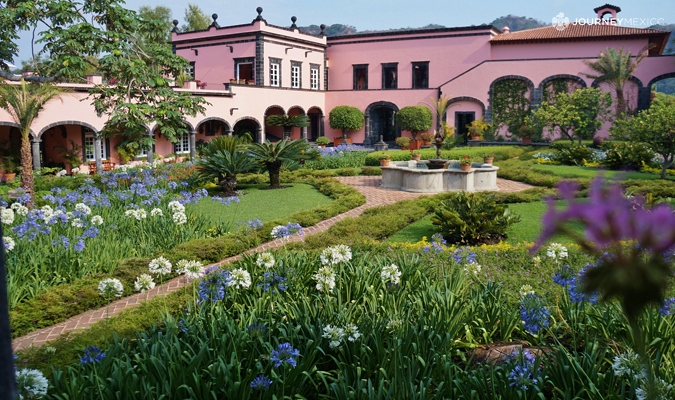 Upon arrival to Hacienda San Antonio, its remote location becomes reality—guests pass straight through town(aka civilization), lose cell phone signal, and continue down a private forested entrance that seems never-ending. While being "off the grid" can be frightful to some, any hesitation is immediately put at ease when a spirited pink stucco'd mansion and meticulously gardened lawn appear in the distance. Many of us let out a sigh of relief as we saw the staff waiting outside, waving vigorously with emotion ready and prepared to welcome the group with a refreshing drink.
The process at this Hacienda is not traditional to most hotels. There is no formal lobby or check-in procedure because the staff are already waiting with key in hand prepared to escort guests straight to one of the 25 suites. The rooms, decorated simply with a majestic 18-century touch, also incorporate regional arts and crafts from Mexico;  talavera pottery from Puebla, hand woven spreads from Chiapas, and enormous crafted rugs from Oaxaca can be found in each of  the suites. A warm fireplace for the winter months makes for a cozy atmosphere while the double pane glass doors open up for a cool breeze during the summer. Many of the suites enjoy the sound of the fully-functional aqueduct that the property uses.
Once settled in, the Hacienda's 2,500 hectares  are open to enjoy and explore! Our first stop? The 110ft checkered swimming pool, of course! Guests wander through the colorful, lush gardens that exuberate various shades of pinks and purples and follow the long jumping fountain and waterfalls to the far back of the Hacienda where the grand swimming pool presents itself. At a perfect temperature, the pool invites guests to relax for a few minutes before heading on to more discoveries. Within the Hacienda's main building there is also a children's area (located in an over-sized rabbit shrub); a terrace with breathtaking views of the Volcano de Fuego; The Yellow Bar, a social hub for evening cocktails; a wood-beamed library that offers wi-fi; and various club rooms perfect for hosting events or playing a game of billiards with mates.
Outside of the Hacienda's main building is where the "living experience" manifests. Most notably is Hortalizas where Maestro Salvador grows and tends to over 45 different vegetables and fruits — all organic. With all the produce they grow, combined with their own cattle and farm animals, the Hacienda is 80% sustainable using its own food. Maestro toured us through the gardens, allowing us to pick our own berries, smell the variety of seasonings, and eat some crisp kale straight from the bush. After harvest, guests can be treated to a snack using all the fresh ingredients!
Another highlight of the property is a visit to their rancho, Rancho Jabalí, which includes a coffee plantation/production. This is where the Hacienda planted its roots back in the 19th century so it only proper that it continues the tradition today! Upon stepping out of a Suburban (Hacienda provides private transportation to each of their activities), the aroma of coffee beans fills the air pungently. Across from the forest of coffee plants is small building where the beans are peeled, roasted, ground, packaged, and so forth.  In addition to tasting the freshly brewed coffee, the Hacienda also offers a variety of 20 cheeses which are, of course, organically produced right on the farm along with some homemade grappa (Italian alcohol). Next door to the coffee guests can find their soap factory where they produce all their own soaps with the herbs and scents found in their gardens!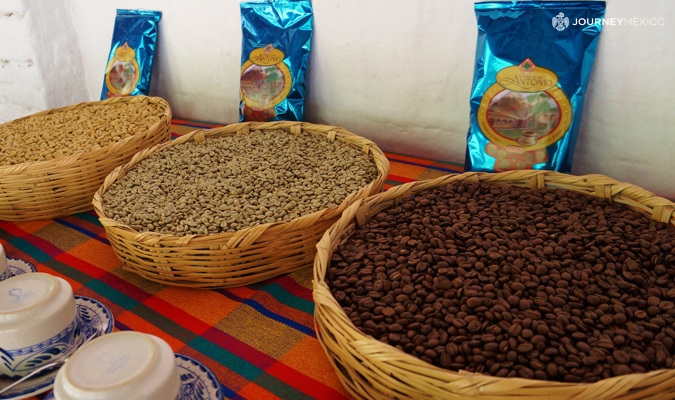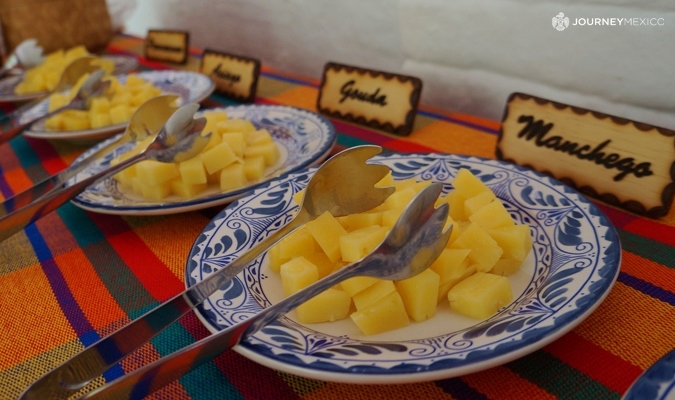 Driving through to view the Hacienda's various lagoons, lakes, and waterfall by a Hacienda San Antonio guide, we leisurely made our way to the horse stables. The horses roam freely around their acreage and can be saddled up and set to ride by guests upon request. Best tip for the ultimate Hacienda San Antonio experience would be to giddy on up the horses and ride to el Epazote, a picturesque terrain bordered by a small lake, grazing cattle, a fantastic view of the volcano and a cluster of enormous trees providing just enough shade to have a perfect picnic among nature waiting for guests to enojy. After lunch, guests can ride the horses back to see the breathtakingly beautiful bamboo forest. It will have any traveler forgetting what continent they are on!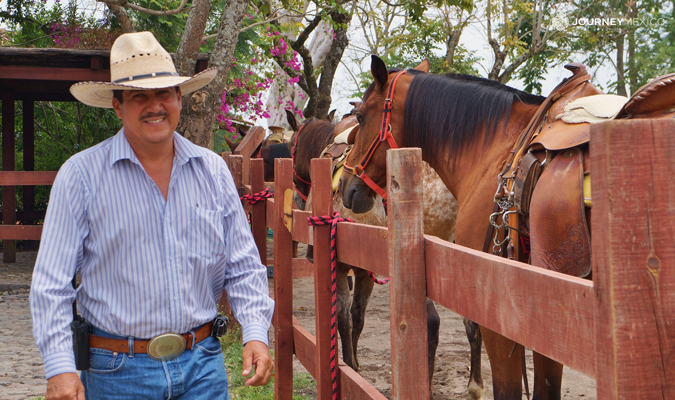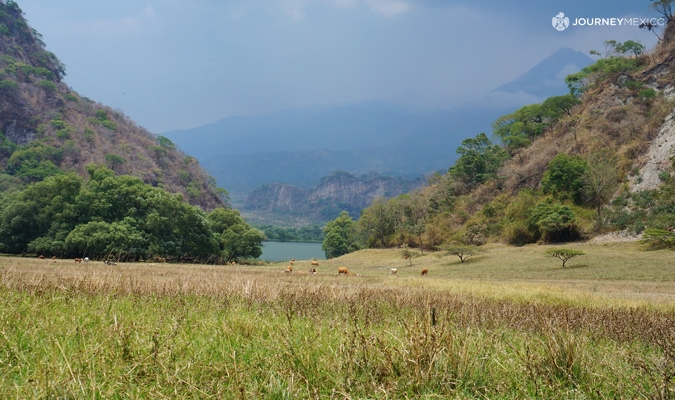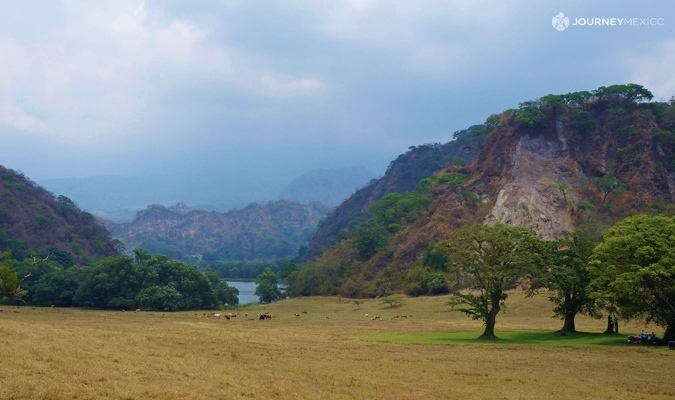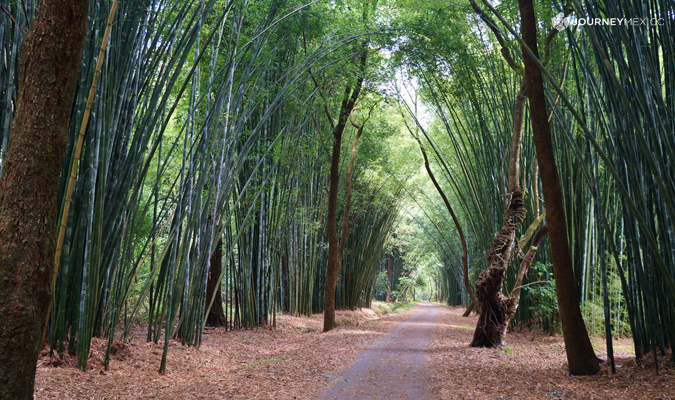 Hacienda San Antonio, although off the beaten path, is a standalone destination. Even though our #MexicoJourney allowed us to spend two days at the property, we did not even get to cover everything they have to offer. Volcano hikes, bird watching, mountain biking, nature walks, tennis and other recreational activities will be waiting for us upon our next return!  To read more stories while on the #MexicoJourney road, click here.
If interested in visiting Hacienda San Antonio, contact one of our travel planners at [email protected]. We have great itineraries combining the remote location of the Hacienda with its sister property, Cuixmala, located on the Pacific Coast.