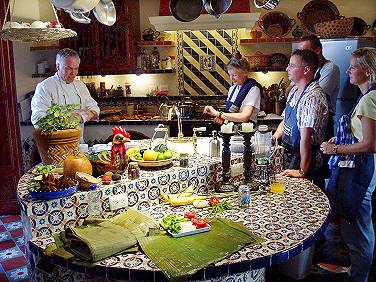 Sampling the local cuisine in a culinary vacation is one of the best (and tastiest) ways to immerse yourself in a foreign culture. One sip of the esteemed Oaxacan drink tejate, for instance, reveals the complexity of its meticulous ingredient list, a rich blend of toasted cacao flowers and cacao beans, mamey seeds, and corn flour mixed with ash perfected over centuries from the courts of Zapotec royalty to modern market stalls.
If food, wine and cultural exploration are your ideal travel companions, the Master Chef Culinary Trip to Oaxaca, Mexico is your chance to indulge in the enchanting sights, scents and flavors of an extraordinary historical region. Every moment of this seven night vacation offers an exhilaratingly interactive experience. You will be treated to the legendary cuisine and delicacies of Oaxaca, a locale known for its exquisite moles, spicy chiles, crispy tortilla dishes and cinnamon-laced hot chocolate.
Guided by seasoned master chefs such as Pilar Cabrera and Alejandro Ruiz, you will learn the process of bringing these flavorful Mexican dishes to life in a traditional Oaxacan kitchen. Much like tejate, many Oaxacan dishes are deeply agricultural, involving the delicate intermingling of regional ingredients with distinct traces of Mexico's pre-Hispanic heritage. At the local markets, these passionate chefs will introduce you to the elements of each dish, sharing their deep culinary knowledge on how to find and prepare the best local ingredients.
Yet, this culinary vacation isn't just about the food. Get ready to dive into the vibrant cultural landscape that frames this delectable cuisine, a place heavily defined by its ancient architecture and the stunning artisanry of the local towns. Inside the charming homes and workshops of Oaxaca's Spanish colonial-style towns and Zapotec villages, you will see firsthand the creation of beautifully intricate woven rugs, handmade candles and whimsical painted animals.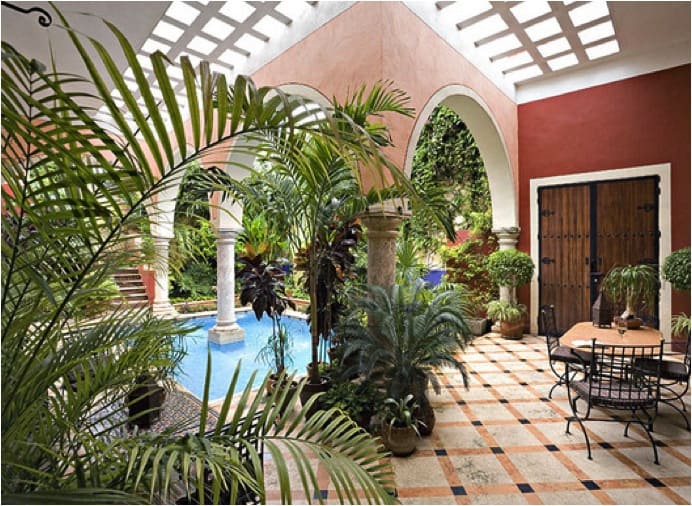 The topography of Oaxaca is a living timeline of the cultures that once settled there, from Olmec to Zapotec to Mixtec civlizations, as well as Aztec influence later on. Traveling through these historic Mexican sites, you will marvel at the splendor of the mosaic-adorned tombs of Mitla and famed Monte Albán, a 2500-years-old city featuring elaborate subterranean passages, temples and tombs carved from mountainous terrain. You'll navigate the lively markets of Oaxaca, visit fascinating archaeological sites, and stare in awe at the 2000-years-old Tree of Tule.
The Master Chef Culinary Trip to Oaxaca, Mexico is truly designed for enthusiastic foodies and explorers. This experience is guaranteed to captivate the senses and the mind, inviting you into a dynamic culture rich with tantalizing cuisine, dedicated artisans and spirited historical traditions you'll remember for a lifetime.