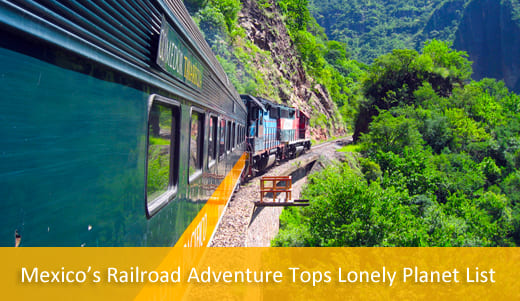 The Lonely Planet recently published an article called Riding the Rails: Classic Train Journeys of the World and guess which trip was at the top of the list – Mexico's very own Copper Canyon Railroad Adventure!
The trip aboard Mexico's first-class Ferrocarril Chihuahua al Pacifico train can be found on bucket lists worldwide – and for good reason. The train journey whisks you over 36 bridges and through 87 tunnels as it travels 655km in length, offering unforgettable views of the Copper Canyon. During the trip, travelers stop to visit the local people of small, remote towns in the Sierra Tarahumara mountains to experience their unique culture.
The luxury of the train is matched in Posada Barrancas, where passengers unwind at the gorgeous hotel Mirrador, the only hotel that offers sweeping views of the canyon from each and every room!
Reaching the town of Creel, adventurous travelers leave the luxury of the train behind to descend the rugged switchbacks into the depths of the Batopilas Canyon. Passing through La Bufa Canyons, adventurers take in the local wildlife, beautiful rivers & streams, and have the chance to explore historic mining outposts. Another highlight of the trip is a visit to the "Lost Cathedral of Satevo," whose grandeur and magnitude attest to the importance of its town and the riches that it produced at the turn of the 20th century.
Though perhaps lesser known, the Copper Canyon Railroad Adventure undoubtedly desserves its ranking amongst the legendary train trips of the world. It's nice to know that Lonely Planet agrees.