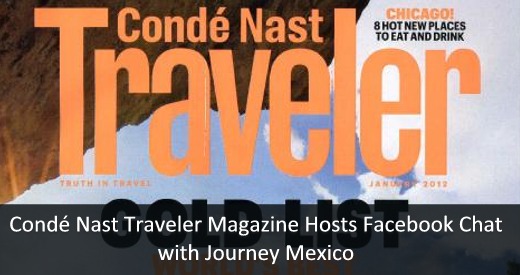 Repost from Conde Nast Traveler
Thanks to Mayan prophecies and reports of violence, travelers have a lot of questions about traveling to Mexico these days. On Thursday at 2pm EST, Zachary Rabinor of Journey Mexico—one of the top-rated, thoroughly vetted travel specialists that is recommended in Wendy Perrin's Top Travel Specialist Collection—will be live on the Conde Nast Traveler Magazine Facebook page to answer questions.
Here are a few more details about this online session:
When & Where
The Conde Nast Traveler's Facebook chat is scheduled for today, Thursday, Jan 12, at 2 p.m. Eastern Time. Getting there is easy. Simply link to the Conde Nast Traveler's Facebook page. In the meantime, spend a few minutes thinking about what you'd like to get out of your trip to Mexico so that you can make the most of this opportunity. You can post your questions as soon as the chat starts.
A Little About Zachary Rabinor
Zachary, your travel expert for this event, lives and breathes Mexican tourism. In fact, he spends most of his time inside the country and bases his operations out of Puerto Vallarta. If you're looking for someone who knows the scoop on where to stay, the local culture, the best surfing spots or how to get a seat at the chef's table in a top restaurant, Zach is the man to talk to! On January 12th, be ready to ask Zach the hard questions. You can bet he'll have the answers!
Don't miss this chance to ask Mexico's top travel specialist all your most detailed questions. If you found this post a little too late, don't worry! Just give our travel experts at Journey Mexico a call. If they can't answer your questions, they'll get the information for you directly from Zach! He's definitely the brains behind Journey Mexico.
———————————————————————————————————————————————
Update Post-Chat: You can find the thread here