You're invited to celebrate with NIZUC Resort & Spa this September and to experience Mexican culture through the innovative reinterpretations of contemporary Mexican cuisine at Ramona restaurant.
Authentic Mexican cuisine is celebrated worldwide for its depth of flavors, vibrant colors, and rich history. The origins of Mexican gastronomy date back to the pre-Hispanic period when its foundations were rooted in native ingredients including corn, cocoa, chilis, avocado, tomatoes, and beans. When the Spanish arrived, they introduced new ingredients such as fruits, sugars, oils, cereals, and spices that enriched and expanded the country's cuisine.
At NIZUC Resort & Spa's Ramona restaurant, Chef Irving Cupul honors Mexico's rich culinary history by focusing on local flavors and ingredients with a contemporary twist. This September, to celebrate Independence Day, the Chef will serve one of Mexico's most emblematic dishes, Chiles en Nogada, all month long. This classic dish is full of Mexican history dating back to 1821 when it is believed Chiles en Nogada was first prepared by the Augustinian nuns of Santa Monica in Puebla during the Mexican War of Independence. Made with local ingredients, the dish was served to the visiting Mexican Army General Agustin de Iturbide who was instrumental in winning the Mexican War of Independence. Made with the freshest Poblano Chiles smoked and stuffed with the local ingredients including apples, peaches, pears, walnuts, almonds, and pine nuts mixed with ground beef and pork, providing a diverse range of tastes and textures.
Chef Cupul will also present a specially curated menu available for two nights over Mexican Independence Day this September 15th,16th & 17th.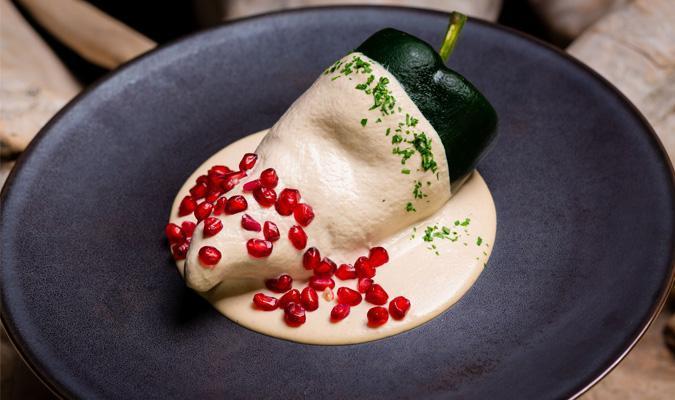 START PLANNING YOUR  VACATION AT NIZUC
Ready to experience this special celebration at Nizuc?  Get in touch with our expert travel planners to start designing your custom trip around Nizuc hotel. Trips start at $1,800 USD per day for two travelers. Be sure to check out our Sample Itinerary: Magical Times in the Yucatan Peninsula with Nizuc for ideas and inspiration on all the unique and distinctive experiences you can have on your next vacation!