If you're looking to avoid the winter chill, Mexico is the ideal destination to soak in the sun and enjoy a luxury golf vacation in first-rate resorts. In Condé Nast Traveler's 2012 list of the top golf resorts worldwide, 5 of Mexico's outstanding locations ranked amongst the 15 best foreign golfing getaways. This natural paradise is known for its multi-faceted golf courses defined by lush tropical greenery, desert stretches, mountain vistas and dazzling waterways. Find out where to stay in Los Cabos, Cancun and Punta Mita and more, for an amazing golf trip.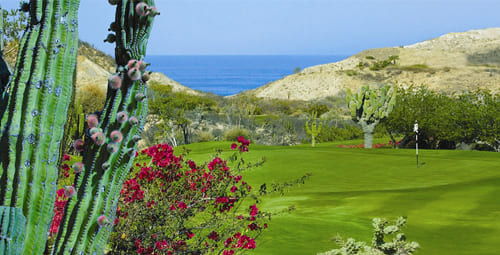 1) One & Only Palmilla, Los Cabos, Mexico
Three nine-hole layouts, Ocean, Arroyo and Mountain, form the spectacular 27-hole design of One & Only Palmilla Resort's 7,000-yd course in Los Cabos, Mexico. True to its name, the resort offers an exceptional multi-terrain experience envisioned by Jack Nicklaus. Golfers are transported to Mexico's enchanting countryside where majestic cacti, placid lakes and sprawling inclines create a versatile landscape for athletes of all skill levels. Rated amongst the top 100 courses in the world, One & Only is the perfect location to host company tournaments or enjoy professional lessons while vacationing.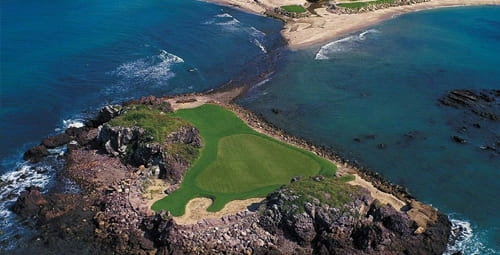 2) Four Seasons Resort, Punta Mita, Mexico
The Four Seasons is host to two Jack Nicklaus courses inspired by the resort's tropical seaside location. An exclusive natural island green is the standout hole of the Pacifico course, which offers seasonal views of majestic whales traversing the Pacific Ocean. Golfers can test their technique along the complex fairways and hills of the Bahia course, an incredible beachside layout that takes players through green hills and white sands for an unparalleled view of the bay. Guests won't be disappointed with the Four Seasons's famed services, which range from state-of-the-art fitness facilities to luxury yachting.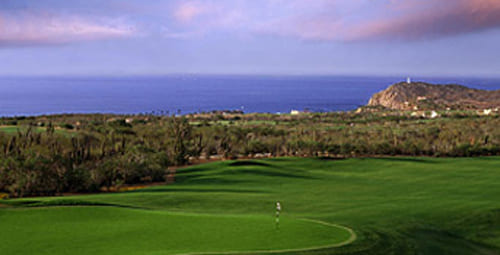 3) Esperanza, Cabo San Lucas, Mexico
Guests of Esperanza can explore the nearby 18-hole Cabo Del Sol golf course. A true gem for golfing connoisseurs, the layout mirrors striking aspects of Mexican landscape. Surrounded by shelves of craggy rock, smooth white sands, breathtaking arroyos and well-placed bunkers, the desert and ocean courses provide a versatile environment for one exciting game after another. Two of the ocean course's inventive holes, designed by Jack Nicklaus, rank among the top 500 worldwide. After a long day of golfing, guests can relax with botanical spa treatments or visit Esperanza's exclusive gallery for a look at authentic Mexican art. For more about  Cabo San Lucas read our blog post 5 Top Luxury Mexico Vacations for Spring 2012 .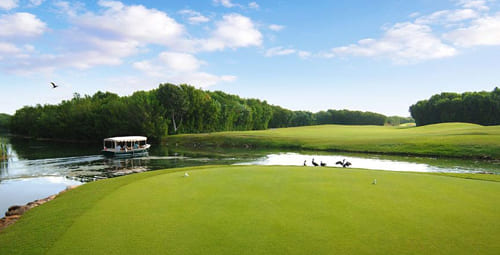 4) Fairmont Mayakoba, Riviera Maya, Mexico
Home to Mexico's only PGA Tour course, the El Camaleon Golf Club at Fairmont Mayakoba Resort in the Riviera Maya is no less than a golfing adventure. El Camaleon, or the chameleon, is the brainchild of Australian golf legend, Greg Norman. The 7,000-yd course is brilliantly designed to blend into the stunning tropical landscape, spotted with clever obstacles ranging from mangrove trees and sparkling lagoons to sand dunes and natural subterranean caves. Off the course, guests of all ages can enjoy luxury amenities like treetop spa therapy, seaside dining and children's adventure camp.
5) Moon Palace Golf & Spa Resort, Cancún
Guests at Moon Palace Resort will find serenity in the dynamic Jack Nicklaus course set against Cancún's breathtaking scenery. Beautiful stretches of greenery are surrounded by crystal waters and spotted with challenging bunkers and wetlands for a compelling game. Strategists will appreciate the meticulous details of each nine-hole course as they navigate the distinct environments created for each layout. At this palace resort, golfers receive the royal treatment with snacks provided along the course and drinks at the clubhouse. Golfing lessons and pro rentals are available for novices who want to sharpen their skills.
If you're looking to get a relaxing golf break this winter, visit Mexico, and you might just experience a trip of a lifetime.