The "term" boutique hotel hardly seems like an appropriate description for a hotel. It's a concept reserved for trendy specialty stores, and yet, it so accurately conveys the level of glamour and accommodation offered by some of Mexico's most unique hotels. There's no single identifying characteristic of a boutique hotel, except that these fashionable vacation spots enchant patrons with a multi-faceted experience that includes small intimate settings, dynamic design aesthetic and luxury amenities.
The Best Boutique Hotels in Mexico range from stylish city oases featuring playful avant-garde décor and impeccable technology to remote sanctuaries with sumptuous antique furnishings and distinct onsite leisure activities. Unlike the impersonal atmosphere of large hotel chains, every element of these boutique hotels in Mexico are designed to fascinate and entice the guest. If you're looking for the perfect spot for your next Mexican vacation, here's our list of the top boutique hotels in the country.
1) Casa Lecanda
An elegant Yucatecan home is the backdrop for this seven-room hotel, restored to perfection and infused with exquisite European architecture. Surrounded by swaying palms, magnificent arches, luxurious Spanish tile and the vivid beauty of local Merida, Casa Lecanda is a stunning sanctuary at the heart of Yucatan culture. Guests of this satisfyingly cozy boutique hotel enjoy the best of both worlds: a tranquil refuge with historical appeal that also happens to be conveniently outfitted with flat screen cable TVs, Wi-Fi, walk-in rain showers and organic bath products for a lavish getaway.
2) Casa Grande
The Casa Grande originated as the 18th century mansion of Don Juan Antonio Cacho de Herrera. Today, this restored property in Morelia is the site of twelve meticulously designed rooms, a balance of modern and colonial-style furnishings, and expertly crafted custom pieces by Michoacan artisans. Known for its spacious bathrooms, high vaulted ceilings, polished wood accents and grand views of the plaza, the Casa Grande offers the sophisticated traveler refinement and culture with a hint of excitement in the form of its onsite restaurant, café and bar.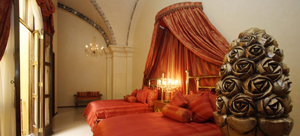 3) Palacio Borghese
True to its name, the Palacio Borghese is a hotel fit for Italian royalty. Each of its six rooms are inspired by an Italian city and embellished with stunning Neoclassical décor. A romantic air pervades this Oaxacan hotel, decorated with delicate upholstery, rich drapery and graceful details ranging from crystal to chandeliers and marble pillars to sophisticated sculptures and paintings. Intimate serenity is the focus here, where guests are treated to private hydro-massage showers, daily fruit baskets and luxurious 500-thread count Egyptian cotton bedding. And of course, its location near the historic center of Oaxaca means that there's no shortage of exhilarating activities to enjoy while staying at this charming boutique hotel.
4) Cabo Surf Hotel
The Cabo Surf Hotel is a 22-room boutique resort located right on the beach. Golden sand, towering palms and rolling waves set the scene for an upscale vacation at this popular surf spot, fully equipped with its own day spa and seafood restaurant. A lively shopping district awaits visitors to Los Cabos, but guests can easily retreat to the breezy California-style suites and villas to relax in a private sanctuary of shining marble floors, cedar woodwork and palm thatched balconies. Sparkling ocean views are a given for this Mexican oasis, and guests are pampered with convenient kitchenettes, excessively comfortable linens and L'Occitane bath products.
5) Hotelito Desconocido
Hotelito Desconocido (newly and completely renovated) in Costa Alegre is like a private tropical paradise for travelers who enjoy the soothing call of nature. Situated in a breathtaking lagoon, this boutique getaway houses its own nature reserve for exotic birds and sea turtles, and lush organic gardens that provide delectable fare for the onsite eateries. Twenty-seven palm-thatched bungalows line the shores of sandy beaches, each designed by talented local artisans and featuring rustic distressed furnishings, airy linens, carved bathtubs and other natural elements that mimic the tropical landscape.
Beyond the basics of luxury accommodations, Hotelito Desconocido offers recreational pursuits like horseback riding, windsurfing, wildlife exploration and spa therapy. Here, guests are meant to escape from the burdens of city life, enjoying the cool ocean water from submerged hammocks and basking in the refined simplicity of solar-powered showers and handcrafted toiletries.
6) Casa Sandra
Inspired by the local culture of Holbox island in Cancun, Casa Sandra's owner set out to create a remote retreat defined by the striking landscape, exotic wildlife, brilliant colors and the charming minimalism of its inhabitants. The result is a romantic luxury hotel with 20 airy suites and villas surrounded by graceful tropical birds, rustic Mexican décor and the sparkling blue ocean. It's a place of art and passion, where the natural world is complemented by serene human touches, such as inviting white rooms, gentle hammocks and vibrant distinctly Mexican art and accent pieces. Casa Sandra is well equipped with spa rooms, Wi-Fi and an onsite restaurant considered one of the most enticing places to dine in the area.
7) Hotel Matilda
Hotel Matilda is the height of sophisticated luxury, immersed in the artistic culture of famed San Miguel de Allende. The international traveler will find comfort here amongst gourmet dining facilities, a captivating blend of modern and antiquated architecture, and provocative commissioned pieces from some of Mexico's most adored contemporary artists. This economically conscious hotel offers 32 rooms styled with beautiful balconies, lush indigenous plants, atmospheric lighting and chic furnishings made for comfort. With a full-service cutting-edge spa, state-of-the-art fitness equipment and an infinity pool, guests may find it hard to leave this thrilling hotel and explore the city beyond.
Other great, new boutique hotels include:
Akalki Holistic Center in Bacalar Lagoon, Quintana Roo
Hotel Bo in San Cristobal de las Casas, Chiapas
Casa Azul in Merida, Yucatan
Before you plan your next luxury vacation to Mexico, browse our entire portfolio of alluring boutique hotels for an unforgettable experience tailored to your travel needs.