Journey Mexico recently traveled to Veracruz for Mexico's first adventure trade show, ATMEX, where participants not only learned about Mexico's adventure offerings, but also about the importance of sustainable tourism. Speaking on the subject was Shannon Stowell, President of Adventue Travel Trade Association (ATTA): "Green, sustainable, and eco travel are still on the rise. Adventure travel is at the forefront."
Now more than ever, travelers are searching for more than just the cookie-cutter getaways. Adventure tourism has grown approximately 16% in comparison to general travel at 4%. Travelers are done with the flop and drop beach resorts and are ready to experience and explore the destinations they travel. They want to return home with amazing stories and lifetime memories.
Mexico has great potential to develop and cater to this segment of travelers as it is one of the five countries with the widest range of biodiversity in the world. Whether you are looking to take to the land, the air, or the sea, Mexico offers adventure travel opportunities to suit all interests and skill levels. There are also a wide array of eco-friendly lodging options to help off-set your carbon footprint! Below is an overview of some of Mexico's most exciting adventures and green lodging: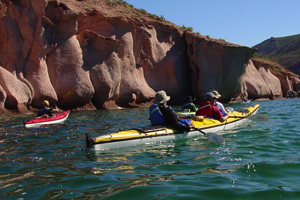 River Rafting and Kayaking – The Gulf Coast state of Veracruz contains more than 40 rivers that wind through rugged topography, offering world-class white water rafting and kayaking experiences. Mexico Verde, provides plenty of these adventurous activities and even has their very own lodging– or better called, 'glamping' (glamour camping) –with luxury tents each with private bathrooms.
On the other side of Mexico, between Baja California and the Pacific Coast, lie tranquil and scenic kayaking experiences on the Sea of Cortez, which Jacques Cousteau called "The World's Aquarium."
Mountain Biking – The cycling and mountain biking opportunities in Mexico are limitless. The wildly varying climates and geography of Mexico ranging from arid deserts, lush tropical jungles, temperate plateaus, and lofty mountainous and volcanic regions provide breathtaking backdrops for all types of biking adventures.
A great place to explore on bike is the Copper Canyon region– here you will find adrenaline pumping downhill missions and scenic tours through mountain trails. The Sierra Lodge is a great option to stay at when looking to choose an eco-friendly hotel. Here, there is no electricity, no telephones, no TV's, no radios — but there is hot water and beautiful spacious rooms!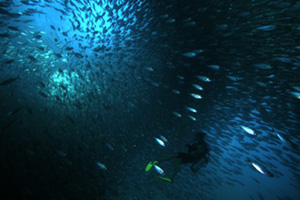 Snorkel and SCUBA – Bordered by four oceans, Mexico is home to some of the finest snorkeling and SCUBA diving opportunities in world.
Legendary snorkel and scuba areas in Cancun now offer underwater sculpture parks http://bit.ly/djyF09 where you can literally watch new ecosystems flourish, and Mexico's Pacific coast is littered with secluded, lesser known underwater paradises perfect for day trip exploration.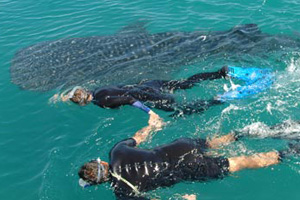 Swimming with Sharks – Thousands of whale sharks (the world's largest fish) migrate to an island off the coast of Cancun annually, allowing for incredible opportunities to swim with these docile giants that can grow to over 60 feet in length!
Xaloc Resort, located at the prime migrating area for the whale sharks at Isla Holbox , is an eco-friendly getaway composed of bungalows that have been constructed with care. The owners of Xaloc Resort have paid careful attention to all the small details that make an eco-friendly getaway a truly remarkable experience.
For the extremely adventurous, a to the Guadalupe Island, 150 miles off the coast of Baja, California, will have you swimming in crystal clear waters to photograph enormous great white sharks.
Mountaineering and Hiking – Enormous mountains, snow-capped glaciers, and towering volcanoes make Mexico a world-class destination for serious mountain climbers. Mexico's Copper Canyon, Oaxaca's Sierra de la Laguna, and the Sierra Madre Sur of Chiapas all offer a range of hiking experiences from cultural jaunts through the countryside to back-country wilderness treks – perfect for all levels of hikers.
Escudo Jaguar Hotel is located on the Usamacinta River in the state of Chiapas. This  eco-tourist resort/camping is operated by a group of native people called the Choles. The owners have worked hard to ensure that guests enjoy the enchanted land surrounding the Usamacinta in a fashion that is eco-friendly and beneficial to the local economy.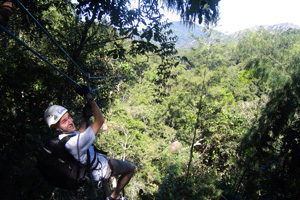 Ziplining – Flying through the jungle across lakes and over rivers on a zipline is one of Mexico's most exciting adventure activities. With world-class canopy courses set up in several regions of Mexico, a day trip of ziplines is a great way to add excitement to a Mexico vacation.
Puerto Vallarta is a prime spot for zipling. Offering various courses through the Sierra Madre Mountains, guests zip tree to tree with a background of the most beauitful views. Nearby Puerto Vallarta you can find Xinalani Retreat a serene resort is surrounded by both the Pacific Ocean and a lush jungle. Composed entirely of high-class suites, it is designed for guests to be close to nature without sacrificing the conveniences of modern living.
Surfing – The fact that Mexico is one of the world's greatest surfing destinations is indisputable. Whether you are a beginner looking to practice on some long, mellow waves of the Riviera Nayarit or a ripper looking to hide out in the barrels of Baja and the mainland, Mexico has waves for people of all ages and abilities.
Cabo Surf Hotel, is a great option whensurfing the beaches in Los Cabos. Located on  the best surfing beach in the area, Cabo Surf Hotel takes very seriously the consequences that result from damage to the environment and climate change on our planet.