We are proud to announce the launch of a new company logo: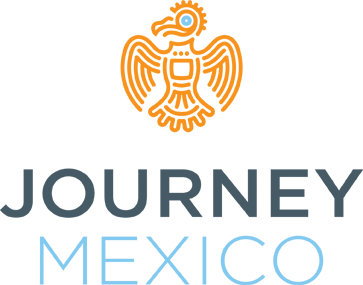 In 2012, Journey Mexico hit some exciting milestones –the year started with a successful re-opening of our Cancun Office, Journey Yucatan,  and brought recognition to  Journey Mexico from outlets like Travel + Leisure, Conde Nast Traveler, Travel Weekly, National Geographic and the International Luxury Travel Market. With the incredible support of our clients, suppliers, and partners, Journey Mexico continues to experience dynamic growth.
As the new year approaches, it will mark ten years of operation for Journey Mexico! With the success we've achieved in the first ten years, we are looking ahead and planning for the next. We stepped back and took  time to evaluate our company's brand and logo to ensure it was in sync with who we are and what Journey Mexico represents. After careful consideration, we chose a new logo that still embodies Mexico, but with a sleeker look that captures our company's character. The  hieroglyphic eagle and new font and colors represent Journey Mexico's strive to fulfill the promise of upholding the best quality in our job, product, service and results.
We have already updated most of our collateral material, uniforms, business cards, etc. with the new logo. We realize that changing a logo is a process that can take some time, but we are confident that the new look will help us continue in the forward direction. We will be launching a new website in the next few months which will solidify our brand.
If you have used the Journey Mexico logo in any of your marketing materials, please assist us in updating them.  We appreciate your kind support.  If you have any questions, please don't hesitate to contact us.