Mexico's Pacific Coast boasts some of the country's most luxurious resorts as well as picturesque coastal views and great watersports. In the neighboring beach towns of Ixtapa and Zihuatanejo, visitors can find two distinct vacation experiences wrapped up into one destination making it one of Mexico's most unique and attractive beach escapes.
Ixtapa
Ixtapa was originally a fisherman and coconut farmer's town before it a was developed strategically to become a tourism destination by Mexico's government. With tourism investments and infrastructure arriving in the 1970s, Ixtapa now boasts high-rise hotels and resorts, upscale shopping, a bustling marina, an array of restaurants, and clean, urbanized areas. Ixtapa has two hotel zones that span a wide bay,  covering  the beaches of El Palmar, Playa Linda, and Playa Quieta and appeals to all types of travelers whether it be relaxing sun-seekers or adreneline pumping adventureers.
Capella Ixtapa
Nestled on a cliff edge and gently bathed in the ocean breeze, Capella Ixtapa enjoys impressive views over the Pacific Ocean.  The entire resort boasts soft curves and low light, giving a calm, relaxed feel that allows the stunning vista to speak for itself.  Rated consistently as one of Mexico's leading hotels in luxury and service (most recently by Trip Advisor, Condé Nast Traveler, and US Travel News), Capella Ixtapa's all-suite resort features spacious master bedrooms filled with the orchestrated scent of lotus flower, impressive views from every window,  and a private terrace with plunge pool. Divided into 5 towers with 7 floors built strategically into the cliff, the hotel does not have a beach, but what it lacks in sand, it more than makes up in wow-factor and privacy. Not to mention, Playa Linda beach is just a 5-minute bike ride away on a beautifully paved trail, with bicycles provided complimentary by the hotel.
In the common areas guests will find beautiful bougainvilleas pathways leading to either the library, two infinity pools overlooking the ocean, the terrace bar with an impressive selection of tequilas, or one of the three restaurants that offer a variety of top-class cuisine from fresh seafood to Mexican classics. A Mares is Capella's signature restaurant offering a changing, seasonal menu using local, fresh produce and seafood where each dish is prepared to represent the authentic flavors of the Pacific Coast. The best way to experience their clean, innovative meal concepts is through the four course tasting menu, paired with a wine from their Mexican wine selection. However, for a unique way to taste the zest of the coast, travelers will love the dining experience at The Seafood Market where they can choose from a selection of the day's catch brought in from local fisherman. After selecting and weighing their choice of snapper, octopus, shrimp, lobster, and other local speciaites, the chef will match their taste buds and cravings with a suggestion of different ways to prepare, season, and grill their choices.
To indulge further in the luxury of the resort, guests can head to the spa that offers a great variety of treatments ranging from traditional massages to native-herb-infused experiences. The fully-equipped gym and yoga classes also allow guests to keep up with their fitness regimes while on vacation.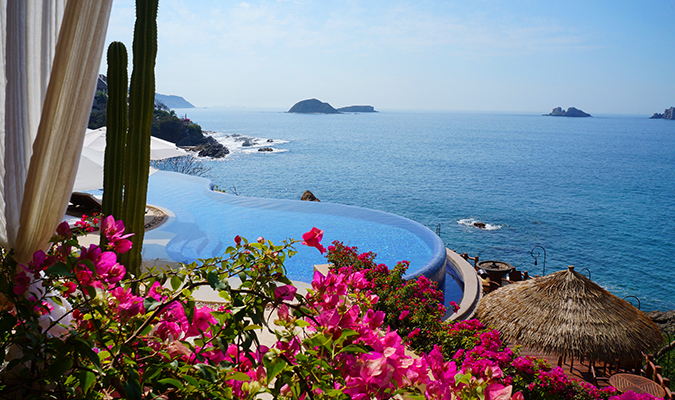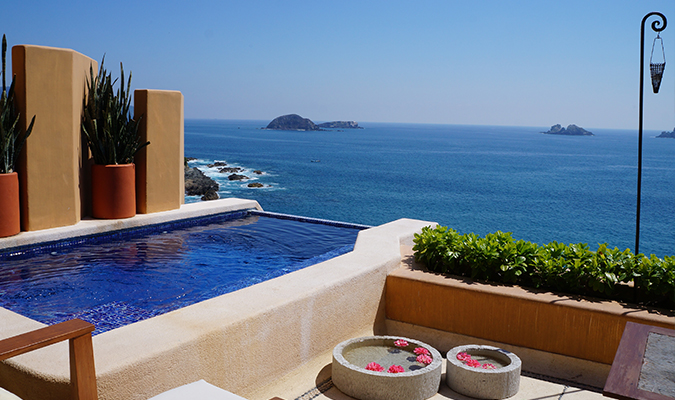 Zihuatanejo
Just 6.5km (4m) from Ixtapa is Zihuatanejo, a still-quaint fishing village nestled into the mountains around a small, narrow bay. Unlike Ixtapa which is maintained with federal funds to boost tourism, Zihuatanenjo relies mostly on the local city government, thus the ability to implement their own ideas based on retaining the town's local and authentic laid-back essence and charm. Zihuatanejo has several beaches but its star attraction is Playa La Ropa which features about a mile long strip of soft sand, palapa-style seafood restaurants serving the catch of the day,  and crashing blue waves. Voted one of Mexico's best beaches by Trip Advisor, it also offers an array of water sports including parasailing, kayaking, jet-skiing, SUP-ing, and of course, fishing. The downtown area is also a draw for tourists to experience a traditional Mexican center with its traditional wooden structures and terracotta-tiled roofs, papel picado lined winding streets, and an array of friendly owners of galleries and folk art boutiques.
Viceroy Zihuatanejo
Sitting directly on Playa de Ropa in the beautiful Zihuatenejo Bay, Viceroy Zihuatanejo offers over three hundred meters of private beach for guests to enjoy. Recently voted as one of Mexico's Top 25 Hotels by Trip Advisor, and included in the Top 40 Resorts in Mexico by Condé Nast Traveler, the luxury property boasts suites offering ocean views, spacious living areas, a private plunge pool, and state-of-the-art technology for complete comfort.
Viceroy Zihuatanejo features two on-site gourmet restaurants, La Villa and La Marea, which offer Mexican and Mediterranean cuisine respectively. The hotel recently brought on a new chef, Eduardo Avila, who is passionate about offering guests a memorable dining experience of traditional Mexican flavor  and using regional, fresh ingredients in his nutritionally-balanced menus.  As far as seafood dishes go, the Huachinango Crujiente (Crispy Red Snapper) is one of his finest contemporary interpretations of Mexican cuisine with Mediterranean influence using local seasonings and fresh snapper displayed beautifully on a bed of flavorful paella-style rice.
In addition to luxury accommodations and gourmet dining options, the Viceroy Zihuatanejo is also taking strides to be environmentally responsible and sustainable that extend to all aspects of the resort: from management and purchasing choices, to energy efficiency and water conservation.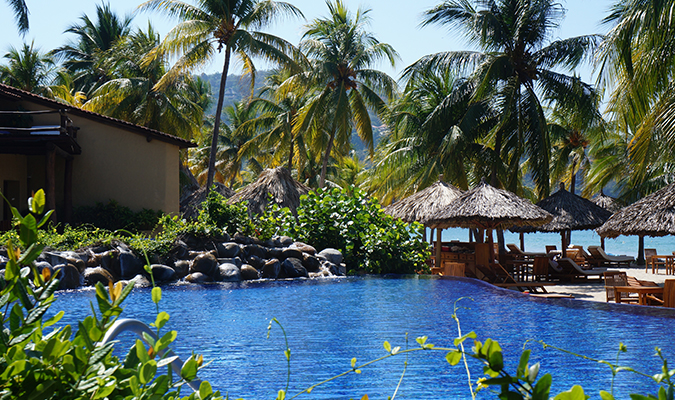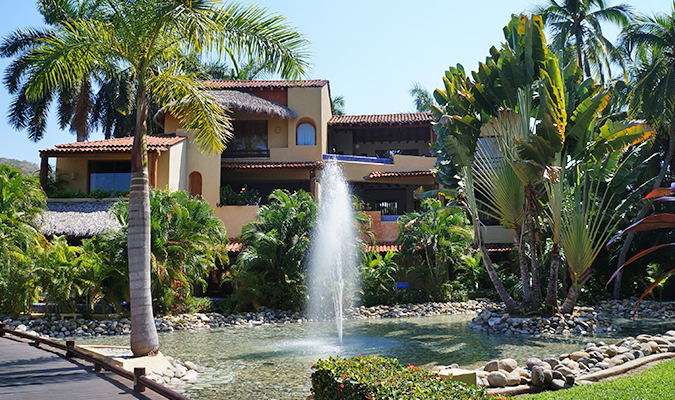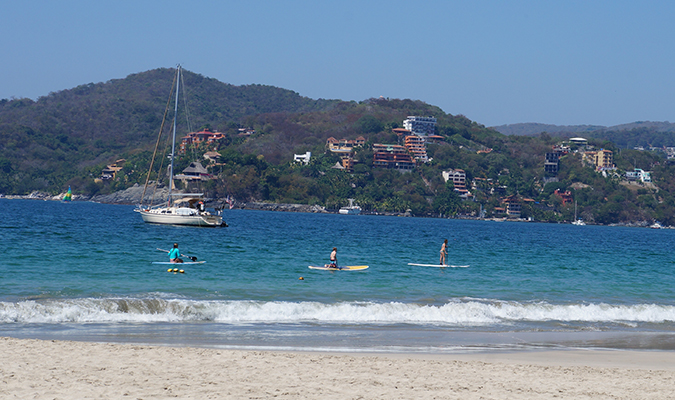 Ixtapa – Zihuatanejo's International Guitar Festival 2016
Musicians from around the world will fill the streets and beaches of Zihuatanejo with their distinctive sounds and styles March 5-13, 2016 at the 13th-annual Zihuatanejo International Guitar Festival at this popular destination on the Mexican Pacific. The international music event will feature a series of concerts over nine days at several locations in Zihuatanejo, including the Viceroy Zihuatanejo resort on La Ropa beach,El Palmar beach in Ixtapa and La Madera beach in Zihuatanejo.
Guitarists from many countries will perform in a wide scope of styles, from classical percussive, blues and country to international influences. The festival will kick off with an Opening Concert on El Palmar beach with 11 artists and groups, and close with a Jam Concert and free to the public concert with multiple artists, while in between there will be a series of smaller concerts such as the March 6 event at Viceroy Zihuatanejo with acoustic guitarist and composer Maneli Jamal of Iran and the Andrea Perrone Duo of Brazil, one of the world's few women virtuoso guitarists.
"Zihuatanejo has evolved into a popular destination for festivals and events, but none are as exciting or inspiring as our annual Zihuatanejo International Guitar Festival," said Martin Kipping, General Manager of the Viceroy Zihuatanejo. "Our streets resound with innovative music and visitors come from all over the world."
This post is part of my #JourneyPacificMx trip, while traveling through Ixtapa-Zihuatanejo; readers can follow along my real-time experiences and tips via Instagram, Twitter, and Facebook with hashtag #JourneyPacificMX