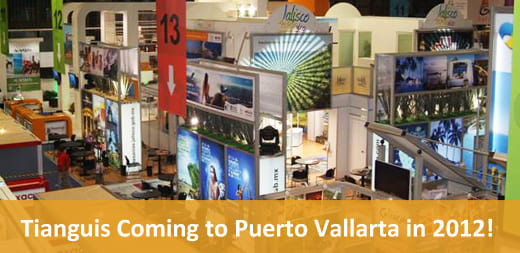 After several months of debate, it's official – Mexico's annual Tianguis Turistico will be held in Puerto Vallarta next year. Tianguis is the most important travel trade show in Mexico, providing a unique business arena where domestic and international purchasers are able to meet with over 500 Mexican tourism service providers. The 2012 Tianguis will be the first time the event has been held outside the city of Acapulco since the event's inception, and the city of Puerto Vallarta couldn't be happier about the decision.
Earlier today, The Four Seasons Resort Punta Mita tweeted: "We are so proud Riv Nayarit & Puerto Vallarta won for be the host of the 2012 Tianguis Turistico!! Worked so hard for this," reflecting the buzz that has quickly engulfed the media outlets of Puerto Vallarta and the Riviera Nyarit, the new hot spot of Mexico's Pacific Coast. The P.V. Mirror, one of Puerto Vallarta's top print/online news sources recently posted on Facebook: "We beat 18 other destinations (including Cancún, Mazatlán, Querétaro, Guadalajara, Monterrey, and Mexico City) to host the biggest tourism trade fair in Mexico – The Tianguis!!! Congratulations to all concerned and involved!"
Although booming with expats (Puerto Vallarta was recently named the number one place to retire abroad by the AARP), Puerto Vallarta has seen a decline in tourism over the past few years due to the relentless negative reports about Mexico pouring out of US media. It seems you can't keep a good city down, however, as Puerto Vallarta has been chosen to host a portion of the 16th chapter of the Pan American Games later this year and now looks forward to hosting the 10,000+ buyers expected to attend the 2012 Tianguis as well.
The primary Journey Mexico office has been located in Puerto Vallarta since the company originally moved to Mexico in 2006, and we couldn't be more thrilled to welcome the Tianguis and its participants into our beautiful home on the sea!