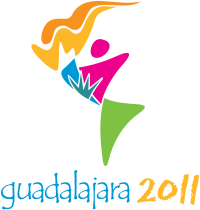 2011 marks the 16th Pan American Games during which 6,000 athletes from 42 nations will compete in 36 sports. By hosting the games this year, Mexico will become the first country to have hosted the event three times. This years Pan Am. Games will take place on October 14–30 and will be the largest multi-sport event in 2011.
Adding extra excitement to the event is the fact that the opening ceremonies will take place in Guadalajara's new architectural masterpiece, Omnilife Stadium, which is now home to the city's beloved Chivas football team.
Omnilife Stadium was designed to look like a volcano with a ring of clouds hovering above it. The stadium is both literally and figuratively green – lush grass covers the exterior of the complex and the stadium was designed to be a modern example of eco-development.
Before the opening ceremonies, an Olympic flame will be lit at the ancient pyramids of Teotihuacan, just outside of Mexico City, and will travel for fifty days through all 32 of Mexico's states before arriving at the Omnilife stadium.
Though most of the 2011 Pan American Games will take place in Guadalajara, certain events like sailing, marathon swimming, triathlon, and beach volleyball will be held on the state's coast in Puerto Vallarta.