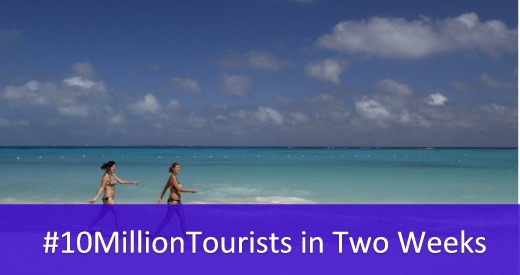 Source: Marca Pais – Imagen de Mexico
#MexicoToday: Approximately 10.4 million tourists are expected to visit Mexico during the last two weeks of 2011, according to estimates announced recently by Secretary of Tourism Gloria Guevara Manzo.
The Mexican newspaper Excelsior reported that 10.4 million national and international visitors will vacation in Mexican tourist destinations between December 16, 2011 and January 2, 2012. This statistic represents a 4 percent increase over the same time period last year. Approximately 60 percent of these tourists will vacation in Mexico during the final week of 2011.
Wondering how accurate their predictions might be? Take our growing travel company, Journey Mexico, for example. Agreeing with the estimates announced by the Secretary of Tourism, our December 2011 figures show a 5% increase in passengers travelling to Mexico compared to last year. Things are looking even better as 2012 approaches, bookings for the coming year are up 64% over this same time last year!
MexicoToday will celebrate end-of-the-year tourism with the special hashtag #10millionTourists. Visitors to Mexico are encouraged to follow @MexicoToday on Twitter and use the hashtag to share their vacation stories.