OVERVIEW
ITINERARY DETAIL
DATES AND PRICES
Enjoy a luxurious vacation, traveling from Todos Santos to Los Cabos while enjoying plenty of exciting adventures, including an unforgettable swim with whale sharks.
It starts with an exploration of the Sierra de la Laguna Biosphere Reserve for a trail hike and waterfall swim. After, enjoy the chance to snorkel with the gentle giants of the ocean, the mighty whale sharks.
The vacation continues with surfing lessons at Los Cerritos Beach and an expedition to Cabo Pulmo. Finish with some free time in beautiful Cabo San Lucas, enjoying the luxurious resort amenities or opting for another experience or two.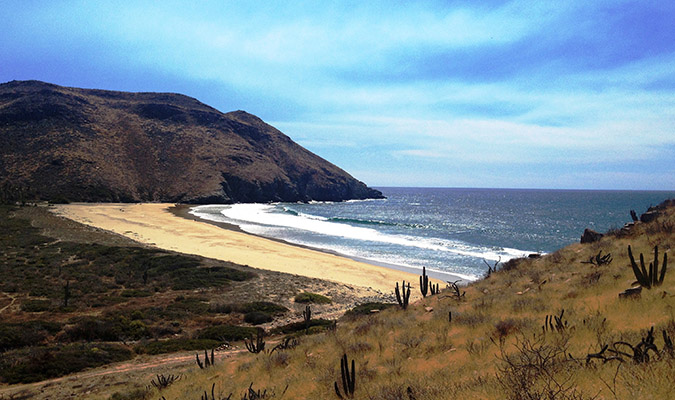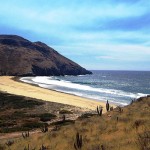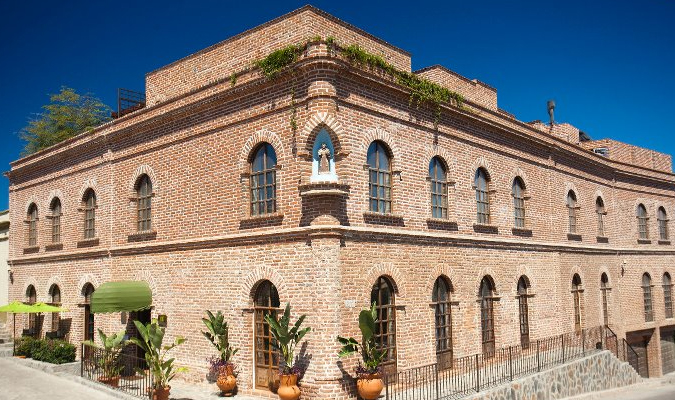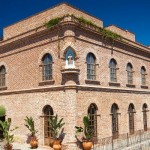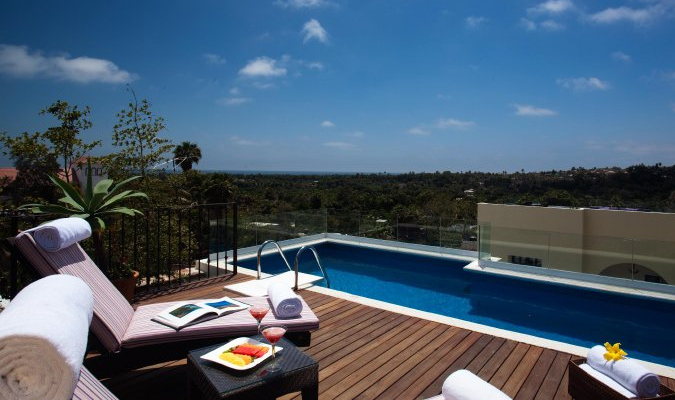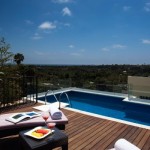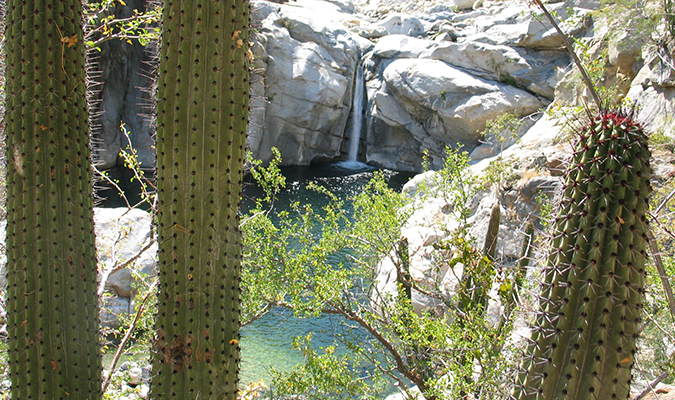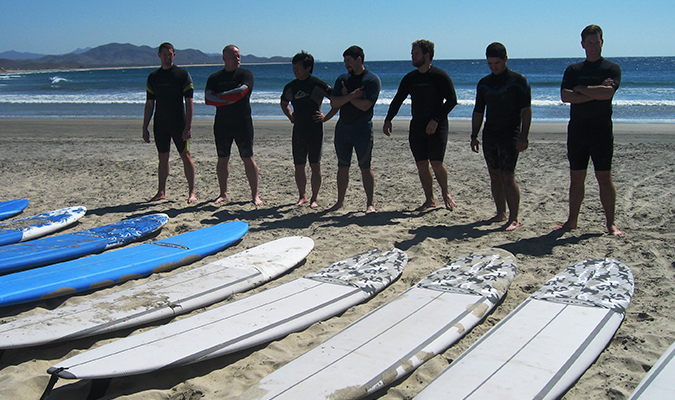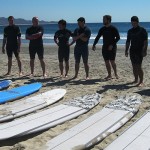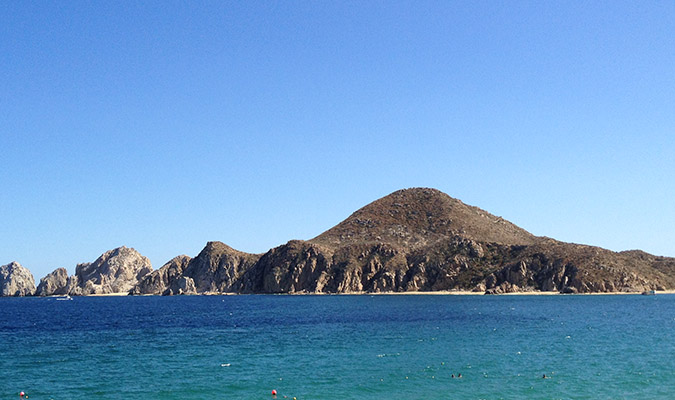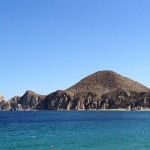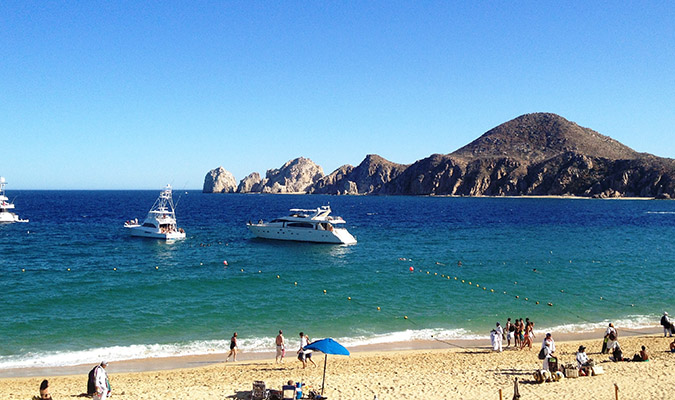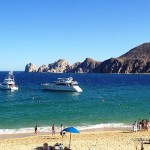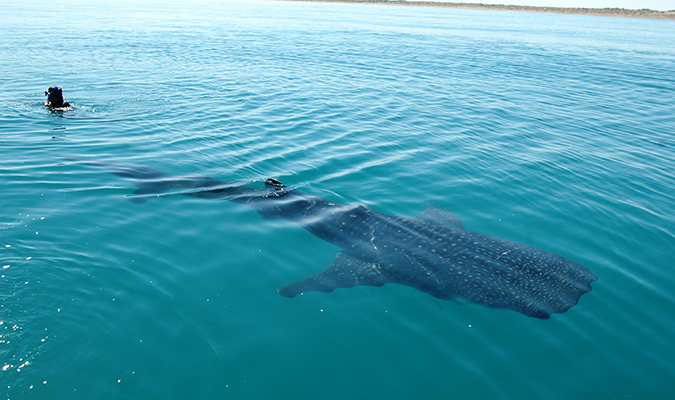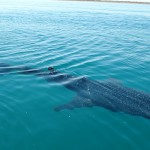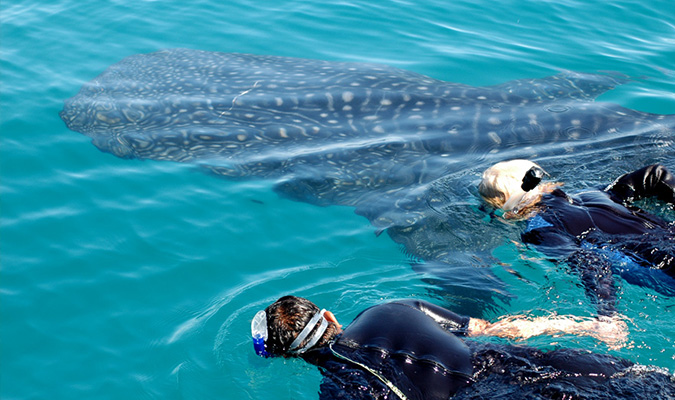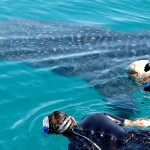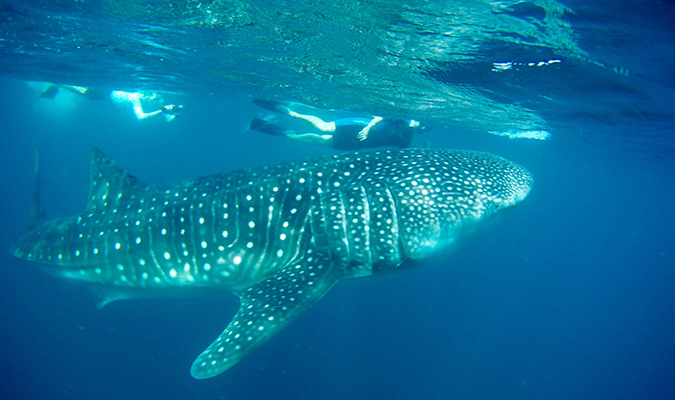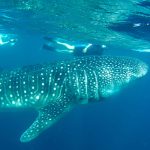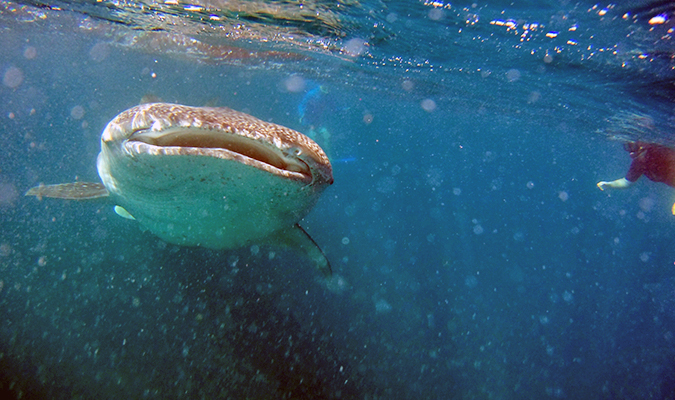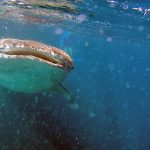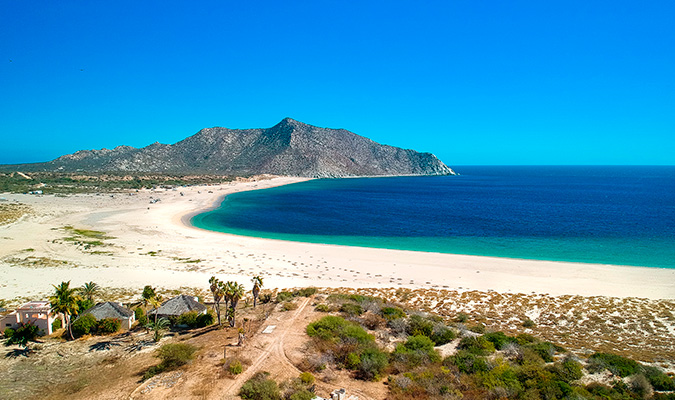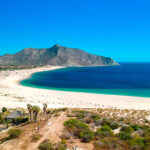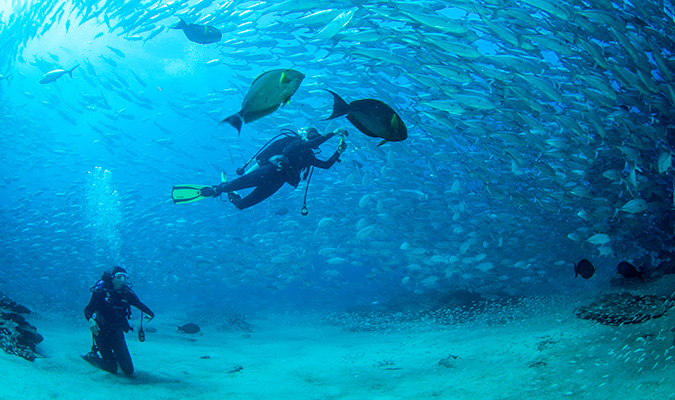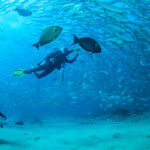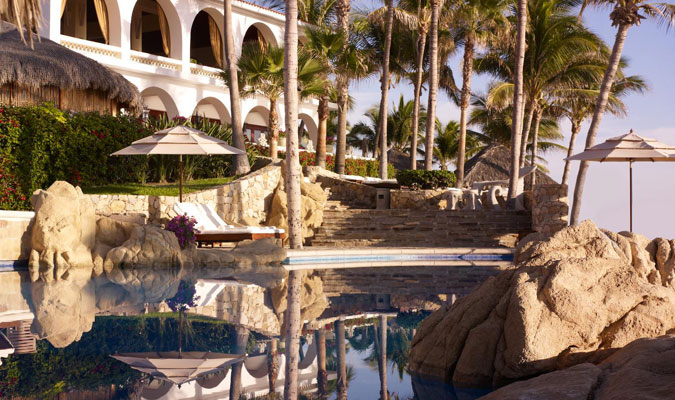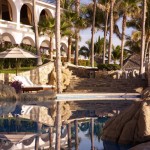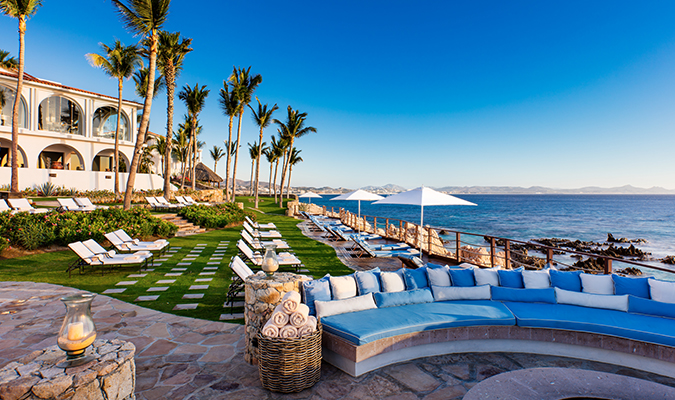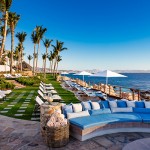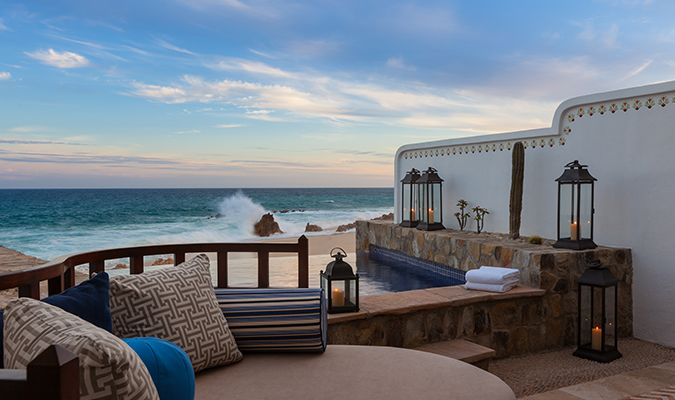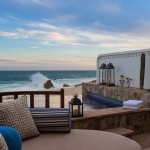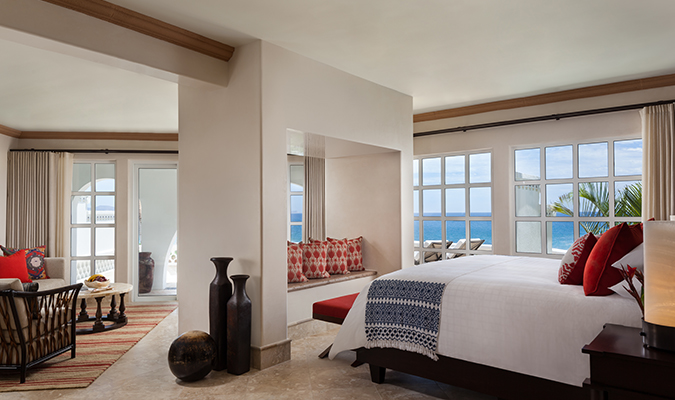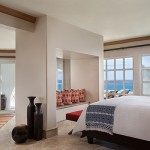 HIGHLIGHTS
Todos Santos – Explore this charming fishing village and take surfing lessons at Los Cerritos beach
Sierra de la Laguna Biosphere Reserve – Hike in the Sierra de la Laguna Biosphere Reserve and swim in stunning waterfalls
Cabo San Lucas – Enjoy time relaxing under the warm sun at a luxury resort
San Jose del Cabo – Spend free time exploring beautiful San Jose del Cabo
Swim with whale sharks – Venture to the shores near La Paz to swim with the gentle whale shark
Day 1: Arrival to Los Cabos, private transfer to Todos Santos
Welcome to Mexico! The private transfer to this charming colonial fishing village turned artist colony takes approximately 1:20 hrs from Los Cabos. Settle into your lovely boutique hotel along the rugged coast outside of Todos Santos. Stroll the beach and breathe in the desert air and the relaxed atmosphere of the real Baja California.
Upon arrival, you may settle into your charming boutique hotel along the rugged coastline outside Todos Santos. On your own, you may take a stroll along the beach and breathe in the desert air as you enjoy the relaxed atmosphere of true Baja California. The city life itself is slow pace and the locals always give a warm welcome to the visitors. Take a stroll through the quaint streets, which have remained intact for over 50 years, while the small local galleries may have some gifts waiting to be taken home, be sure to meander the streets and into the bohemian art galleries. You may like to have dinner at one of the restaurants in the city; it is an unforgettable experience to enjoy the flavors of Baja.
Overnight: Guaycura Boutique Hotel 
Day 2: Private Excursion to Sierra de la Laguna Biosphere
Explore the Sierra de la Laguna Biosphere Reserve, the Biosphere Reserve is one of Baja's most beautiful but least explored areas. Part of an island off the coast of Baja 10 million years ago, the Reserve is home to an incredible diversity of plant and animal life.
Enjoy the beauty of the place in one of 2 guided interpretive day hikes:
Reaching for the Sky: We´ll hike as high up the mountain as we can and still get home before dark! Depending on the pace, the walk can take you through the selva Baja caducifolia – desert scrub – up through lush reserves of oak forest and pine. Recommended only for experienced walkers.
Riverbed Stroll: This is an easy, flat walk along a lovely riverbed in which you are surrounded by magnificent flora and fauna. At certain times of the year we encounter a waterfall. This can be as long or as short a hike as you like; we typically take about 4 hours with no climbing and just a small amount of walking over boulders.
Overnight: Guaycura Boutique Hotel 
Day 3: Swim with whale sharks
Today, an unforgettable adventure awaits – Whale sharks are the true "gentle giants" of the oceans. The largest fish on the planet, these gentle beasts return yearly to the coast just off La Paz.
As you head out into the Bay of La Paz in an outboard skiff with full shade your naturalist guide will help you with fitting your snorkeling gear and will brief you on whale shark ecology and regulations for snorkeling in the observation zone. When we arrive at the observation zone, grab your snorkel and mask and get in the water with your guide to see the whale sharks up close. La Paz is unique as a whale shark destination due to its proximity to the observation zone and efforts undertaken by tour operators, regulatory agencies and civil society to responsibly manage this extraordinary experience. During peak holidays when boat activity increases, we will explore the surrounding area by boat as we wait for our turn to see these incredible creatures.
We will stop off at San Rafaelito, a small outcropping of rock teeming with marine life including juvenile sea lions. Here we will jump in the water to snorkel with our naturalist guide before making our way to Balandra Bay, a natural protected area and home to pristine beaches, mangroves, and stunning scenery. Enjoy a tasty lunch (dietary restrictions taken into account), explore the nature trails, and snorkel in the crystal water before returning to La Paz.
Notes on the itinerary: We will make all efforts to adhere to the itinerary described above, but we may modify the itinerary due to wind, weather, and other factors. The safety and enjoyment of our travelers are our top priorities. Please see our terms and conditions for more information. We do not guarantee wildlife sightings, interaction or behavior. All travelers must comply with communicated protocols and regulations regarding activities within natural protected areas and interactions with wildlife.
Upon completion, you will be driven back to your hotel in Todos Santos.
Overnight: Guaycura Boutique Hotel 
Day 4: Todos Santos surfing lessons and private transfer to Los Cabos
Todos Santos boasts some of the best surf breaks in all of Baja and is a great place for every level of surfer out there. You will learn from an expert instructor to enjoy the ultimate surfing experience to ride the best waves in Baja Sur.
Your surf trip can be personalized for any level of experience. You can feel in safe hands with our professional guides, who will take you to the best locations according to your skills and the conditions of the day. They can show you all the secret and secluded surf points around the Baja's Pacific Ocean.
Upon completion of your surf lesson, you will be privately transferred to Los Cabos, your home for the next 4 nights. At arrival, you may check-in and enjoy the rest of the evening on your own at leisure.
Overnight: One&Only Palmilla 
Day 5: Day at leisure in Los Cabos
This day is yours to spend as you wish in this jewel of the Baja California Peninsula. You can build a sandcastle on the beach, or simply relax under the warm sun.
Optionally you can participate (not included), in a variety of activities like: whale watching, sea kayaking, hiking, ATV, Desert Hummer Tour, sailing, deep-sea fishing and relax in the pool of your luxurious resort.
Overnight: One&Only Palmilla 
Day 6: Cabo Pulmo Marine Park
You will be met at your hotel lobby and privately transported to Cabo Pulmo for an exciting adventure on the Sea of Cortez.
Upon arrival, board a private panga-style boat and head out to the glittering ocean. Your certified bilingual guide will accompany you as you explore the Cabo Pulmo Marine Park together. This protected area is home to an abundance of sea life and a reef system thought to be around 20,000 years old.
When the time comes, jump into the water with your snorkeling equipment and join the amazing creatures that live here like sea turtles and manta rays. Bob along the surface and watch the incredible marine life pass below, as your expert guide feeds you information.
When your adventure comes to an end, you will be transported back to dry land and on to your hotel.
Overnight: One&Only Palmilla 
Day 7: Day at leisure in Los Cabos
This day is yours to spend on your own at leisure or you may enjoy one of the interesting optional activities suggested previously.
Overnight: One&Only Palmilla 
Day 8: Departure from Los Cabos
Finish the vacation in style with a private transfer from the hotel to Los Cabos International Airport.
Dates
Our trips are fully customized, allowing us to build your itinerary for any time of the year.
Note: Whale Shark season runs from October to April. From May to September, please check with our travel planning team as conditions may vary.
Prices
Our custom-tailored journeys start from $1,000 USD per day for two travelers. Contact us today to discuss your travel desires and design a personalized proposal with exact pricing.
Please note, our pricing guideline is a starting from price and is not necessarily applicable to the suggested hotels contained within the suggested itineraries on this website. Itineraries are customized prior to final pricing.