OVERVIEW
TOUR DETAIL
DELUXE TOUR
For those who only have limited time this great expedition that combines Mayan Culture and the natural experience of snorkeling with wild turtles.
Tulum's pre-hispanic name was Zama, which means "dawn"; most archaeologists believe this is due to Tulum's geographic location, perched on a cliff looking eastwards upon the Caribbean Sea, allowing for a full appreciation of the sunrise.Tulum was not as important economically, militarily, or religiously as Cobá or other sites to the west like Chichen Itza, Uxmal, and Palenque; however, its spectacular and unique location allow for unforgettable photography!
Akumal means in native Mayan language "Place of the Turtles" and for years it has been a sanctuary for these ancient and endangered mariners. Today it is fascinating to learn how these animals have adapted to the local fishermen and tourists; they are not shy at all and exhibit "friendly behavior" swimming intrepidly with snorkelers, divers, and visiting tourists.
PHOTO GALLERY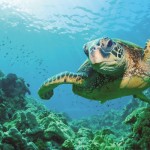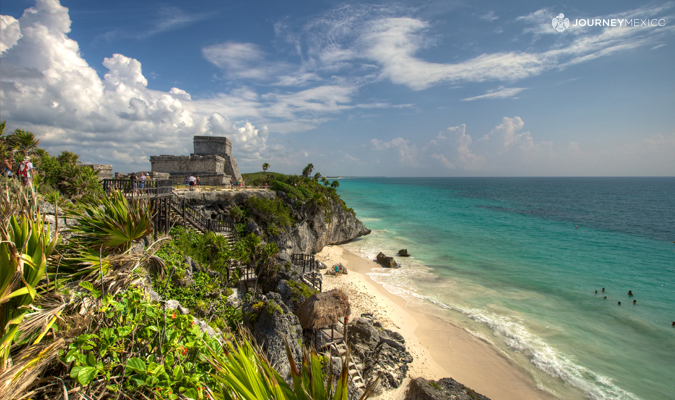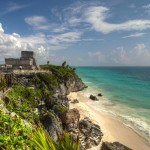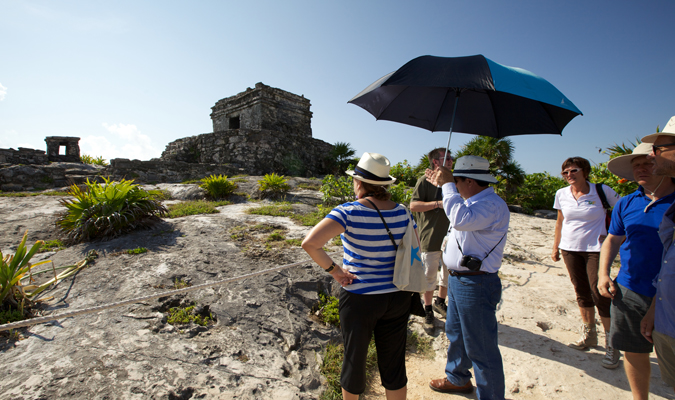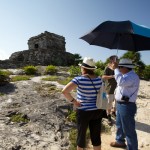 HIGHLIGHTS
You will be picked up in your hotel lobby by your expert guide and privately transferred in a standard vehicle to Tulum (1‐2 hours depending on your hotel location).
After your expertly guided visit you may opt to take a refreshing swim into the turquoise Caribbean sea (weather and sea conditions permitting). You then will head north to Akumal (:20 mins) for a close encounter with the mythical, graceful, and endangered Sea Turtles of this enchanting coast.
After the snorkeling excursion you will return to your hotel. (:30 mins – 1:30 hrs depending on your hotel location).

Tentative Time Table for this Expedition:
07:30 Meet your Tour Guide and private Transfer from your Hotel to Tulum – 1:00 – 2:00 hours depending on where your hotel is located.
08:30 Arrive to Tulum and start visit – up to 1:30 hours.
10:00 End of visit and transfer to Akumal ‐ 20 minutes.
10:30 Snorkeling with Turtles. – up to 1:30 hour.
12:00 End of Snorkeling tour and time for lunch.
13:00 Arrive to Hotel.
Important notes:
Following our recommended start time below, you will avoid the peak visitation hours.
Following our recommended start time below, you will avoid the mid‐day peak temperatures.
Our expedition offers you a fully private service which offers flexibility to prolong your visit, enjoy an extended lunch.
This expedition includes:
Certified expert bi‐lingual guide
Cool bottled water throughout the expedition
Entrance fees to Tulum; Snorkeling Excursion in Akumal with certified guide
Ground transportation in vehicles as mentioned above.
This expedition does not include:
Gratuities for your Tour Guide and Drivers
Towels
Items of a personal nature
What should you bring with you?
Comfortable walking shoes – preferable close toed shoes (no flip flops); sun blocks; sun glasses; hat; camera and money for optional gratuities & souvenirs.

The Deluxe tour offers luxury Vehicles, a la carte lunch, all entrance fees, snacks, cold scented towels, Certified Guide + Driver and more flexibility.
Please contact us for more information.