OVERVIEW
ITINERARY DETAIL
DATES AND PRICES
Experience the magic of the Yucatan Peninsula with Journey Mexico and Nizuc Resort & Spa.
The Yucatan Peninsula offers travelers many of the things that make Mexico so special. Millions of people visit every year to enjoy the region's majestic ruins, natural wonders, relaxation sanctuaries and a distinct (and delicious!) culinary tradition. Experience even more of the peninsula's splendor when you stay in your own a historic, private hacienda— perfect for large groups and family holidays.
With this sample itinerary you'll go from the culturally rich city of Mérida to the calm shores of the Riviera Maya. Your journey will take you to Mayan sites like Uxmal and Chichen Itza. Try your hand at cooking authentic Yucatec food. Swim the cool, clear and refreshing waters of underground river systems, magical cenotes and pristine seas. At the end of the day, return to the comfort of your luxury hacienda rental.
PHOTO GALLERY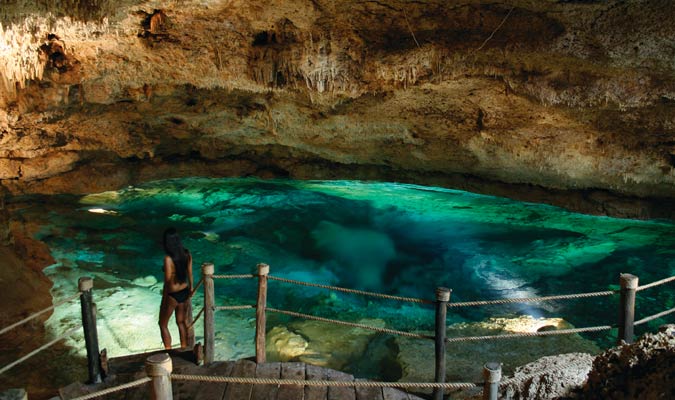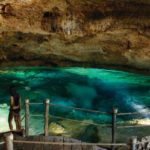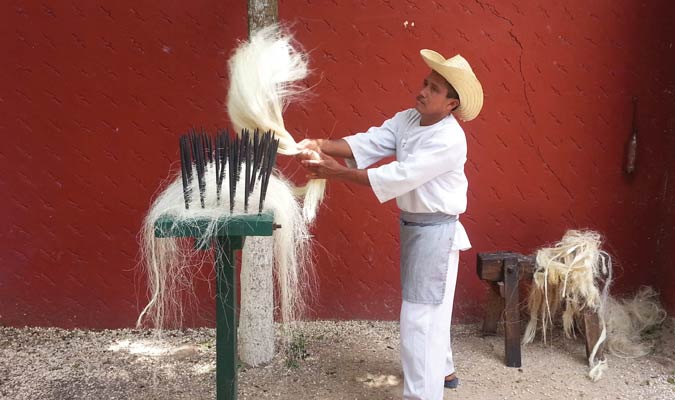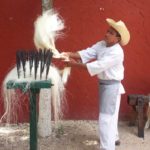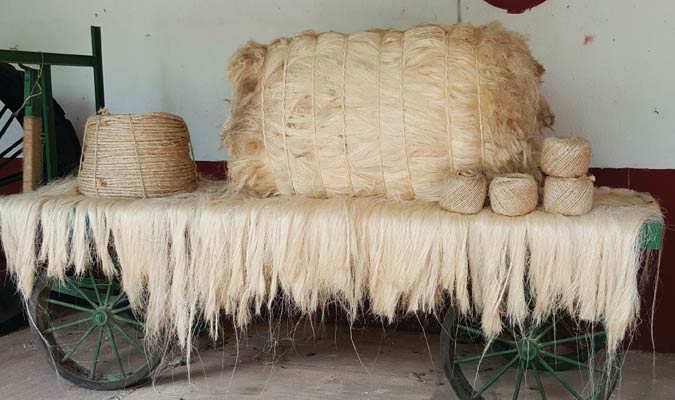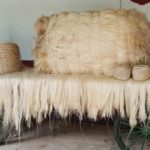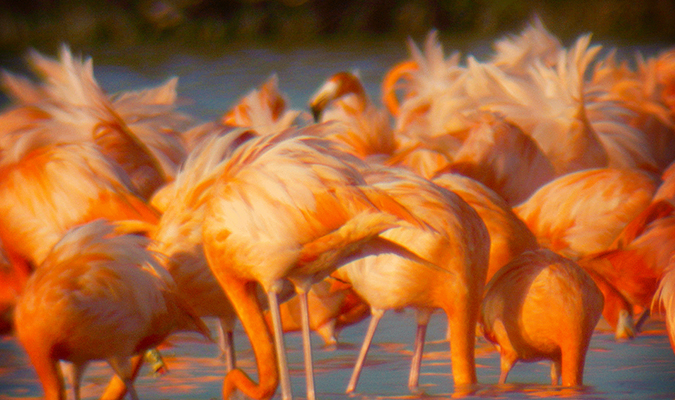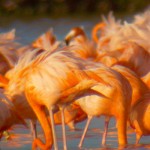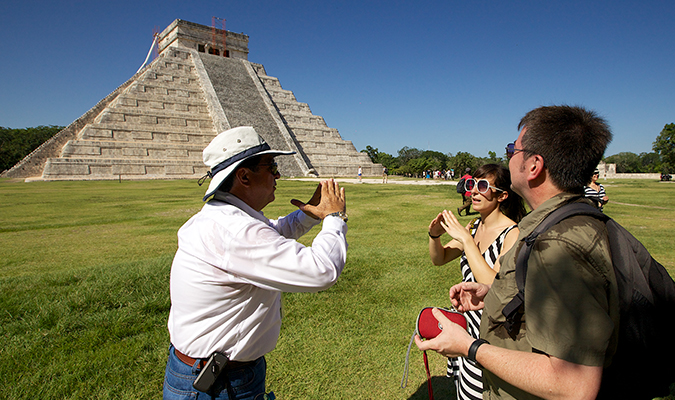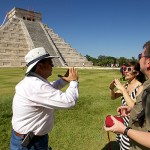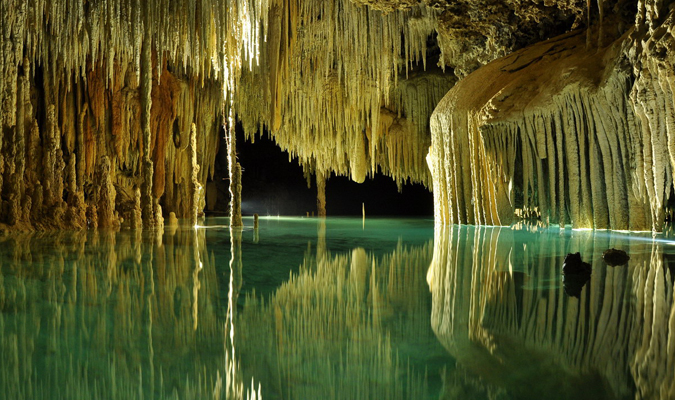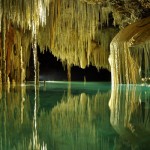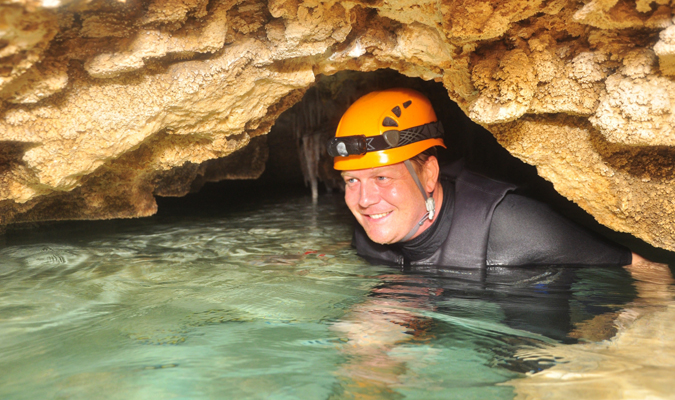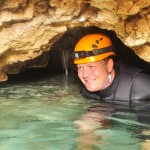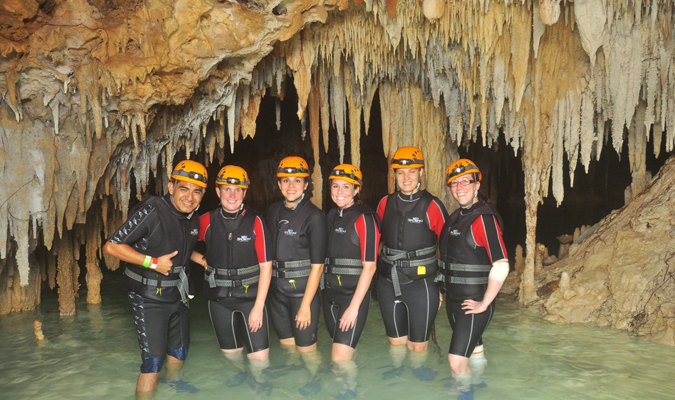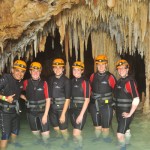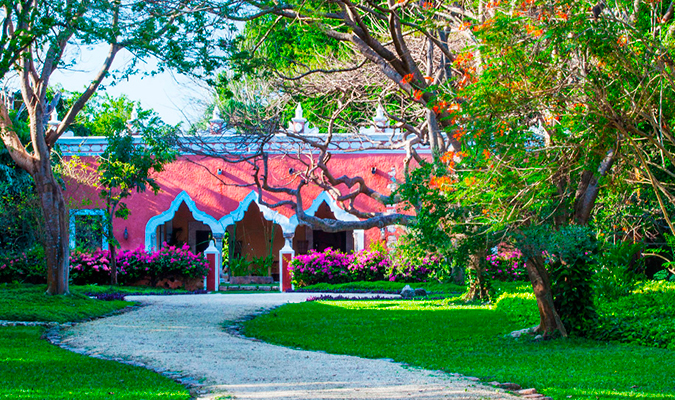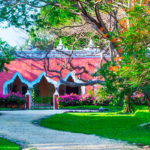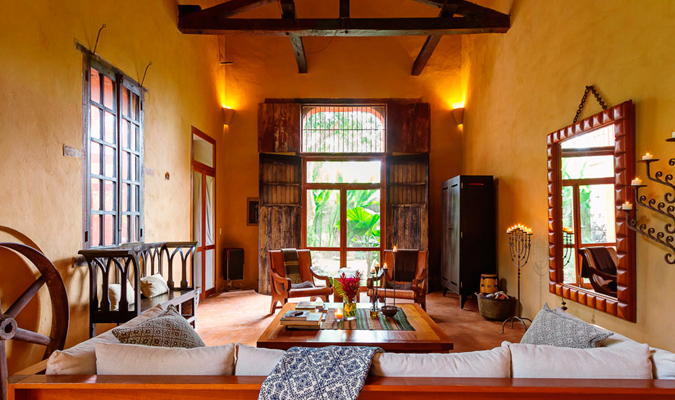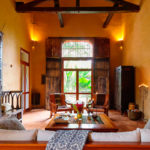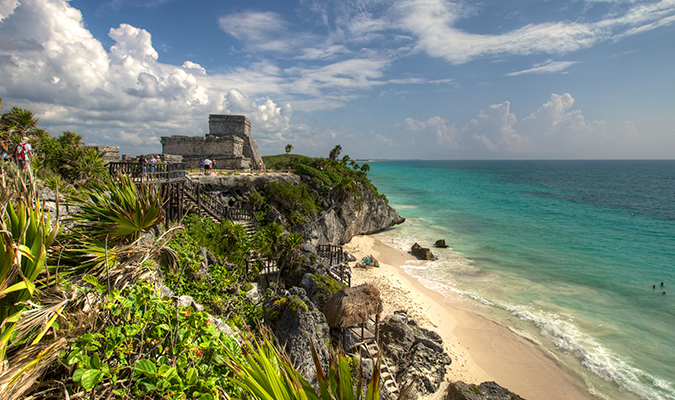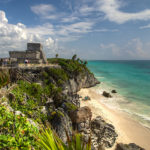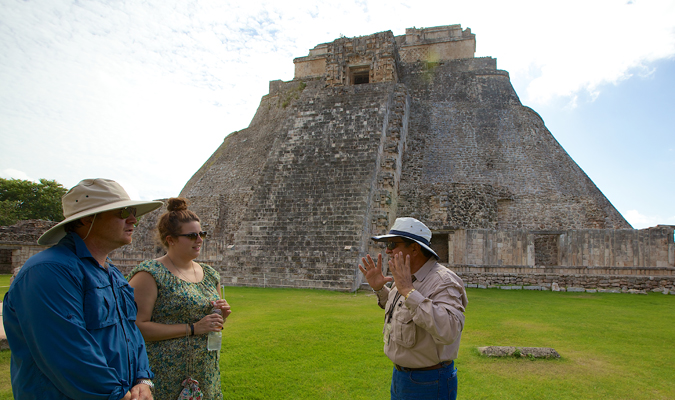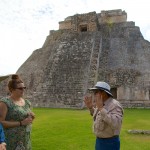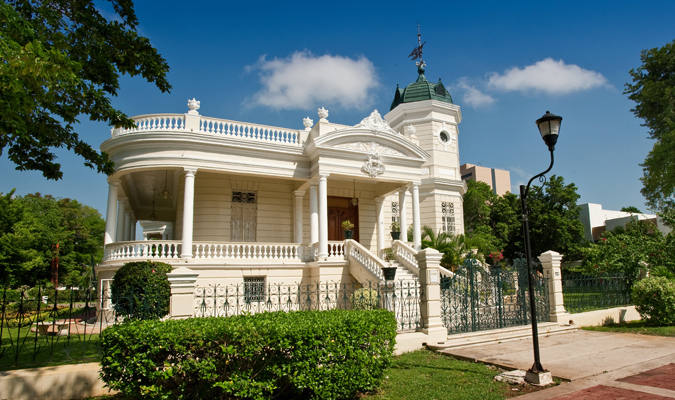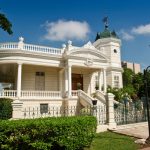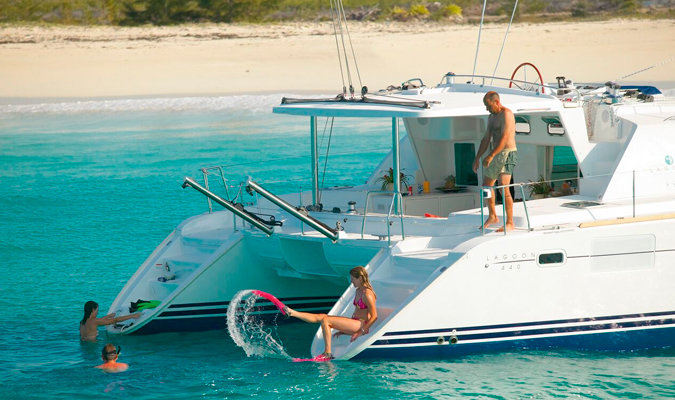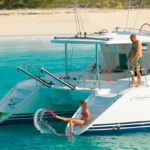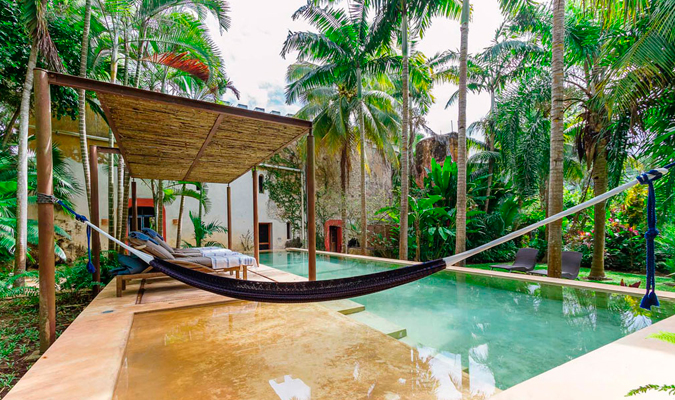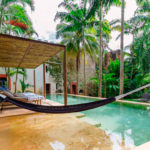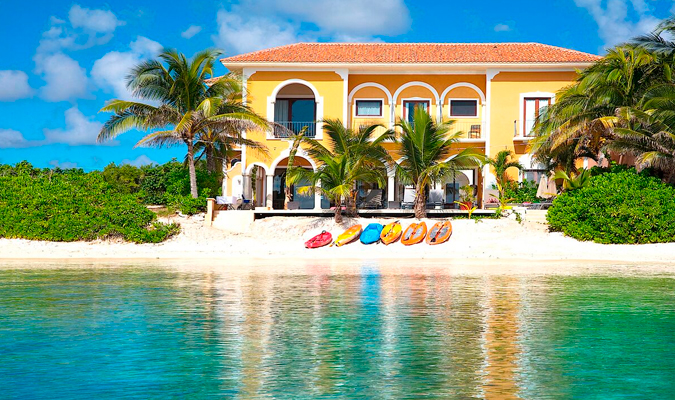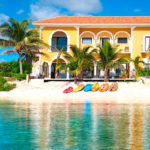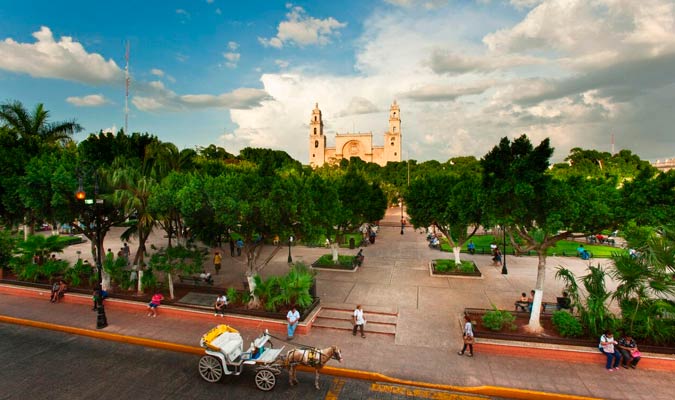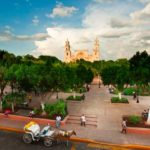 HIGHLIGHTS
Private Hacienda Rental Near Merida & the Riviera Maya – Our luxury hacienda rentals are located throughout the region—from the colonial city of Merida to the Caribbean Coast. Stay in or around Merida; enjoy the city's historic district or the privacy of a secluded hacienda. Relax at one of our hacienda estates in the Riviera Maya.
Live Music and a Cooking Class – Enjoy an evening of traditional Mexican music during your stay at Hacienda Petac. Learn about the ingredients and flavors that make Yucatan's food so delicious and special—even among Mexico's cuisine.
Uxmal – This archaeological site is a UNESCO World Heritage Site. Uxmal offers some of the most impressive architecture in the Mayan World. Its mythology is embodied in the design of its temples like the Temple of the Sorcerer.
Chichen Itza – Admire this archaeological site with impressive plazas, home to a New Wonder of the World: the pyramid of El Castillo.
Rio Secreto – Experience this stunning underground river with thousands of rock formations. It's like stepping back in time to witness something mysterious and truly spectacular.
Round Trip Private Deluxe Transportation – From the moment you step off the plane, we'll be waiting to welcome with you with open arms and take you to your private residence.
Day 1: Arrival to Mérida
You will be greeted at the airport and privately transferred to your lovely villa at a historic hacienda, Hacienda Petac; your home for the next 4 nights.
Overnight: Hacienda Petac
Day 2: Private Tour to Uxmal and Family Scavenger Hunt
Today you will be picked up in your hotel lobby at 8:00 hrs. We will be one of the first to enter the famed Maya ball courts and temples of Uxmal; once again under the tutelage of our expert guide we will marvel at the achievements and mysterious demise of the Maya.
Here you will have a fun scavenger hunt, where you will set out to search for a variety of clues that will draw on all that we have learned so far of this magical region.
Following your scavenger hunt, your guide will drive you to a local restaurant for lunch to enjoy a traditional Yucatecan meal. Afterwards, you will be dropped off at the Hacienda for the rest of the evening at leisure.
Overnight: Hacienda Petac
Day 3: Private Guided Excursion to Biosphere Reserve of Celestún and Merida City Tour
Home to 2,000 or more pink flamingos, Celestún is a great place for nature lovers. Taking a boat ride down this salt-water lagoon, you will see the great variety of flora and fauna that naturally thrive there and have a chance to swim in the fresh waters.
Discover the historical center of the city Mérida, the capital of the state of Yucatán. You will learn about Merida's history and contemporary importance, as you explore the Zócalo, the cathedral and the Monument of the Homeland
Overnight: Hacienda Petac
Day 4: Private Morning Cooking Class / Private Tour of Hacienda de Sotuta de Peon for an Authentic Henequen Production Tour
Today you will join the hacienda's chef in the kitchen for a culinary journey as she guides you step by step in the creation of authentic Yucatecan recipes. You will also learn how to make homemade tortillas and a selection of desserts. Upon completion, you may enjoy the fruits of your labor and some time at leisure before your afternoon activity.
After some time to refresh, you will be met by your guide to be driven to Hacienda Sotuta de Peon (30 mins away). Set amongst vast acres of gardens and agave plantations. Your private guide will take you on a journey through the history of Mérida's haciendas that produced henequen.
Take a tour around the rooms of the hacienda. You will walk through the various stages of history to see how henequen was produced through arduous manual work before the industrial revolution in Europe. You will also learn about the dark history of the haciendas that virtually enslaved their Maya workers, forcing them to work long hours and paying them in money that could only be spent within the hacienda.
Enjoy a private ride on a mule-drawn 'truck' and journey through the acres of agave plantation towards the natural cenote (ancient sinkhole) that sits within the hacienda grounds. You will have a chance to swim in the easily accessible cenote that is 20-meter's deep and has lights under the water, making it safer for swimmers.
Afterwards, you may enjoy lunch/early dinner at the haciendas restaurant before heading back to your villa.
Overnight: Hacienda Petac
Day 5: Private Transfer to Your Villa in Puerto Aventuras Visiting a Mayan Cenote and Chichen Itza Archaeological Site en Route
Your personal, expert guide will meet you at 8:00 am and you will journey together to Chichen Itzá, Mexico's most visited archeological site (120km, 1.5 hours). Learning about the cosmology, religion and everyday life of the Maya, your guide will help you get a feel for what Chichen Itzá was like before the Spanish arrived. One of the first structures you will see is the "Castillo" or Pyramid of Kukulkan, classed as one of the New Seven Wonders of the World due to its ingenious architecture that results in a figure of a snake descending and ascending the steps during the equinox.
Exploring the site you will learn how duality played a huge role in Mayan cosmology. Visiting the platform of the skulls, which was a monument to both life and death, you will see how each are represented, before heading to the ball court where archeologists are still undecided as to whether the winner or the loser was sacrificed. Observing the carvings there, you can make your own guess. Clap in the ball court and the sound will echo eight times, a testament to Maya architectural prowess.
Just outside of the walls of the city you will find the cenote where sacrificial drownings took place. Here you will learn about the type of rituals involved and what was uncovered when attempts were made to drain this deep sinkhole.
At the conclusion of your visit you will be driven 2.5 hrs to your villa at Hacienda Magica, your home for the next 4 nights.
Overnight: Hacienda Magica
Day 6: Private tour to Tulum Archaeological Site
Your guide will pick you up at your hotel at 8am and you will drive to the archeological site of Tulum (65km, 50 minutes) for this full-day visit. The only Maya city located right by the Caribbean Sea, Tulum was a Maya fortress city that peaked between the 13th and 15th centuries. Your expert guide will lead you in exploring this small site that was an important place of trade in jade and turquoise, and despite its size, displays many styles of Maya architecture.
Possibly the most photographed of Tulum's structures is the "Castillo" or Castle Temple, from where you can look across the Caribbean Sea and imagine the image of the sun setting on the horizon and heading south to the underworld. There will also be time for you to take a swim and look up at Tulum's iconic structure from below. Upon completion of the tour you will be driven back to your villa.
Overnight: Hacienda Magica
Day 7: Rio Secreto Private Experience
In this surreal locale near Playa del Carmen, you can observe natural history dating back millions of years as you hike and swim through a 600-meter route full of beautiful stalactites and stalagmites. Go deep inside an underground cave, where you'll experience true silence among some of the most dramatic mineral formations in the world.
Overnight: Hacienda Magica
Day 8: Private Full Day Catamaran Sailing
Your private catamaran will depart from the marina at Puerto Aventuras, complete with crew and expert guide. You will sail for about an hour and 15 minutes before arriving at In-Ha, a bay sheltered by a shallow reef.
You will then enter the water for a one-hour snorkeling experience, exploring the reef and the colorful fish and sea life that make these waters their home.
Throughout the trip, you will have access to complimentary drinks. For safety reasons, alcoholic drinks will only be available after the snorkeling is complete. You will also be served a selection of snacks as you sail back to Puerto Aventuras.
Day 8: Departure Day
You will be met by your driver for a private transfer to the Cancun airport (1hr away) for your homeward bound flight.

Dates
Our trips are fully customized, allowing us to build your itinerary for any time of the year.
Prices
Our custom-tailored journeys start from $800 USD per day for two travelers. Contact us today to discuss your travel desires and design a personalized proposal with exact pricing.
Please note, our pricing guideline is a starting from price and is not necessarily applicable to the suggested hotels contained within the suggested itineraries on this web site. Itineraries are customized prior to final pricing.