The Parador Santa Maria Museum is an old hacienda that dates back to 19th century in Chiapas.
An old hacienda from the 19th century, Parador Santa Maria was given a facelift, restored, and decorated with works of art from centuries past to create an evocative and exclusive hotel. The small boutique hotel includes a small museum that shows off an important collection of sacred art from the 16th through 19th century.
Inside the hotel is los Geranios restaurant that offers gourmet dishes, regional, national and international. The hotel also has a lounge room with  an old classic piano and a bar called "la Bella Epoca" that has a billiards table. The lush beautiful grounds surrounding the property offer an ideal chance for a mid-day walk to observe the coffee plantation. There are large gardens that are full of rich vegetation and orchids.
PHOTO GALLERY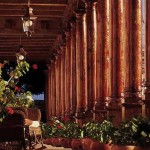 Regional restaurant
Swimming pool