Mexico has made a big impression on Travel+Leisure´s seasoned readers, who´ve chosen their favorite 25 cities around the globe. Not one but five Mexican cities have earned their place on the list, including Oaxaca City as the coveted  #1 top spot for the second year running!
In this post, we´re spotlighting why Oaxaca has stolen the hearts of travelers, and including insider tips from one of Journey Mexico´s operations superstars, Carlos Diaz, who shares some favorites in his hometown.
Oaxaca is a place where tradition, gastronomy and culture collide to create a magical experience in an idyllic location, nestled into a fertile valley of the Sierra Madre Sur Mountains. Perhaps the most remarkable thing about Oaxaca is the deep presence of pre-Columbian culture, which intertwines with Spanish colonial and contemporary Mexican influences to weave a rich tapestry of modern-day life. Magnificent colonial churches stand in the UNESCO-listed city center alongside museums, galleries and restaurants, while markets and street vendors serve the Oaxacan specialties that keep age-old recipes alive.
In the surrounding valleys, incredible indigenous villages conserve century old artisan traditions, dress, and language, layers of Zapotec and Mixtec history are revealed at Monte Alban archeological site, and roadside mezcal distilleries called ´palenques´ harbor the generations of work behind one of the world´s most complex spirits.
There´s a captivating sense of magical realism in Oaxaca, where myth and legend are brought to life through storytelling, folk art and dance. Think carved wooden figures (alebrijes) painted as bright fantastical creatures, getting caught up in colorful street parades called ´calendas´, and of course, Day of The Dead, when the streets are transformed with elaborate processions, skeleton costumes, and beautiful candlelit altars.
Q&A with our Oaxacan Local
Meet Carlos, a Oaxaca native and Journey Mexico's Groups Operations Manager. Here are his tips and insights for Oaxaca City.
Oaxaca City has been voted T+L´s #1 city in the world, again! Why do you think so many travelers have fallen in love with it?
 As well as proud, I feel passionate about Oaxaca. I believe that things done with heart always bear fruit, and that´s the case with Oaxaca and its people. As well as discovering a colorful city that´s vibrant and full of history, you´ll always find a friendly smile, a kind gesture, and a genuine welcome. There´s a lot of love in every dish, drink, textile and artisan piece.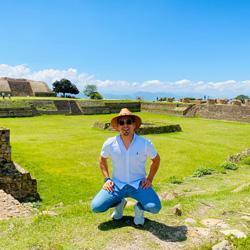 Favorite restaurant?
Breakfast: La Casa del Tio Güero
Lunch: El Tendajón (the arrachera tacos and a michelada are a must!)
Dinner: For street food, Tlayudas de Doña Pao or the yellow mole empanadas at El Carmen Alto. And restaurants like Levadura de Olla, Casa Oaxaca, Los Danzantes or Pitiona.
Favorite bar?
El Pollo´s Cantina in the Xochimilco neighborhood, Terraza Agavero, Archivo Maguey or Terraza Liquen.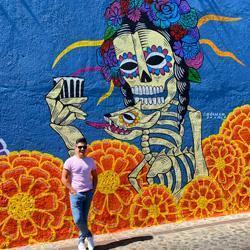 Favorite hotel?
Casa Oaxaca.
Favorite thing about Oaxaca City?
The culture you´ll find in every corner of the city like music, art, painting, sculpture, dance…
Tip for first time visitors:
Bring comfortable shoes! The best way to discover the city is walking through its streets and neighborhoods.
Ready to plan a trip to Oaxaca with one of our local experts?
Let us know when you're ready to come visit and how we can put together your dream trip, and we'll create something special just for you. Our Oaxaca sample itineraries are a great starting point to get some ideas flowing before you contact our expert travel planning team, who´ll tell you everything you need to know. Our custom-tailored journeys start from $1,000 USD per day for two travelers in Oaxaca.
Read More: Travel + Leisure's Travel Guide to Oaxaca