On January 21, U.S. President Biden signed an executive order to affirm new COVID-19 testing requirements and direct agencies to consider additional travel-safety measures. Now travelers flying to the United States from any country, including Mexico, need to show a recent negative COVID-19 test and comply with the Center for Disease Control (CDC) and Prevention guidelines concerning international travel.
The new rules took effect last January 26, 2021. Here are the CDC's guidelines for international travel:
Get tested 1–3 days before your flight—make sure to have actual results (not pending results) before traveling.
If you have a positive result, do not travel.
Get tested 3–5 days after your flight.
Stay home for seven days after traveling, even if you test negative.
If you test positive for COVID-19 after you travel, isolate yourself and follow public health recommendations. Do not travel until you are no longer considered a transmission risk—this includes your return trip home.
If you do not get tested, it is safest to stay home for 14 days (about 2 weeks) after travel.
Avoid those who are at increased risk for severe illness from COVID-19 for 14 days (about 2 weeks), whether you get tested or not.
Valuable information about these new regulations:
Do the U.S Citizens need to get tested?
Yes. The order applies to everyone traveling to the U.S. on international flights, including U.S. citizens. There are exceptions for children under the age of two.
U.S. citizens and LPRs are not exempt from the negative COVID-19 viral test requirement. All persons attempting to enter the US must present a negative COVID-19 test taken within 3 days of when their flight departs. pic.twitter.com/P2CS8jnPfK

— Embajada EU en Mex (@USEmbassyMEX) January 21, 2021
Do I need to get a test to travel to Mexico?
No. Mexico does not have any travel restrictions on U.S. and Canadian citizens. That means you do not need to get a test before your flight to Mexico. It is important to know that all international travelers need to complete a Questionnaire of Identification of Risk Factors in Travelers (Cuestionario de Identificación de Factores de Riesgo en Viajeros) upon arrival in Mexico and your temperature may be taken.
The form can be complete here: https://afac.hostingerapp.com/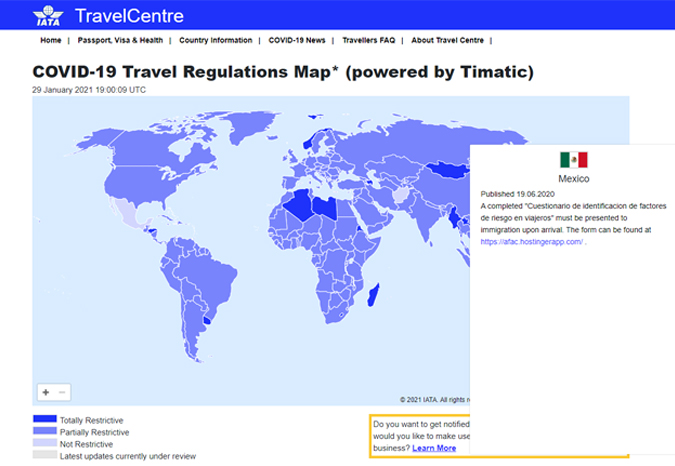 Will the Airlines provide the Covid-19 Test?
No. Airlines will not be testing you when you arrive at the airport for an international flight to the U.S. Travelers are required to obtain a test. The test must be taken no more than three days before your departure date.
Who is checking test results at the airport?
According to the CDC, airlines must confirm the negative test result for all passengers before boarding and deny boarding to anyone who does not provide documentation of a negative test or documentation of having recovered from Covid-19.
I am flying to the U.S. by private plane. Does this new requirement apply to me?
Yes, the order applies to commercial and private flights, according to the CDC.
Where can I get tested?
Resorts across Mexico, tourist destinations, clinics, and main airports in Mexico are working to offer testing options. Several hotels in Mexico are offering on-site testing that can be coordinated.
Journey Mexico's Statement on US Requirements for Covid-19 Tests for All International Travelers
View the list of COVID-19 testing sites in Mexico
What is the difference between the antigen test and PCR test, and which one do I need?
Antigen test: This test detects protein fragments specific to the Coronavirus. It can be done in a clinic, doctor's office, or hospital. Turnaround time for results is usually very quick and, in some cases, results can be reported within 15 minutes.
PCR test: This test detects RNA (or genetic material) specific to the virus and can detect the virus within days of infection, even those who have no symptoms. The test can be done in a clinic, hospital, or even in your car. Turnaround time is longer, in the 2–3-day range, but results can be obtained in as little as 24 hours. When demand is high, results can take a week or longer.
It is important to note the distinction in what test results the U.S. will accept. The U.S. will accept either the PCR or antigen test results, while Canada accepts negative results from PCR tests only.
What kind of documentation do I need to show?
The CDC requires travelers flying to the U.S. to have a paper or electronic copy of their negative test results before boarding their flight.
What if my test is positive?
If a guest tests positive and is unable to return home, Journey Mexico will work closely with guests, travel advisors, suppliers, and health facilities to organize the best possible care and services on a case-by-case basis. If you choose not to travel with Journey Mexico, travelers should contact their travel representative or hotel for information.
I already had Covid-19. What kind of documentation do I need?
If you have recovered from Covid-19 within the past three months, you will need proof that you tested positive in the past three months before your flight, as well as a letter from your doctor stating that you are cleared for travel.
I have received the Covid-19 vaccine. Do I still need to test?
Yes, the same requirements apply.
Do I need to quarantine when I go back home?
There is currently no mandatory quarantine when you return to or arrive in the United States. It is recommended by the CDC and President Joe Biden, however. The CDC recommends that travelers get tested three to five days after travel and stay home or in a hotel to self-quarantine for seven days post-travel regardless of the test results.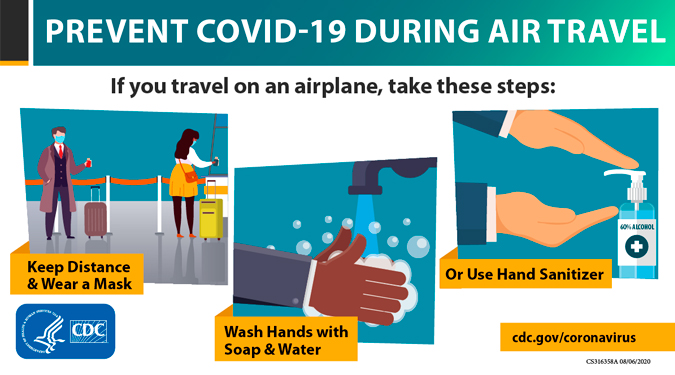 The CDC recommends that international travelers get tested again 3 to 5 days after arrival from abroad and stay home for seven days after travel, pending a negative test result, or self-quarantine for 14 days (about 2 weeks) with no postflight test.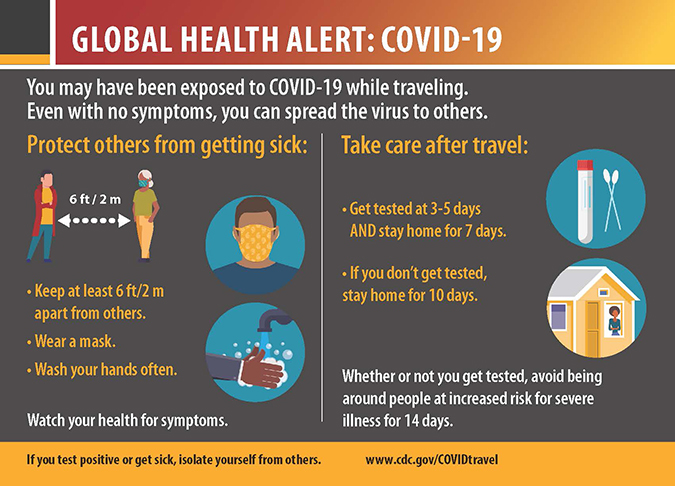 ---
Interested Links:
Covid-19 in Mexico: https://wwwnc.cdc.gov/travel/notices/covid-4/coronavirus-mexico
Requirement for Proof of Negative COVID-19 Test or Recovery from COVID-19 for All Air Passengers Arriving in the United States: https://www.cdc.gov/coronavirus/2019-ncov/travelers/testing-international-air-travelers.htm
Testing and International Air Travel: https://www.cdc.gov/coronavirus/2019-ncov/travelers/testing-air-travel.html
What to Do If You Are Sick: https://www.cdc.gov/coronavirus/2019-ncov/if-you-are-sick/steps-when-sick.html
COVID-19 Testing Overview: https://www.cdc.gov/coronavirus/2019-ncov/symptoms-testing/testing.html
---
Media Link
https://www.usatoday.com/story/travel/airline-news/2021/01/25/covid-travel-restrictions-covid-test-international-flights-us-cdc-biden/6673817002/
https://mexiconewsdaily.com/news/coronavirus/us-quarantine-requirement-seen-as-new-blow-to-tourism-and-airline-travel/
https://edition.cnn.com/travel/article/united-states-travel-new-covid-test-requirement/index.html
https://www.wsj.com/articles/the-new-covid-19-testing-rules-for-travel-to-the-u-s-what-they-mean-for-you-11610566341
https://www.afar.com/magazine/all-travelers-to-us-will-need-to-have-negative-covid-test