Andaz resort is one of four award-winning hotels located in the gated Mayakoba complex, set on the Riviera Maya's stunning coastline, just north of Playa del Carmen. The luxury property takes inspiration from its cultural and natural surroundings, presenting a fresh and meaningful expression of what a Mexico resort stay can be.
To set the tone for a special stay, guests are welcomed to the 'Sanctuary' reception area with a refreshing cocktail. An invitation to make a wish and throw a stone into a cenote-esque pool nods to the original Mayan ritual, performed to be looked upon favorably by the Gods.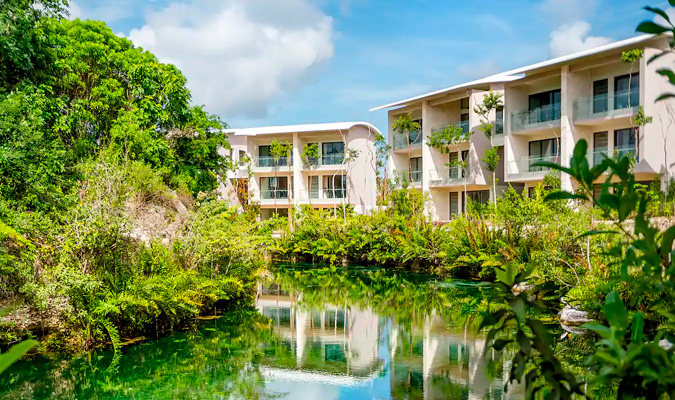 Resort Blueprint
Andaz Mayakoba puts it's own spin on youthful design; think sleek white buildings, punctuated by huge colorful murals of local wildlife. The bright birds, jaguars, and even an octopus, are painted by local street artist Senkoe, who's clever eye for design finds the balance between bold and elegant.
The large grounds of the resort are split into two sections, beach and lagoon, which can be accessed by golf carts, or the fantastic complimentary bicycles that are dotted throughout. In the evenings, paths are lit up for a balmy after-dinner ride, passing through mangroves that are characteristic of the area.
Man-made lagoons and canals have become home to a whole host of wildlife, including many bird species, iguanas and turtles. Blend into the natural world as you step onto the wonderful Eco Cruise, a boat ride that's included for guests and winds through mangrove-laden canals, passing the local flora, fauna, and wildlife on its way.
Each of the resort's two sections has a generous outdoor swimming pool, with the lagoon area's pool adjacent to Cocina Milagro restaurant and the beach area's looking onto the Caribbean Sea. The private stretch of beach is another beautiful opportunity to soak up the sun and relax. Unwind, surrounded by soft white sand, studded with just enough palms, and take a dip in the crystal turquoise waters.
The 214, open-plan rooms feel fresh, with a light color palette and Mayan-themed decorative details. The accommodations are split across the resort's two main areas, offering a choice of views from lagoons and mangroves, to the ocean and even Mayakoba's El Cameleon golfing greens, the first PGA course in Latin America. As a family-friendly hotel, connecting rooms are available to provide privacy and proximity.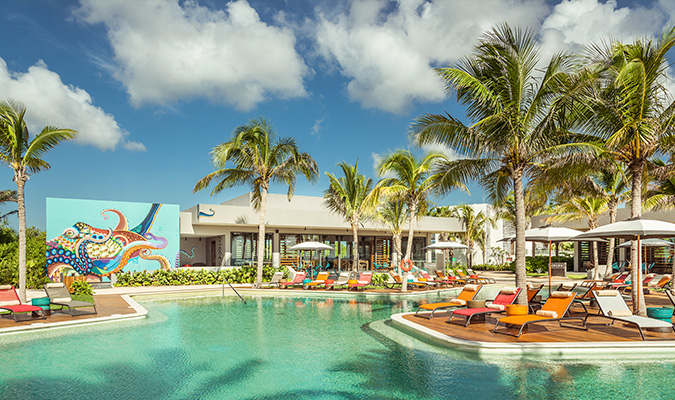 Adventures
Andaz offers opportunities for exploration from an array of angles, depending on your vacation style. Whether that's through action or relaxation, engaging or disconnecting, for families, friends or couples, the resort's facilities, activities and location offer rejuvenating experiences for all.
Cuisine
Uncover new culinary delights through a brilliant curation of dining experiences, located at both ends of the resort. On the beachside, try Tinta de Pulpo's poolside offerings like tasty tacos and ceviches. Healthy, plant-based fare shares a spot at the pool with the bright and cheerful Vegan Bar. Sotavento presents front row seats to the Caribbean Sea, serving up an extensive seafood selection and grill specialties like lobster tail, right on the beach.
Over by the lagoon, Cocina Milagro's breakfast buffet is a delicious way to start the day, complete with fresh, outdoor tamale and quesadilla stations, and a fabulous selection of Mexican salsas. Dinner reservations feel special at the gorgeous Casa Amate, designed to resemble a residency with a range of intimate dining rooms, serving Latin American cuisine alongside an expansive wine list.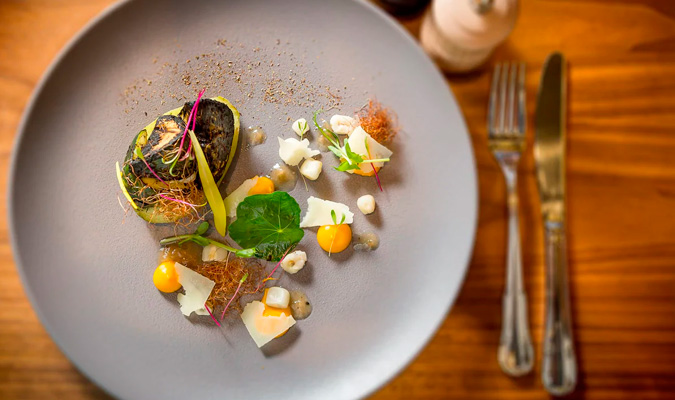 Wellness
Take a journey of self-discovery at Naum Wellness & Spa, named after the Mayan God of consciousness and mind. Customized Naum rituals are designed to help guests find their inner harmony, clarity and balance, using various Mayan-inspired spa treatments. Find stillness in six treatment rooms that overlook peaceful mangroves, and a hydrotherapy area with a sauna, jacuzzi and steam room.
For those that find balance through a different kind of energy, the state-of-the-art fitness centre is well equipped, and embraces guided yoga and meditation sessions as part of the program. Guests can also head down to the beach to connect with the elements as they float in the blue Caribbean waters, or take part in a range of water activities, such as kayaking and stand-up paddleboarding.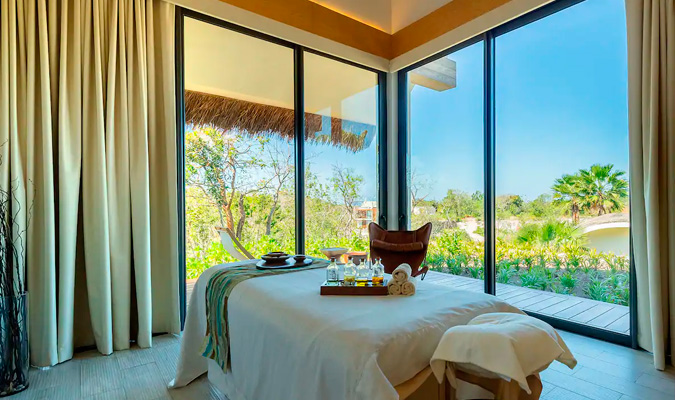 Families
Andaz is well set up for a brilliant experience as a family, with the KIMBO Kid's Club providing plenty of adventure for young ones, while adults take some time out for themselves. A full schedule of complementary activities will keep curious minds entertained, with engaging activities for ages 4-12 such as treasure hunts, arts and crafts, movies and beach visits.
Surroundings
For those who like to venture out and get to know the surroundings, Andaz is in a perfect location to experience the cultural and natural wonders of the Riviera Maya.
The fascinating Tulum archaeological site is around an hour to the south, where visitors can learn about the only Mayan city by the sea, and swim in the waters below the iconic 'Castillo' structure. A stop off at the tranquil Yal-ku Lagoon is a must for a refreshing dip, and a chance to snorkel amongst an abundance of colorful fish.
For an action-packed adventure, head to Río Secreto where you can bike through the jungle and go caving in a huge, semi-submerged cenote system that was hidden for hundreds of years.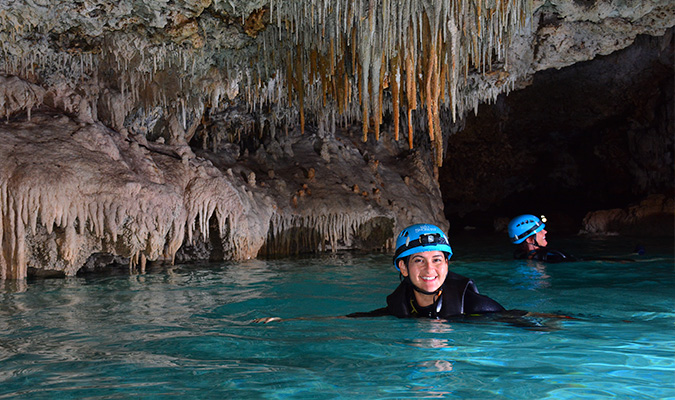 The Takeaway
Andaz Mayakoba presents a unique resort environment in the Riviera Maya, where families, couples and friends alike can find a refreshing vacation experience waiting for them.
From the uplifting décor, nature-immersed setting and high-end amenities, to fresh dining options and engaging cultural surroundings, a sense of rejuvenation, and class, runs through the concept. After a stay at Andaz Mayakoba, guests can't help but carry a piece of this sensation home.